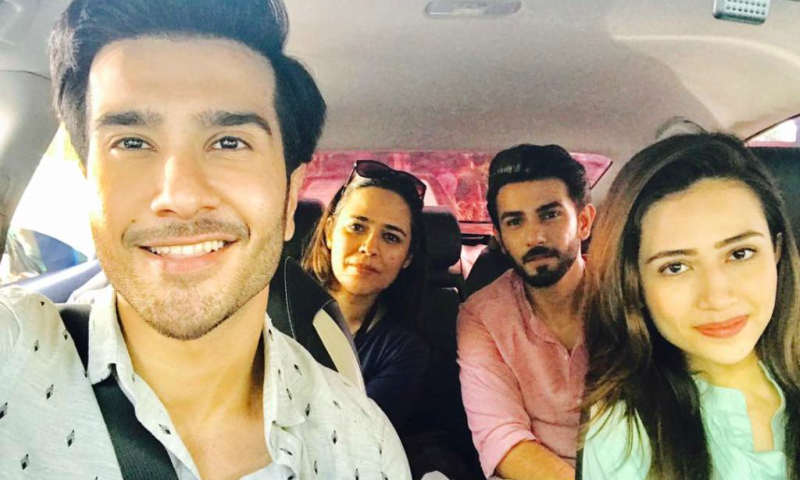 The actor speaks to HIP on his upcoming projects with Sana Javed, return to television this year and what's next.

It was not long ago that Feroze Khan made his debut on the small screen and with only a handful of projects to his credit, he has been able to establish himself as a force to reckon with. Just last year, the heartthrob swiftly made his presence felt on the silver screen with Zindagi Kitni Haseen Hai, despite the current dry spell local cinema is going through. Currently seen opposite Ramsha and Aisha Khan in MD Productions' Woh Aik Pal, he is all geared up for a great year that waits ahead of him.
All set for his second serial this year to air after Ramadan, Khan just recently wrapped up shooting for Geo TV's intense drama, Khaani alongside the Pyaaray Afzal-famed starlet, Sana Javed. Helmed by Anjum Shahzad and penned down by Asma Nabeel of Khuda Aur Muhabbat, the serial also features Saman Ansari and Mehmood Aslam in titular roles.
Also Read: Woh Eik Pal remains a weekend favourite
"I think it's too early to say something about Khaani, but I basically play a politician's son called Mir Hadi," Feroze tells HIP over an exclusive telephonic exchange of thought, hinting at the serial's intriguing plot outline. "He's an anti-hero who undergoes a major transition as the serial progresses."
And while comparisons with his layered and grey character, Adeel in Gul-e-Rana are inevitable, Feroze clarifies that the two characters have very little in common. "I think Gul-e-Rana remains to be my favorite serial till date and even though Adeel Kamal was imposing, the two are poles apart, Mir Hadi operates on extremes – you'll know better when the serial comes out," he answers.
Speaking of his co-star, Javed, who is all set to make her silver screen debut with Mehrunnisa V Lub U, Khan was all praises. "I think Sana's amazing. She's very friendly, very easy to work with. She's passionate about her work and puts her complete time and energy to her craft," he stated.
Also Read: Mehreen Jabbar returns to TV with two telefilms this Eid
In contract, this week only, Feroze and Sana have also winded up shooting for their second project together, a light-hearted Mehreen Jabbar directorial – an untitled telefilm produced by 7th Sky Entertainment, slated to come out this Eid-ul-Fitr. Written by Dr. Younus Butt, the comedy will also see Shamim Hilali and budding actor, Ali Ansari in supporting roles.
"I'm very grateful that I got to do these projects. I think Mehreen is a fabulous director, very professional and Khaani is something I'm looking forward to myself," an ecstatic Khan tells us. "Otherwise, I just act and forget – I let people decide."
On a parting note, I ask Khan what made him turn back to television after having undoubtedly been the breakthrough star of 2016. "I never left TV. I think open to doing anything that manages to excite and attract me," he is quick to respond. "I selected three projects this year because and I knew I had to do them. They're all very different genres and my characters in each are also very divergent to one another. I think this way I'd also be able to practice more of acting and test my range."
Looking into more scripts, Feroze wants to make the most out of his stardom and we don't mind at all. Gearing up to return to films next year only, here's hoping that we get to see more and more of this young gun on our screens.