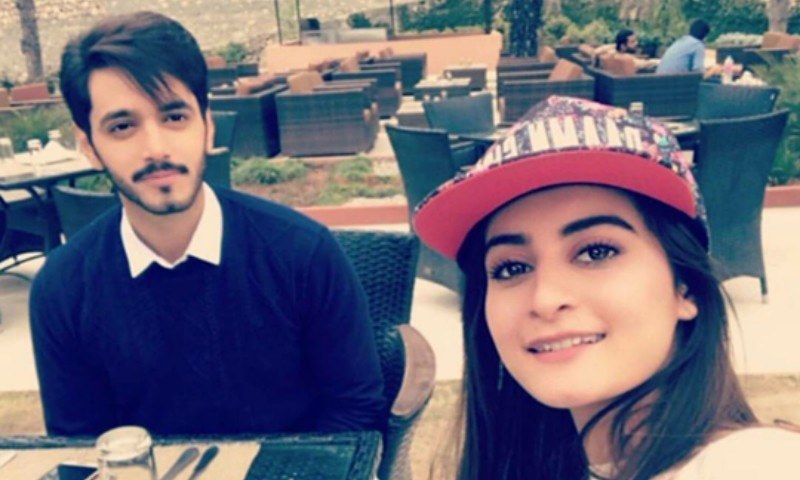 The one character in Mann Mayal besides the lead pair who stole everyone's heart was Biya, played by the gorgeous young Aiman Khan. Since last year, she has come a long way, appearing in plays like Zindaan and Khaali Haath that are watched with a lot of enthusiasm among audiences. So when we found out Khan is currently shooting a new play called Hari Hari Churriyan, we were quite excited and decided to get in touch with her to get all the details.
After a busy day at the shoot, Aiman Khan revealed that the upcoming drama is being directed by Syed Atif Hussain and has been written by Jahanzaib Qamar, who has penned down plays like Malaika and Jannat to name a few. Talking about her role, Khan revealed,
"It's a beautiful play that revolves around love and revenge, as my character, Aiman, is in love with Ali played by Wahaj Ali. He is her cousin and as the story progresses she gets trapped deciding between Ali and her other cousin, played by Hassan Ahmed. His is a negative role."
Read : HIP exclusive: Aiman Khan talks about her upcoming play Khaley Haath
She further added,
"The drama will also see Sajid Hassan playing the role of my father and Mehmood Aslam will be essaying the role of my Taya, whose son is Hassan Ahmed. Aiman and Ali like each other, but due to some misunderstandings Aiman ends up marrying Hassan. Ahmed's character Waqar, who is much older than her, doesn't treat her the way a wife should be treated. Now why he does that and whether he is aware of the feelings that exist between Aiman and Ali is what the drama is all about."
Hari Hari Chooriyan is produced by Zeeshan Khan and is expected to go on air after Eid, with its shooting in full swing these days.
Another thing revealed by Aiman Khan, was the petite actress is teaming up with her Khaali Haath co-stars Shehzad Sheikh and Ali Abbas, and thankfully, Abbas will be playing the role of her brother and not a crazy brother-in-law, for this new project.
With both plays slated to air on Geo TV soon, HIP wishes Aiman Khan all the best with her upcoming projects which we are sure will be huge successes.