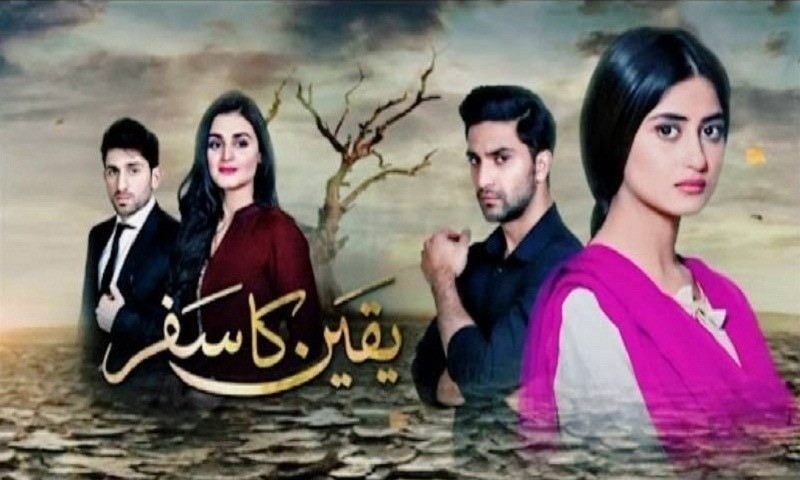 The characters are breathing life into the drama episode by episode and we're hooked.

Yakeen Ka Safar is one drama that has managed to keep its audience hooked from the get go. We're liking the fact that the makers have paid attention to detail while not losing sight of the story.
So this week kicked off with Rameez losing patient and trying to force Zubia to get what he was always after. But Zubia realizes his intentions and thought of fleeing that very moment. Luckily she was able to not only save herself but also find someone who could save her from Rameez's clutches.
The brief moment that passed between Asfand and Zubia while she was trying to run away from Rameez, didn't mean much but we're now certain that this is the start of something momentous. Him finding Zubia's ID is how he will finally get to track her perhaps.
Also the reaction Zubia received at home was much perceived. This is exactly what our society does to girls who do such a thing, without actually realizing she fleed home in search of love, comfort and attention, which she was hardly receiving at home. What we don't like here is the fact that even Rehan, who was supposed to be Zubia's only support system after their mother, doesn't pay attention to his only sister and led her to a position where she was supposed to leave home.
Rehan's and Khalil's treatment towards Zubia was expected, also the fact that Sheema has played a major role in brainwashing them became evidently clear. The episode and scenes regarding Zubia were realistic and certainly served Khalil right. He has now realized how easy it is to bad mouth others' daughters, but his hands and tongue become tied when it comes to his own daughter. He has lost control over Sheema and everything else in life because of this realization.
In a parallel world, Noori's culprits, Jehangir and his friend have finally been arrested. As far as Noori's track is concerned we like the fact how Daniyal is committed to get her justice and prepared to go to great lengths to help her. Noori is returning back to life, albeit with Daniyal's help, but she is definitely thinking about her future and how she is going to get back to leading life.
This episode clearly highlighted the difference in ideologies between father and son, Usman and Daniyal. Daniyal is young blood, committed to getting his clients proper justice, much involved in Noori's case. On the other hand, Usman is a dedicated lawyer himself, but he is a calculated guy who focuses on his safety and rewards first. The difference between father and son was highlighted for the first time and we enjoyed that.
And the way Gaiti backed her husband was sweet and very endearing. We don't know whether Hira Mani as Gaiti will get to play a significant role, more than just an exemplary wife in the upcoming episodes but currently she looks very beautiful and she fits the role of a loving wife just perfectly.
All in all, Yakeen Ka Safar is a gripping drama that has managed to keep us hooked, owing to its strong story line, different concept and amazing execution. We're waiting for the story to develop and definitely are eager to know what's in store.