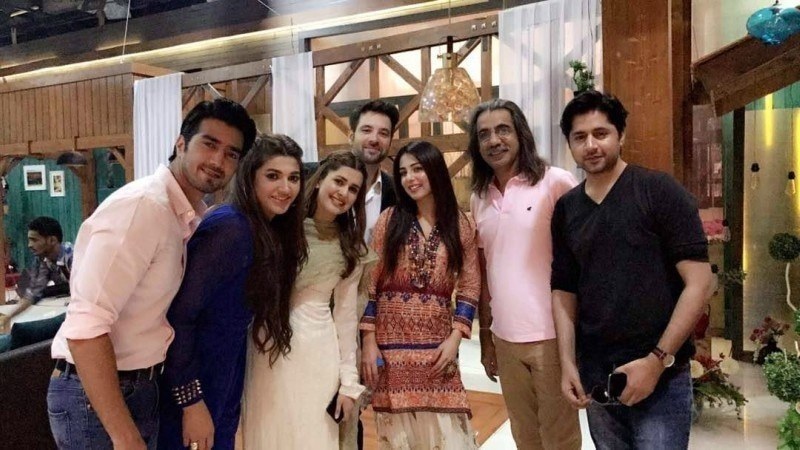 Six episodes down, the actor as Basit is doing a superb job under the guidance of director Ahson Talish.

It's very rare to find a drama like Alif Allah aur Insaan, which is liked by every single person you meet. Credit for that goes to the writer Qaisra Hayat and the director Ahson Talish, who executed the story well and managed to get actors who are doing a splendid job in their respective roles, especially Ushna Shah, Imran Ashraf and this week, Shehzad Sheikh, who we were glad to see.
The drama works because we get to explore the characters. as this week we saw Nazneen (Kubra Khan) come to the city and join a college so she can study further, all thanks to Shahzeb (Mikaal Zulfiqar). But in return, does he get her appreciation? Unfortunately not, since Nazeen is a self-centered girl who only loves herself. Her roommates give her a reality check, therefore we are sure in the coming episodes we will get to see a humbler Nazneen, who will learn to respect others. At the moment she doesn't even pick up calls from her mother if she's not in the mood.
Read : Alif Allah aur Insaan: Actors take charge once again
With Shahzeb madly in love with Nazneen, he feels she doesn't respond to him the way he wants her too. He doesn't push it with her but sensing his sadness, his mother does call Nazneen up and in a rather sweet manner, telling her to talk to Shahzeb once in a while. Being his fiancée, she has certain responsibilities to look after besides studying. But as we mentioned, her self-centered nature doesn't allow her to care about another person's feelings.
The scenes we love are between Sana who plays Nigaar and Raani (Ushna Shah), who now realizes that she made a wrong decision and is trapped in the same lifestyle lead by Nigaar. She in her innocent mind never could've imagined her to be a courtesan. But with Raani there and confined, the spirit this beggar girl has makes you love her from day one. Having a natural flair for dancing which gets discovered by mistake, Nigaar feels a bit threatened by her, realizing this girl has the hunger to be something more than what she is today.
Read : Raani reminded me of why I became an actor: Ushna Shah
Chaman Baji, by years of experience knows what triggers Nigaar and tells her about Raani dancing in the class with the master. While we look forward to seeing how this further develops, another thing we can't wait to see next week is what change will come in Nazneen's attitude towards Basit (Shehzad Sheikh) who is obedient and liked by all her friends. He is a decent person who takes his responsibility towards Nazneen very seriously. But with next week's promo showing Nazneen laughing with him, we have a feeling the story between the two is about to get very interesting.
Mikaal Zulfiqar is brilliant and the conversations he has with Moulvi Baba played by the veteran actor Qavi Khan, is the highlight for us. But the main star who impressed us was Shahzad Sheikh, who despite having a small appearance managed to outshine everyone, proving the fact that under the guidance of a brilliant director, all actors have the potential to shine bright. Here's hoping to see more collaborations between Sheikh and Ahson Talish in the future.
So don't forget to watch Alif Allah aur Insaan every Tuesday at 8 pm only on Hum TV.