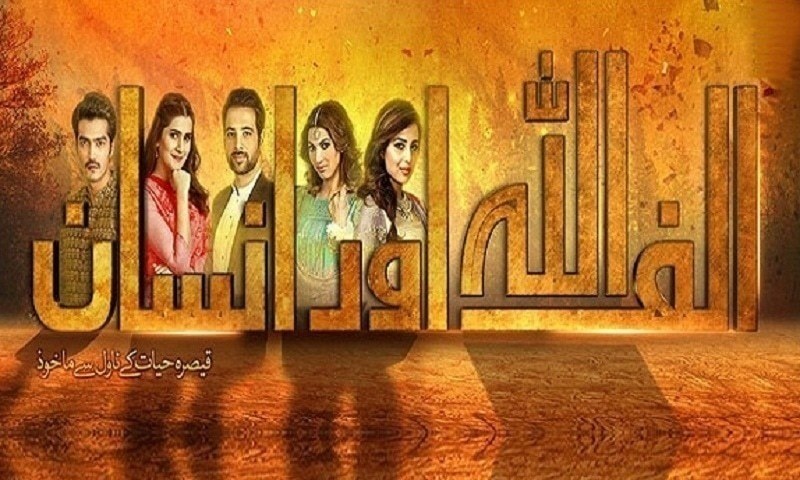 Raani, now Reena Begum, is beginning to realize the perils of the choice she made and the life she willingly chose.

Alif Allah aur Insaan has turned out to be a phenomenal drama serial so far. Not only does the director know what he wants, but he is making sure he gets the best out of the actors in the play as well. So far, there hasn't been a single dull moment and we give props to the entire team for having us hooked throughout.
The most interesting and engaging part of the play is the fact that each and every character has its own potential. The actors playing these characters are undoubtedly the most well suited.
So this week kicked off with Raani, now Reena Begum, realizing that she certainly has a price to pay for the path she has chosen for herself. The dire punishment that she received at the hands of Nigar Begum, for a compliment, even Raani didn't know she would deserve, was enough to make her question the choices she made. For once, Raani is now seeming terrified of the future and longing to see her mother, knowing well she has burned all her bridges for this life with Nigaar. The scene where Raani stood behind bars was one of our favorites, as it depicted her situation well. She walked into the cage herself and now misses her life as the carefree bird she was.
Ushna Shah as Raani, is flawless in her depiction of the character. We have to give it to the girl for portraying a beggar, a courtesan in the making and all other shades of Raani's characters with effortless grace and attitude. Her's is a character that is currently standing out because of Ushna.
Also the conversation between the other courtesans of the brothel, regarding Raani and Nigaar Begum, hinted at a number of shades of Nigaar's characters. She is now coming clear as a ruthless courtesan, who has already slayed a number of people to reach the position she is on today. And it seems, she doesn't take anything lightly. Perhaps Raani, came to her as a threat and she is all prepared to set the girl straight, keeping her well between her limits, before her realm is threatened.
Also the way the episode ended, where Shammo saw Raani at the brothel, makes us curious about future developments where Nigaar Begum might also consider the need of questioning how Raani knows Shammy and whether she will get jealous of her or not.
In a parallel world, Nazneen, is perhaps losing sight of the fact that she has come so far away from home to study only. She is now under peer influence, because that's the only viable reason for her behaving so oddly and hitting on Basit at every available instance. Nazneen seemed to be a rather hot headed girl, but someone who weighed her actions. Although now, it seems she has lost track of her reason and is going very much under the influence. Perhaps this is Shammo's curse starting to show its colors where Nazneen is falling into a situation that'll render her unable to return home.
Shehzad Sheikh as Basit is again doing a commendable job. In this episode, we saw how he has put a restraint on himself, shying away from Nazneen's advances and trying his best to put her in her place. We also saw how the phone call from Malik Hashmat actually served as a reminder to Basit that he was entrusted with Nazneen's responsibility and there was no way he should be taking any liberties with a girl who is already rather headstrong, spoilt and very rich.
All in all, this episode was a real good one. We love seeing Raani's track however, Mikaal Zulfikar as Shahzeb is becoming a bit to stagnant, with his fascination with Nazneen, and her not choosing to pay a dime of attention to him. Let's see how things develop and what kind of a conversation Mikaal has with baba jee in the upcoming episode next week.