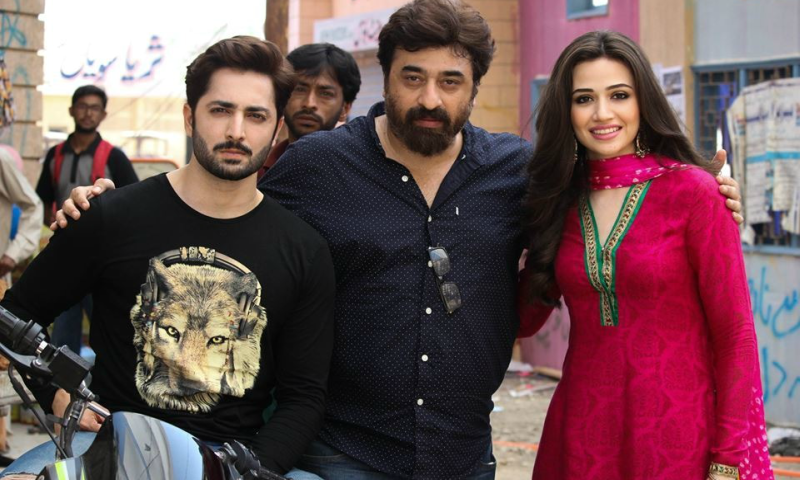 Director Yasir Nawaz and producer Hassan Zia talked production, while Nida Yasir helped us lighten the mood.

This Eid-ul-Fitr will see a myriad of Pakistani films come out so one can expect to remain thoroughly entertained throughout the holidays. One of the films we're looking forward to is the Danish Taimoor and Sana Javed-starrer Mehrunisa V Lub U.
The film's director, Yasir Nawaz and producer Hassan Zia spoke with HIP to discuss all the drama that went on behind-the-scenes. Yasir was also accompanied by his lovely wife and morning-show host, Nida Yasir.
So the first thing we addressed was obviously the name. What was the inspiration behind the film's peculiar title? To this, Yasir was quick to respond, "We wanted a catchy name. The locations we shot in, the people there probably expressed their love by saying 'lub u', therefore we decided on that."
Also Read: Yasir Nawaz to re-create Naseerudin Shah's iconic role in the remake of 'Masoom'
What makes this film different from Yasir's previous cinematic outing, Wrong No. and were there lessons learnt from mistakes made previously? "People will take something away from watching this film. There will be a moral, a message that will hopefully entice the audience," Yasir explains.
"Plus this film offers entertainment, drama, romance, masti masala, and everything in between. Filmmaking is a constant learning process. The mistakes I made shooting Wrong No., were looked upon so we've tried not to repeat those in this film," Nawaz continues. "Similarly in future projects, I won't make the same mistakes I made with MVLU."
We jokingly asked whether the cast had some mischievous or troublesome moments on set, to which Yasir was straightforward, "When you have a team of professionals, whose aim is to make the best film ever, everyone tends to deliver and be serious about their work."
Also Read: Sukhbir Singh's 'Tu Hi Tu' for 'Mehrunisa V Lub U' is out!
Nida told us she wasn't present on set much. Having visited only a couple of times, the director's better half was absolutely hysterical, saying she went just to check on her husband and party among the pretty and glamorous women on-set.
The producer for MVLU, Hassan Zia had more to tell us regarding the technicalities involved; "We created large sets for this film. Boarding, lodging, people, so operation management had to be strong. We had very controlled sets."
When asked about the surprising collaboration with legendary Indian lyricist Gulzar for the film's soundtrack, Hassan revealed, "We knew him personally. He doesn't just agree to anything. When he read the script, he liked it and knew this was something he could work on; therefore he agreed to write for us."
Also Read: 'Mehrunisa V Lub U' lets Bollywood artists make waves in Pakistan
Not only Gulzar, but singers, Sukhbir and Sukhwinder Singh from across the border have also lent their voices to the film's tracks. When asked if local vocalists were approached for the tracks, Zia replied, "We approached Asrar and Rahat (Fateh Ali Khan), but they were obviously committed elsewhere."
Apart from having the (in)famous Gulzar on-baord, other reasons why MVLU is a first of its kind for Pakistani cinema is because the post-production is at par with international features. "The sound is good. It will play on Dolby Atmos in the UK and internationally. The grading for the film is great too," Hassan mentioned.
MVLU comes out this Eid fighting the box office battle with all-star war saga, Yalghaar, however, judging by the deets from the crew, we're definitely looking forward to watching the film. Tell us if you're as impatient as we are by commenting below.