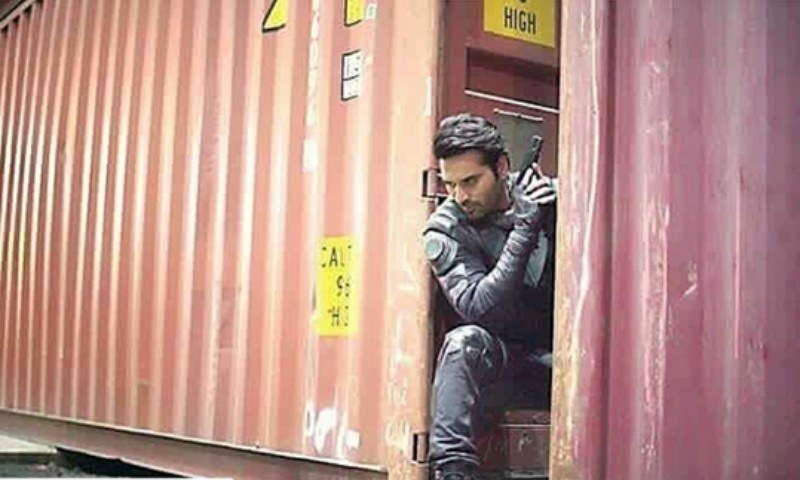 Labelled as our first super hero movie, Project Ghazi has everyone excited because lets face it, the little teasers have managed to impress us. From its action scenes to its actors, everything seems to compliment each other. But one thing we cant get enough of is seeing Humayun Saeed in the recently released behind the scenes footage from the sets of the film. The actor looks lean, fit and ready to take on the bad guys.
Never have we seen Saeed play such a role, one that demands him to be so physically fit. We've always seen him play romantic roles like in Bin Roye as well as in Jaawani Phir Nahi Aani to name a few. To be a versatile actor one needs to experiment and that is what we are glad to see Saeed doing in Project Ghazi, where he will play the role of Colonel Salaar.
Read : BTS footage of Project Ghazi will make you go woah
With us highly impressed with the footage of Humayun Saeed roughing it out in the BTS of Project Ghazi, HIP got in touch with the super star to ask few questions related to the project.
How Challenging did you find the movie?
It was an intense experience doing my own stunts and action, especially in a costume.
What made you say yes to the project?
It was the opportunity to be part of something new and unique in our industry.
What rehearsals did you go through to prepare for this particular role ?
Only because of the action scenes we had to do rehearsals. They were not that tough but yes one has to give time to things which are different from what you're used to doing so if you are doing an action scene then one has to rehearse before hand so it turns out perfect.
Besides Humayun, the movie will also feature Sheheryar Munawar, Adnan Jaffar and Syra Shahroz in lead roles. Project Ghazi is going to be the first ever super hero movie to come out of Pakistani cinema, post revival. According to the film's teaser, the film explores the ultimate battle between good and evil. Adnan Jaffar has been roped in to play the antagonist, while Saeed and Munawar will side with the good. Syra Shahroz will be seen in a different avatar as a scientist and will also play Munawar's love interest. The film's teaser came out earlier this year and it's a real visual treat.
We also spoke to the producer, Ali Raza. After seeing Humayun Saeed play his character with such grace we couldn't help but ask what made him choose Saeed for this particular role since he's never done an action movie before.
"He was the best fit, his body language, facial expressions, acting as well as having the stature required for this character since we needed to show someone seasoned."
We cant wait to see Humayun channel his character along with the rest of the cast to create havoc in cinema houses all over the country, on July 14th 2017.