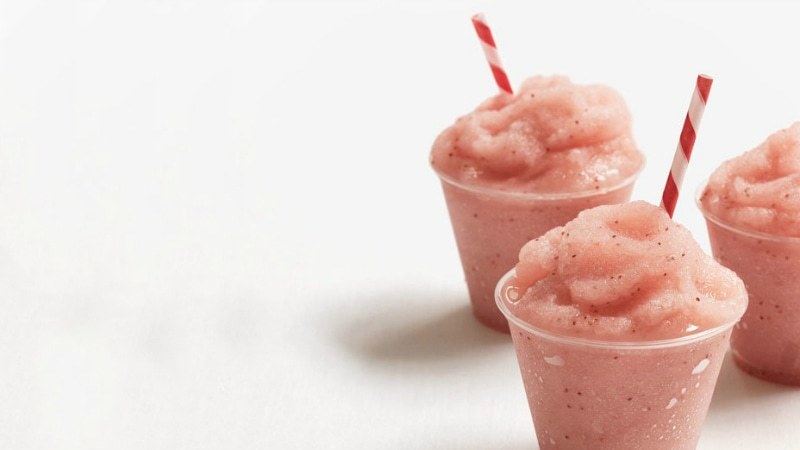 Just when you got tired of those red or orange 'sharbats', HIP is bringing you 6 refreshing and healthy drinks to try.

Half of the holy month has passed and we are still stuck on one drink? Not anymore. Scroll down to find six different drinks to keep you fresh and hydrated in this hot weather.
Frozen Fruity Blast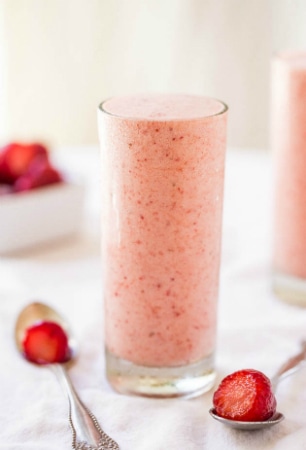 Ingredients: Pineapple chunks – 1 can (frozen or chill) Strawberries - 1 cup (if fresh not available, you can use canned strawberries or strawberry syrup) Banana - 1 Chopped Sugar (optional) Vanilla ice cream - 2 scoop or Frozen Milk - 1 cup Crushed Ice
Method: 1. Put all the ingredients in the blender except the ice cream and blend well. 2. Add ice cream and crushed ice and turn on the blender to make the drink look like a slush. 3. Serve chilled and decorate the glasses with strawberries and pineapple chunks.
Apricot Cooler
Ingredients: fresh Peaches (Seedless) - 16 Oz. Apricot Juice (Canned) - 12 Oz. Fresh or Canned Orange Juice - 6 Oz. 7up or Soda - 12 oz.
Method: 1. Pour Apricot juice, orange juice and peaches in the blender and blend well till the ingredients get smooth. 2. Freeze for about 3 to 4 hours. 3. When you wish to serve it, take out the juice in the crushed ice form and put them in glasses (half filled) and pour 7up on the top to fill the glass. Serve Chilled.
Mint Margarita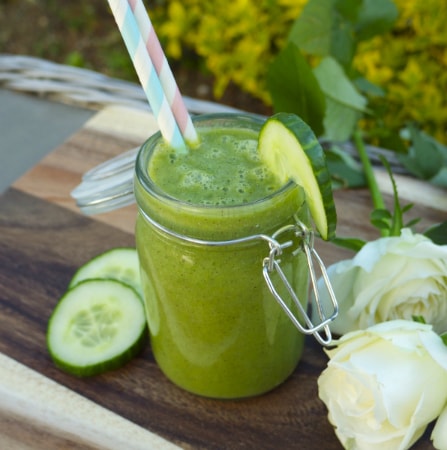 Ingredients: Water - 1/2 cup Salt - 1/4 tsp. Sugar - to taste Mint - 5-6 sprigs 3 Lemon juice Ice cubes Sprite or 7up - 1 cup
Method: 1. Add the sugar, water, salt, sprigs of mint, lemon juice and ice cubes to a blender. Pulse a few times till the ice is completely crushed 2. Fill each glass with half of 7up/sprite and pour the mint mixture over till the glass is full.Garnish with a slice of lemon the rim of the glass or with mint leaves. Serve immediately.
Strawberry Lemonade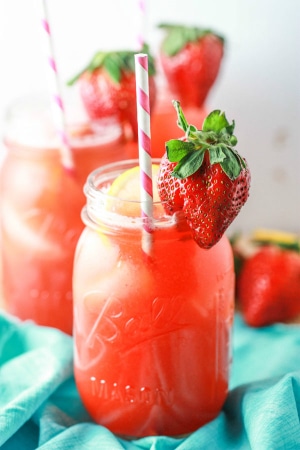 Ingredients: Strawberries - 1 Cup Sugar - 1/2 Cup Water - 4 Cups Fresh Lemon Juice - 1/2 Cup Lemon Zest - 1 tsp [optional] Ice Cubes - 2 Cup or as needed
Method: 1. Wash the berries, remove hull and chop in chunks. Keep aside 3-4 strawberries for garnishing. 2. In a blender or mixer add strawberries, sugar, water and blend for 2-3 minutes or until strawberry gets crushed fully. 3. Sieve the drink add lemon zest and stir. 4. In a serving glass, add ice cubes few chopped strawberry and then add lemonade, garnish with lemon and strawberry if preferred.
Kiwi Cooler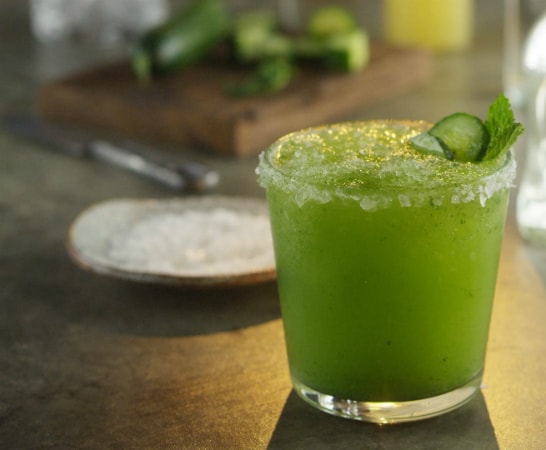 Ingredients: Kiwi - 2 ripe Lemon Juice - 2 tbsp Sugar Syrup - 2 tbsp or to taste Soda Water - 330ml [chilled] Crushed Ice - 1/2 Cup Ice Cubes - few Kiwi Slices - 2 for garnishing
Method: 1. Scoop out the kiwi and mash it well. Or peel the skin and mash the kiwi fruit. 2. In a tall glass add 1/4 cup of crushed ice, 3 tbsp of mashed kiwi, 1 tbsp of lemon juice, 1 tbsp of sugar syrup and give a stir. 3. Add half of soda water and few ice cubes. Garnish with kiwi slice. Repeat the same for another glass.
Beetroot Buttermilk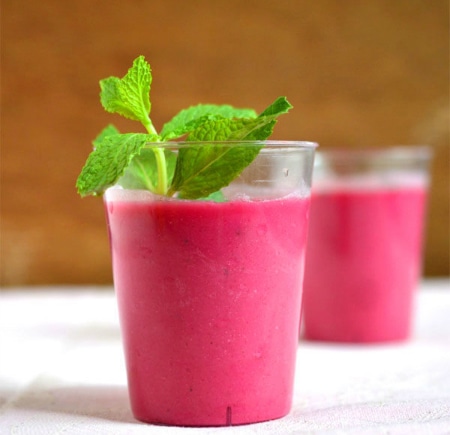 Ingredients: Plain Yogurt/Curd/Dahi - 1/2 Cup Water - 2 Cups Salt - To Taste
To Grind Chopped Beetroot - 1/4 Cup Green Chili - 1 Chopped Ginger - 1/2 tsp Coriander Leaves - 4 Stalks Mint Leaves - 4 Stalks
Method: 1. Peel and chop beetroot and grind together with green chili, ginger, coriander leaves, mint leaves. 2. In a wide bowl whisk curd/yogurt well, add water, salt, beetroot paste and mix well. Strain/filter buttermilk and serve.
What have you been having in your iftar and sehr? Share in the comments below.