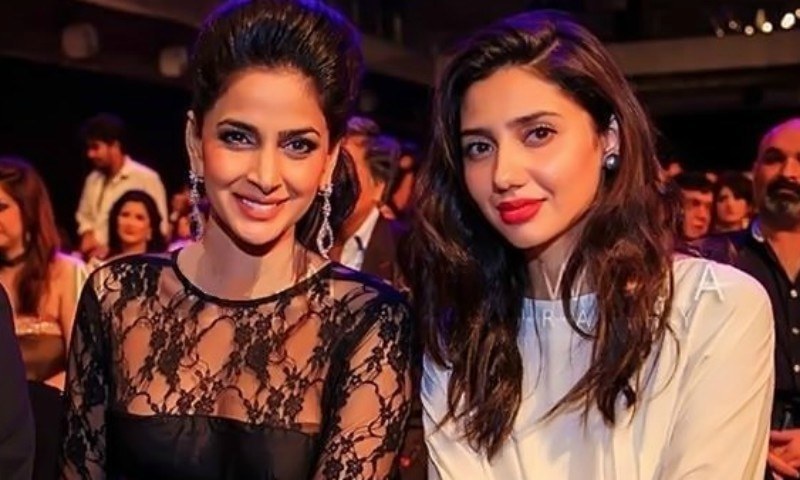 "I wish everybody well from the bottom of my heart and I think Saba, of all the people knows this better than anyone."

Just when Pakistani artists' acceptability in India had began to grew, the political instability managed to let it all go down the drain. Nevertheless, filmmakers across the border have boldly released their films with the inclusion of our talent. From last year's Ae Dil Hai Mushkil to Dear Zindagi, 2017 added a new dimension with films that saw our stars play leading characters.
The most prominent out of all have been Mahira Khan's highly-anticipated Bollywood debut, Raees alongside Shahrukh Khan, that saw the light of the day this January, and Saba Qamar's Hindi Medium that opened to jam-packed theatres worldwide last month.
While comparisons between the two gifted actresses were inevitable, critics on both sides of the border have praised the two for their performances. As far as business is concerned, the two films have done exceedingly well. After a number of averagely-fared films at the box office, Shahrukh managed to collect over 300 Crores with Raees, while Hindi Medium, despite being a small film, budgetary wise and an underdog at cinemas initially as it released with the all-star, commercial, Half Girlfriend, has officially entered the 100 Crore club.
Also Read: Saba Qamar garners raving reviews from Indian critics for 'Hindi Medium'
In an interview with Hindustan Times, however, a confident-Qamar went on to say, "Even Hindustan Times and Pinkvilla have compared me to Mahira Khan and given a verdict that my performance is far better than hers in Raees." When questioned about the so-called vie between the two, the Humsafar starlet told Instep,
"I think I'm the only actor who gets compared to everybody and I fail to understand why. That said, I'm a huge supporter of Saba Qamar. I'm a fan and I want her to do well, I am rooting for her," she was noted to have said. "If people find it cool to bring me down, go ahead if it rocks your boat. Sometimes it does get a little hurtful and at times I just wish to be left alone, but as far as I'm concerned, I wish everybody well from the bottom of my heart and I think Saba, of all the people knows this better than anyone."
Also Read: Mahira Khan in Raees: Are the film critics impressed?
Seems like all's good in the hood. All in all, we at HIP cannot be any prouder of Saba Qamar and Mahira Khan, both for being true ambassadors of Pakistan to Bollywood and representing our talent in only the best of light. Here's wishing the two all the luck for their future endeavors and hoping that they end up sharing the screen one day.