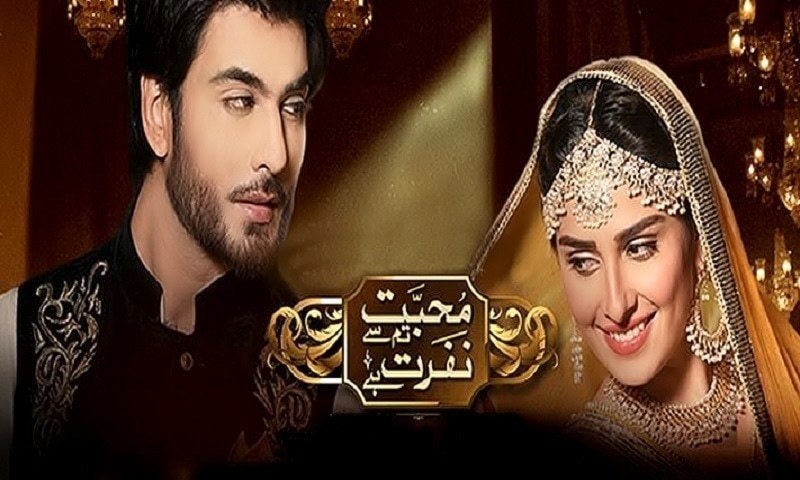 Behold, the 'bachpan ki mangni' for Maheen and Gulrez that's only revealed to the viewers and the family this week!
Although, we did mention, how Imran Abbas told us there were going to be definite developments in Mohabbat Tum Se Nafrat Hai, we actually feel now isn't the right time. Perhaps, the makers will finally try and evolve the plot once the drama has lost all its viewers, because albeit a weak story line and snail-paced script developments, Mohabbat Tum Se Nafrat Hai still has followers who religiously switch onto the channel every Saturday, just to make sure something happens in the plot.
So, yes, this week we had a few shocking revelations. a) Maheen and Gulrez were engaged since childhood, b) Waqar has fallen for his arch-enemy Maheen, c) Ami Begum wants Waqar to take his share of her assets and leave, forever.
Now, everybody in the house belongs to the lineage of socrates. Listen to the dialogues these kids use and you'll be flabbergasted. Those philosophical lines make no sense at all.
For this week, we definitely need an explanation for Gulrez's dream. The guy was so impatient, he didn't even listen to the whole conversation that was going on. A few minutes into learning Maheen didn't love him, he has his weird dream about Maheen and Waqar's wedding? And also, Gulrez is a true descendant of Socrates, his philosophies about love, fly over our head and we don't really want to understand them.
And what about Waqar? A few days ago (in the drama) the guy was bucking Gulrez up, asking him to build some courage and talk to Maheen like a man, and now he himself has fallen for the girl? Isn't that a bit too deceptive?
Also if Maheen and Gulrez were engaged since childhood, why didn't anybody know about it? And of all things, why did Gulrez had to propose Maheen and why, oh why, did everybody wait for Maheen to finally decide? Couldn't they have told Maheen she was already engaged to Gulrez, no option, end of story!
And Ami Begum, she thinks Waqar falling for Maheen is going to be troublesome and she wants him to take his share and leave? Since when did elders find such immature solutions to problems?
All in all, this week brought about some shocking discoveries but no significant development in the plot. Imran Abbas and Shahzad Sheikh, are perhaps the only saving grace for the drama, just because they look good and emote well.