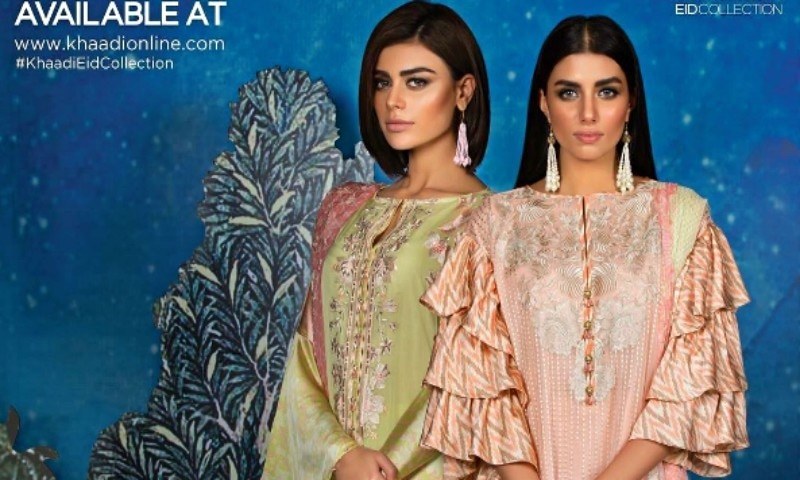 HIP brings you your guide to the Top 5 most anticipated and exultant Eid collections that are a total must-have.

Ramadan's almost come to an end and the questions have already started to shift from what time is Iftari to where do I get my Eid clothes from.
With Eid just around the corner and the collections all set to reign the market, the lawn frenzy has started building up with every second passing by rising the mystery of which place to trust with your Eid outfits this year.
HIP brings you your guide to the top 5 most anticipated and exultant Eid collections that are a total must-have. Read on and happy shopping!
Firdous Lawn
Firdous lawn which has been a household name for women across Pakistan, recently launched their festive Eid collection and like every time, they have managed to win us over with their detailed designs.
From the colors to the prints, everything seems to be in place for their Eid collection and we can't seem to have enough of it. The prices for their suits are reasonable and easy on the pockets for such formal and fancy patterns that it offers its customers.
Khaadi
Khaadi is one of the most favorite brands among women of all ages, there wouldn't have been any doubt in saying that their Eid collection has lived up to our expectations. We hoped it would blow us off, and it actually did.
Being adored for its vibrant colors and phenomenal patterns, Khaadi's Eid collection is full of innovative ornamentation that are hard to miss out on.
The price of their collection varies from different ranges, hence, caters to women of all classes without compromising on their cloth quality and impeccable embroidery.
Ethnic
Ethnic definitely has to be praised for creating some of the most awe-inspiring designs this festive season. Their Eid collection is worth gazing at and is extremely mesmerizing.
The hues and tints of the entire collection have got us feeling some kind of way. Each and every design screams celebration in its own, unique way. To suit its customers, Ethnic by Outfitters has managed to keep the prices almost adequate.
Cross Stitch
Known for its ethereal motifs and subdued shades of elegance, Cross Stitch has played its cards well, yet again with their Eid collection, securing the lawn wars
Having us swoon over the mild nude tinges, mix and matched with elaborate ornamentation, their Eid collection has made it to our list of must-haves. Some of the items can be considered to be a bit hefty, but seeing the intricacy, we may tell that they are totally worth it.
Elan
If there's one brand you name every girl wishes to grab an outfit for any occasion, it's undoubtedly Elan. Their Eid collection was already pre-booked online and after having a look at it, we must say, there totally was a reason behind the frenzy.
Laying your eyes on the classy and elegant Elan Eid collection, we simply cannot get enough of their fusion of old-school graceful, draping ensembles with a contemporary feel. The adornments are so refined and beautiful that they'll definitely make you stand out this Eid.
Wearing an Elan outfit isn't just what you may call 'dress up', it's a style statement, and to pull off a style statement, one almost requires a fortune, but it certainly doesn't matter once you take a look in the mirror.
---
Now that you've been completely aware of the best-in-town collections, don't waste more of your time and set out now to grab your picks for this Eid before they're all sold out!