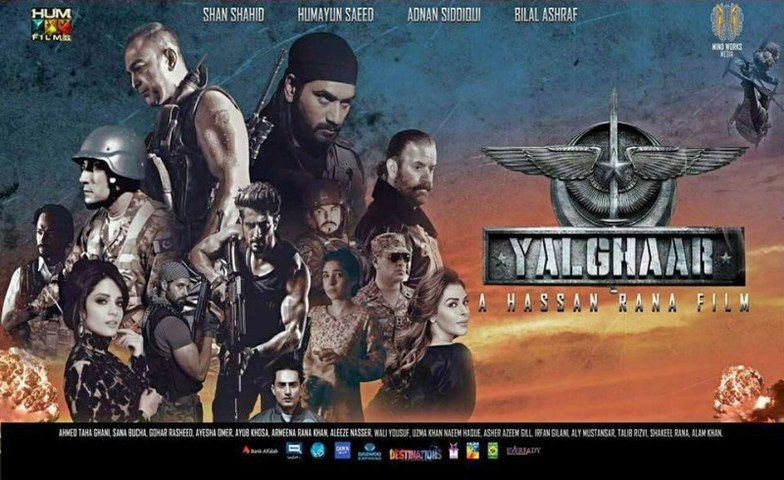 Terrific performances and a dragged, but moving climax saves the film from drowning.

HIP Rating: 2.5*/5
2017, so far has been one of the worst years for the revival of local cinema, halfway through, and not a single substantial movie that managed to win over the critics and the public alike. That said, the film that's been touted as Pakistan's biggest film to date, Yalghaar, after almost three years in the making, is all set to see the light of the day today worldwide.
One attends the Islamabad premiere of the film amongst the few members of the star-studded cast. Join us as we take you through about what works, what doesn't and what could've been done better. Read on our exclusive review of Yalghaar:
The script is scattered and fails to derive a meaningful plot
On paper, Yalghaar must've been the most intriguing film to have come out of Pakistan. There's romance, there's drama, tons of action (a bit too much at times, but more on that later) and mirrors the reality of our army. However, it's the execution that lacked. With an uncountable number of integral roles, Yalghaar fails in developing its characters into relatable beings. A number of characters, especially Ayesha Omar's Zarmina and Gohar Rasheed's Baran, despite being strong characters, weren't utilised to their fullest of potential.
While the first half of the film does explore the army officers and their families, which makes the film a lot more than just a propaganda flick, it's due to the overdose of unneeded characters that the ones deserving of a proper background and justification are left half-baked. Post interval, the film continues to be fast-paced, though the last half an hour combat between the good and the evil seems forced and could've easily been shortened.
The film has its moments and dialogues that have not only been scripted well, but also executed accordingly. The climax of the film, where Shaan Shahid's Col. Asad confronts Humayun Saeed's Torjan has to be one of the most memorable scenes in the history of local cinema. Coming back to the characters, it is truly the distribution of screen-time and space (which hasn't been done accurately either), that compromised the film's otherwise promising and intriguing storyline.
Terrific performances make you glued to the seats
While the plot has a number of loopholes, brilliant performances by (almost) the entire cast is what makes Yalghaar believable. Despite limited margins to perform amidst the all the unwanted chaos, each actor shines in whatever they're little they're given. Starting with the debutants, Ahmad Taha Ghani and Aleeze Nasser have done complete justice to their parts. Sana Bucha, who plays Shaan's love interest, Sadia doesn't have much to offer, but is truly made for the big screen. She's charismatic, glamorous and her chemistry with Shaan is one of the many reasons the film worked for me. Heck, the two can easily star in a romantic film together!
For an actor as gifted as Adnan Siddiqui, the film rubbishes his talent. His character, Lt Col. Imran has no significance in the film whatsoever. Ayesha Omar as the vulnerably empowered Zarmina, again has truly been ill-conceived. For a diva like Omar, her shots were undoubtedly unpleasing and one must commend her for letting herself completely get into the skin of her character. Gohar Rasheed has a lot more to offer, especially with the kind of anti-villain character that he plays, but like most of the characters in the film, another brilliant actor wasn't given enough space to explore Baran's facets.
Bilal Ashraf seemed to have improved upon his acting abilities since Janaan. He looks great with Armeena Khan, who has done complete justice to her part of Jero, the two performed well and exude youth and lust in the film. Bilal's final sequence is extremely impressive. With Yalghaar, he proves that he has more to offer than his ruggedly handsome looks. Coming towards, the titular characters, it is evident that a lot of Shaan's scenes have been cut, hence, we are unable to see him beyond his patriotic speeches, mind you, he still does light up our screens whenever his scene is playing.
His sheer screen presence matches up to no one's. Humayun Saeed as the film's lead antagonist has the most layered character; however, it's a pity to see how he's unsuccessful in making us hate us. He is not the cold-blooded terrorist that he is meant to be and Saeed is to be blamed for that. In fact, one of Humayun's sidekicks, Jalal essayed by model-turned-actor, Naeem Haque is much more triumphant in sending chills down our spine.
Nonetheless, Humayun does manage to impress in a few scenes, his encounter with Zarmina to name one. Ali Rehman Khan and Umair Jaswal, despite having only a handful of scenes, manage to make their presence felt. One would've enjoyed seeing more of them on the big-screen.
A little above average post-production and impressive direction go hand-in-hand
Director, writer, producer and actor, Dr. Hassan Waqas Rana a.k.a Doc seems to enjoy juggling every aspect of filmmaking. Yalghaar sees him take up all four positions and hence, it is inevitable that the final product falls short of our expectations. Howbeit, his dedication to the process shows. Whilst there's an apparent difference between the scenes that have been shot when the production began compared to the ones shot recently, the overall treatment of the film isn't outdated, in fact the camerawork is applaudable and the visual effects are at par with international action-thrillers.
The dubbing of the film seems to have been done in a flurry as multiple scenes' sound lacks consistency and are rather abrupt. On the bright side, the background score of the film is impressive. Where there isn't much of a soundtrack and understandably so, the intensity of each scene is perfectly in sync with the score, hence, the cinematic feel to the film is present. Doc also seems to share great camaraderie with the cast as he's managed to mould his actors into what their characters demand, even though the film, on the whole, doesn't allow much room to explore and are all in a way, one-dimensional.
Color grading amongst other aspects of its post-production seem to have closely been looked into and hence, it's easy for us to look beyond its blunders. The editing of the film is pretty haphazard as a lot of questions have been left unanswered. Whether it was the fact that a lot of scenes have been chopped off from the final cut or the fact that none of the characters are able to hold their own no matter how accomplished they are as artists, the idea of keeping it fast-paced, yet winding it up in about three-hours isn't our aspirational cinematic experience.
Final Verdict
All in all, Yalghaar with all its flaws makes up for a decent watch. It is hugely successful in evoking the inner nationalist in all of us and explores the 'human' side of the army - their families, relationships and children. Yalghaar is a moving attempt in making us realize how sacrificing our armed forces is and above all, is a magnum opus project that flies high with immense star power and hopefully, cinematic pull. Film business is truly unpredictable, but from what we know, Yalghaar might just be the biggest hit of the year.