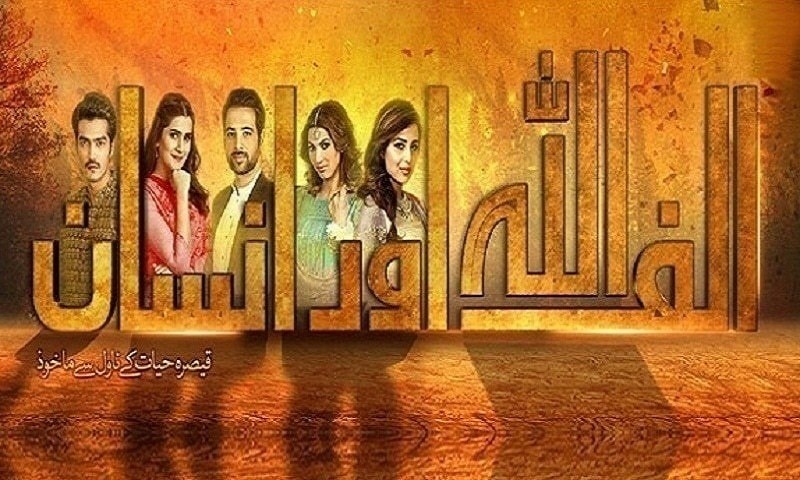 Even though the drama follows multiple tracks, the play is completely owned by Raani and Shammi's characters.

Alif Allah aur Insaan started off on a high note and even though the plot might have slowed down a bit, there is nothing amiss in the play and it manages to hold onto our interest and attention week after week.
So, this week's episode was completely owned by the characters Raani and Shammi, played by Ushna Shah and Imran Ashraf, respectively. Although their is no romantic chemistry between the two, their effortless bonding comes clear on the screen and their scenes crackle with intensity.
This week, we got to see how Shammi has completely transformed as a person since his first meeting with Raani. Their roles have reversed in a way, showing Shammi as the one with more confidence and Raani, being the one who is ambiguous about not only herself but her life as well. So when Shammi gets a chance to talk to Raani, this time when he visits the brothel, he is sad to see how she has changed from a free spirited bird to one that is mercilessly caged. Although Raani herself chose this life, she was unaware of the repercussions and now, feels all alone and helpless she has found a reprieve in Shammi's return to her life.
The scenes where Raani urges Shammi to find out her family are heartbreaking. The way Ushna depicted Raani's character, her helplessness, the empty eyes and parched lips, were enough to convince us that this girl is an excellent actor. And of course Imran Ashraf as the trans Shammi, nails his part too.
On the other hand, Nigaar has finally been introduced to the producer. His intentions are still unclear, but it's evident that Nigaar is one person who will not stop at anything to get what she wants and thinks she deserves. She heartlessly keeps reminding Raani of her background, just to make sure Nigaar's insecurity is channeled to show that Raani takes every opportunity she gets. As a ruthless courtesan, Sana Fukher suits the role perfectly.
In a parallel universe, there is Nazneen, Shahzeb and Basit. The track is uninteresting at the moment. Nazneen is behaving like the spoiled rich girl she is, making sure she gets everything she wants on her own terms. And this time she wants Basit, who is well aware of the class divide between them and is fighting a very severe battle between his heart and mind that constantly warns him to steer clear of Nazneen. Shahzad Sheikh does a great job as Basit.
The scenes where he accepts the gift Nazneen has bought for him, clearly shows the struggle that went on with Basit, knowing well that his interest in him will be a crossing the line. We also liked the reality check Basit gave himself while sitting at home, considering how he was of no match to Nazneen, who was already engaged to Shahzeb, the most eligible bachelor in town. Also the mention of the Sadqa that Shahzeb's mother gives to Basit's sister, was enough to tell him that there will be extreme consequences, in case he consiously falls in love with Nazneen.
Also Shahzeb is finally realizing he's living a lie thinking Nazneen will come around and accept him as her life partner happily. Nazneen's unease and unhappiness is quite evident and it waits to be seen whether or not Shahzeb will do something about it or not.
All in all, this week, like most of the others, was a good one, owing to the remarkable performances of Imran Ashraf, Ushna Shah and Sana Fukher. Let's see how the story develops in the coming weeks.
Read: Alif Allah aur Insaan offers no significant developments