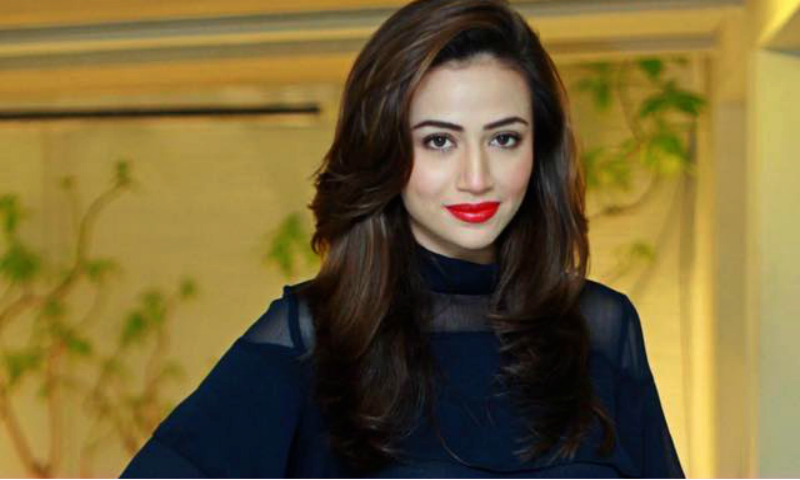 "I'm a director's actor," says Sana Javed on the criticism she faced for 'Beliya'.

Prompt as ever, one arrives at the hotel where Sana Javed is staying on her visit to Islamabad to promote her debut flick, Menrunisa V Lub U with Danish Taimoor that releases nationwide today. Half an hour down, I've been told that she's getting herself dolled up before setting out to the promotional activity, prior to which our interview was set up. As the elevator opens its doors, Sana Javed walks out in subtle, pink attire. She has just the right amount of bounce in her hair, her earrings are stunning and her makeup on point (if one may say so).
Hence, the delay only seemed natural. She apologises as she finds herself a sofa in the lobby next to where I am. Sana is an absolute vision; she's pretty petite, yet extremely glamorous. And that very fact brings me to my first question, what pressure does Sana carry of looking stunning at all times during MVLU's promotions?
"All eyes are on you. People what to know what you're wearing and so, I had to look my absolute best," she began. "Ania Fawad is the brain behind my entire styling. From the nail colour to lipstick and from clothes to footwear, she handles it all. I feel she's been able to deliver. It takes a lot of time and brainstorming to decide one look and I feel she's the best stylist we have. I couldn't have asked for anything better."
Also Read: In Focus: 'Mehrunisa V Lub U' offers good quality entertainment this Eid
What exactly did Sana have in mind while finalizing her ensembles with Ania, I ask. "I wanted to look different," an expressive Sana says as she flips her perfectly balanced hair flick. "People have seen me before in a certain way on television and I wanted to break out of that."
Before we speak of MVLU, I bring up what was supposedly going to mark Javed's film debut initially, the drama-musical, Aamir Mohiuddin's Rangreza alongside Bilal Ashraf and Gohar Rasheed. While Urwa Hocane later landed the part, after an awkward moment of silence, Sana says,
"I don't want to talk about a project that I'm not a part of. I feel I'm super lucky to be making my film debut with MVLU. Dalai Lama once said, "Remember that sometimes not getting what you want is a wonderful stroke of luck." And I truly believe in that because MVLU has offered me everything I could possibly ask for.
Also Read: The madness behind the lens: HIP chats with the makers of 'Mehrunisa V Lub U'
Coming back to MVLU, a rapturous Sana says before I could ask my first question. "I'm very excited, but also extremely nervous. I don't know how people will react to my character, I am pretty confident about the film, but I have butterflies in my stomach about myself," she says.
What makes MVLU a film that people should go out this Eid and watch, I ask. "The response I've gotten so far has been very overwhelming. I feel MVLU has all the right ingredients and it offers the audience a complete package," Sana replies. "It's a masala movie that has everything from action and drama to romance and comedy."
However, not only is MVLU an entertaining watch, but also takes social commentary in cinema forward. "It's important to come up with scripts that are not preachy, but give out a message on a lighter note. From MVLU, people will not only be entertained, but they'll take home something that very relevant to the times we live in," Sana shares with HIP.
"We blame our leaders and politicians for the adverse circumstances, but it all starts from your own self," she continues. "That's the only way one can bring about a change. I just hope people implement upon what we are trying to convey."
Also Read: 'Mehrunisa V Lub U' lets Bollywood artists make waves in Pakistan
A true believer of the presence needed to shine on the silver screen, Sana thanks her crew and director, Yasir Nawaz for bring out the "filmy heroine" in her. "Yasir knows his craft. We only have a handful of directors who have registered themselves by making films for the masses that have been very successful and he's one of them," she observed. "I feel the presentation of a character has a lot to do with the film's director and the cinematographer. We had Saleem Dad on board as the DOP and I feel he's done an amazing job."
Sana continues, "We had Zaheer Abbas (designer) do my wardrobe for the film. My makeup-artist, Waqar has loads of film and commercial experience, so he knew what a film heroine must look like, yet he was so accommodating. We would often discus our visions, so nothing was enforced upon me. It was all a team work."
Indian singers, Armaan Malick and Aditi Paul have lent their vocals to the song Beliya, however, it's been criticised for its lack of originality, while the film's leads were denounced for their stiff body language in its video that's been shot in the northern region of Pakistan. "I did what I was asked to do by our choreographer. I think I'm a director's actor," Sana answers.
"Also I wouldn't call it Bollywood-inspired, since all of our actresses from the golden era of local cinema wore saris, danced up-north and there was romance," she added. "I take criticism positively, it doesn't upset me. However, our industry can't afford negative comments at this stage. We need constant support, after all the quality of content is only increasing by the day."
Also Read: Feroze Khan & Sana Javed pair up for 'Khaani' & Mehreen Jabbar's next
This Eid is as happening as it may get for the Pyaaray Afzal-famed starlet. Not only is she expecting the release of her first feature film, but will also be seen in Mehreen Jabbar's Eid telefilm opposite Feroze Khan. She has also winded up shooting for a political-thriller serial titled Khaani alongside Feroze, yet again and reveals that she's looking into a few more scripts for television endeavours.
"I can't leave television because our industry doesn't generate enough films a year for now," she says of what made her turn back to the small screen. "Television, as a medium, is huge. Nonetheless, be it the big screen or television, I am passionate about my work and I want to improve my craft with every project that I do; I am my own competition."
Wishing to become selective about the work she takes up on both the mediums, Sana aspires to be directed by acclaimed filmmakers, Nadeem Baig, Nabeel Qureshi, Bilal Lashari and Shoaib Mansoor. While she believes art has no boundaries as long as substance is being offered, "favorable circumstances" is one of the many factors she considers when asked about whether Bollywood is an avenue she'd like to explore.