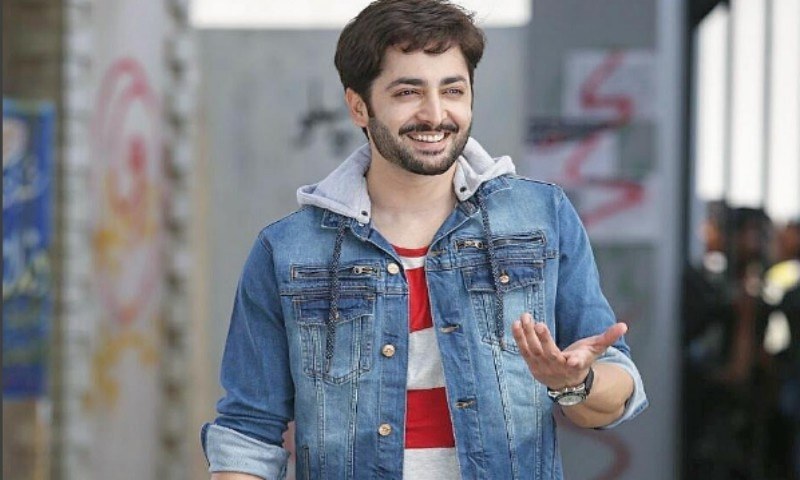 "We can't experiment for now, I want to do what people respond to, anything that manages to entertain them."

Danish Taimoor is one of those very few television actors who've swiftly made a shift to the big screen. After making his debut with the crime-thriller Jalaibee back in 2014, he went on to prove his mettle and the fact that the silver screen loves him with the hugely successful Wrong No. After a hiatus of over a year, the actor returns with the romantic-comedy Mehrunisa V Lub U alongside Sana Javed and Javed Sheikh, that released nationwide this Eid-ul-Fitr.
Helmed by the same team as Wrong No.'s, one catches up with Danish Taimoor on his visit to Islamabad for the film's promotions. He tells us that he's fasting amidst the grueling promotional tours in the scorching heat. He's sporting an all-time classic ensemble, a black suit paired with a white shirt and polka dot pocket square. We comfortably seat ourselves in the lobby of the hotel he's staying at and I begin by asking the heartthrob what draws him to a certain project he's offered.
"It's an instinctive decision," he is quick to answer. "I am naturally attracted towards the material that manages to excite me as an actor." How important does he feel the team is? He nods and replies, "I think the team is one of the major factors that makes me sign onto a film. I feel a filmmaker needs to know his craft. He needs to know he's making a film."
Also Read: The madness behind the lens: HIP chats with the makers of 'Mehrunisa V Lub U'
MVLU that marks Taimoor's second cinematic endeavor with director, Yasir Nawaz and producer, Hassan Zia, says he's been fortunate to have collaborated with the makers, yet again. "I consider myself very lucky to have been able to work with Yasir Bhai again. He's one of the best we have," he observes.
"Every time I get to work with him, I learn so much more. What I absolutely love about him as a director is that he's able to explore a dimension of my own skills that I, myself have been ignorant towards," Danish continues. "From the very first day on-set to now, the atmosphere that Yasir Bhai creates is very friendly."
Reluctant on delve into any details of his role, Danish did reveal that MVLU offers the audience an insane roller-coaster ride. "I want people to see it for themselves, but what I can say is that my character's name is Ali," he shares. "He's a lovable guy who returns to Pakistan from abroad and is disappointed to see the ongoing circumstances. How he manages to change the system, how Mehrunisa [Sana Javed] enters his life and what all goes on at his household is what you'll find out once you watch the film."
Also Read: Danish Taimoor's 'Wujood' spell underway in Turkey
Apart from MVLU, the dreamboat just recently flew in from Turkey, where he wound up the second-last shooting spell for Javed Sheikh's directorial comeback, Wujood. "We have a song remaining and a few scenes that are to be shot," he tells HIP. "We just recently wrapped up a spell in Turkey and the place that itself is beautiful has been captured well too. It's the first time I get to work with him [Javed Sheikh] as a director and he's brilliant," he adds as his face lights up with a smile.
All praises for the his MVLU costar and Wujood director, he continued, "The shoot was amazingly conducted by Sheikh Sahab. He is very down-to-Earth, passionate and extremely punctual. He made sure the call-time on set was followed religiously." Nonetheless, Javed Sheikh belongs to an era of cinema that contributed to the decline of local cinema; however, Danish assures us that he's evolved to contemporary approach of filmmaking.
While Danish takes the lead, film comprises of an interesting star cast otherwise as well. From veterans, Shahid and Nadeem Baig to newbies, Saeeda Imtiaz and promising Indian import, Aditi Singh - the film strikes a right balance between the two generations. Speaking of working with the actress from across the border, Danish stated, "Aditi is extremely sweet. She has such positive energy on-set. She's a brilliant performer and she was truly into it. She was living her character of Jessica."
Also Read: Sana Javed speaks to HIP about 'Mehrunisa V Lub U' and turning back to television
Known for being exclusive and selective about the movies he decides to become a part of, Danish shot for Sangeeta's horrendous Tum Hi Tou Ho last year. Whilst repeated delays in its release have kept us from the sheer torture that the film seems to by judging by its trailer and team, we ask Danish whether he regrets becoming a part of the unanticipated film. "Yeah, kind of," he responds, honestly.
"The film isn't that bad," he adds. "I agree the trailer was a huge disappointment. You see we don't have choices in Pakistan. We're barely able to make twenty films a year. So you wait for two years and do a film, or if a mediocre film with a decent enough script comes your way, you do take it up. There's no other option."
It's public need that Danish has quit television for over three years now. How does he financially support himself and his family in an industry that isn't yet established? "I'm working with Hassan Zia Sahab on 'Mastermind Productions' also," he begins. "Apart from that, money has never really been a problem for me. Acting is not my bread and butter; I have a number of family businesses. Acting is something I do because I feel very passionately about it."
Also Read: In Focus: 'Mehrunisa V Lub U' offers good cinematic entertainment this Eid
What exactly made Danish turn towards films, we curiously ask. "I want to see cinema grow and revive," he maintains with a great amount of dedication and compassion. "Also for my last two years in the television industry as an actor, I was being offered the same kind of scripts. Either there were extra-marital affairs, second marriages or just the usual love stories. I feel cinema a lot more to offer."
However, for the time being, Danish wishes to follow the path that's already been taken instead of venturing out of his comfort zone and examine different genres. "We can't experiment for now, I want to do what respond to, anything that manages to entertain them," he shares on a parting note. "I see nothing wrong in doing the conventional commercial films."
Aiming for the stars, MVLU is now playing at cinemas across Pakistan and we are as ecstatic about its release as Danish is. Gearing up to get into another film later this summer titled Sach: The Truth with Javed Sheikh and debutant, Elysee Sheikh, the the love saga is to be shot in Scotland. Charismatic, charming, devastatingly good-looking; there can simply be no stopping to Danish Taimoor.