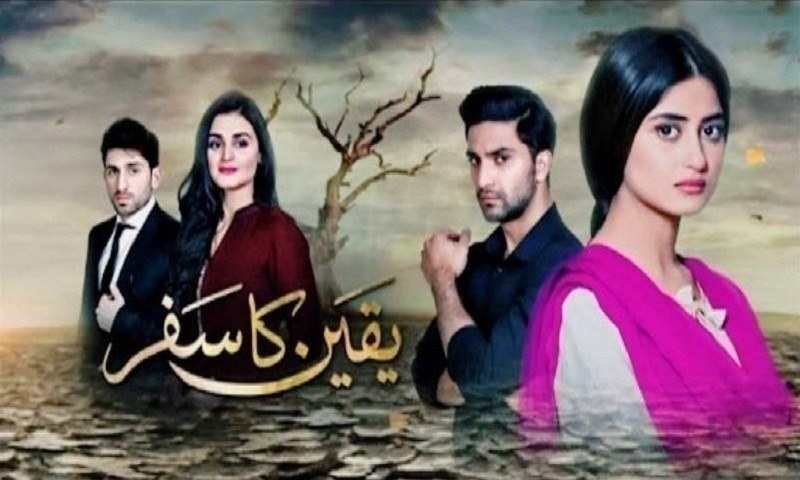 The main focus was on Daniyal & we're glad Shaz Khan lived up to the expectations from his character.

Yakeen Ka Safar has continued to give a lot of serious content, yet still managing to keep the audience glued to their screens since day one. However since two weeks, the drama seems to have been slowing down. Audiences, need more to it or else it could make them lose interest.
So this week, the entire focus was on the anniversary celebrations for Usman and his wife. It was refreshing to see the entire family come together and prepare for the festivities. However, amidst all the chaos, the one thing that you couldn't miss was the anxiety and the tension etched on Daniyal's face.
Daniyal knows he has signed himself up for more trouble than he expected, yet he isn't willing to budge. We're glad he had that suspicion about Urooj's intentions and decided to cross check on her, but what we're not convinced about is the fact that even though Usman's law firm is one of the leading firms in the country, why doesn't it have proper security arrangements? How was it possible for someone to stop by and take pictures in Daniyal's office without anyone knowing about it?
We're also unconvinced about Usman's role because even after receiving a direct threat from Rab Nawaz, he hasn't done anything to ensure Daniyal's safety and now that he is in trouble, Usman blames his son for landing himself in this misery. Usman should be shown as a lawyer who knows how it is when you take up sensitive cases, but he is being portrayed as a cautious individual who would shut his eyes and run away in case of a threat.
Daniyal's character on the other hand is fairly impressive. He is trying to handle the situation with patience and brains and that shows how mentally strong his character is. He is now making sure to find out and rectify all his mistakes that he made when he hired Urooj to work for him but as the plot seems, it won't be long until he finds a way out of the problems he has landed himself into.
Shaz Khan has been doing a wonderful job as Daniyal and this one character is certainly going to test the actor for all he's got when it comes to serious acting. Hira Mani on the other hand, hasn't gotten a good chance at portraying a character with individuality and has only come across as a trophy wife, who is expected to show the right emotions at the right time.
Currently the drama is going slow and we're eagerly waiting for it to pick up pace. We're expecting Sajjal and Ahad Raza Mir to come together soon and then we're sure the speed will kick off for Yakeen Ka Safar.
Overall, this week's episode only focused on the developments in Daniyal's track but they were tortuously slow. We would like to see more of Zubiya and how she is now bearing up at home and with her father now having forgiven her and asked for forgiveness himself. It would have been good, if some focus was put on Zubiya as well, enabling Sajjal to get some screen time as well this week.