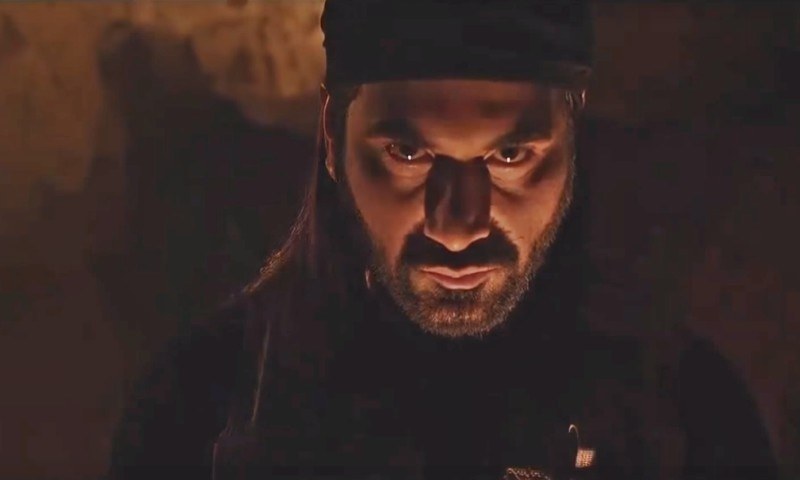 Yalghaar, Project Ghazi and Punjab Nahi Jaungi are just the projects we know of - there's a lot more coming!
Busy left, right and center, Humayun Saeed is one industry superstar that has a lot going on this year. Known mostly for his romantic protagonist avatar, Saeed has taken bold steps by stepping out of his comfort zone to experiment with all sorts of characters this year.
HIP sat down for a candid interview to discuss his set experiences, working alongside veteran and young actors and what it felt like accomplishing so much done in what must've proven to be a tedious time period.
HIP: What made you take up a negative character for Yalghaar?
Humayun Saeed: What I've noticed from my experience, is that actors who've taken positive roles too frequently, are afraid of taking up a negative role. A big reason why I took up this role is because of the way it was written in the script. I was afraid, not because I was taking up a negative role but because this character was particularly dark.
Some people appreciate the effort, some don't. The way the director/writer [Hassan Waqas Rana] explained this written character for Yalghaar, made me realize how close it was to him. Thus, I found it important to take up this role, as the director would be able to guide me and make the best possible efforts to portray the character to its full potential.
Also Read: In Focus: Hope above Fear - 'Yalghaar' is a beautifully flawed film
HIP: Being known as the 'chocolate hero' of the industry, going forward, do you think you'll take up more negative roles?
HS: This happens with actors all around the world. If you look at the film industries of India and Pakistan, you'll never see someone like Shaan ever take a negative role. Shahrukh Khan, Amir Khan and Salman Khan, at their age wouldn't even think of having a remotely negative character.
Doing a negative character like such is a very brave thing to do. I like to experiment. If I've been doing too many positive roles, I feel like removing some of that chocolate and adding spice into my performances.
HIP: How was the experience of working with its stellar star cast?
HS: The entire cast respects me a lot, and most of us would just be having fun on set. I didn't have many scenes with Shaan, but whatever interaction we did have, turned out to be a great experience. I have a lot of respect for him and it was a dear wish of mine to be able to work with him. Although I didn't spend as much time as I would've liked, but it happened and the work came out great.
I think he's the only actor, who in the past 10-15 years has seen the kind of stardom that makes people want to go and watch his films. No one has achieved that status from our industry yet. Not me, not Fawad Khan. We have a lot to do to get to where Shaan is today.
Also Read: HIP Talks: Bilal Ashraf discusses 'Yalghaar' and his rise to stardom
HIP: Ayesha Omar, Gohar Rasheed and Bilal Ashraf mentioned there was no internet or mobile signals on-set whilst shooting up-north. What was it like being part of an environment like that?
HS: I didn't experience anything as such, these are childish comments (laughs). Not having internet or data is not a big deal. If anything, I'm glad there wasn't internet because we work better. You're not distracted talking to someone and you're not worried about your social media picture posts.
I'm not speaking against anyone, but generally this is what happens. Most of my shoot happened on a constructed set in Karachi. We didn't go deep into the mountains or anything; I know this because my phone was working just fine.
HIP: A memory you'll take away from the experience of filming Yalghaar?
HS: It was fun shooting with Doc. Every time he'd be behind the camera, and I'd complete a scene, I would freeze for him to say cut. Instead he'd go like, uff teri ki, wah! I'd stay in position, not knowing whether I'd done a good or bad job. But that was his way of expressing his passion and appreciation (smiles).
HIP: How did you manage to shoot for three films at once and could you give us an insight into your character in each film?
HS: Punjab Nahi Jaungi didn't clash with Yalghaar at all - Project Ghazi did. I didn't have a mustache for Ghazi, but I had to keep one for PNJ. So Ghazi had to stay on hold until I wasn't through with my PNJ shoot.
My characters for each film are totally different. I play a patriotic soldier in Project Ghazi, a fun-loving typical Punjabi in PNJ and the character for Yalghaar, (shakes head) uff.
HIP: What other projects do you have lined up?
HS: On the acting side, I have two more films in the pipeline. I can't disclose much, but one is an action genre, while the other is a rom-com. If I execute the rom-com film the way I've planned, it could be my best film till date. The script for each story is being developed for now.
Also Read: BTS of Humayun Saeed in 'Project Ghazi' will leave you stunned
HIP: Project Ghazi is Pakistan's first live-action superhero movie. What expectations should audiences keep before watching the film?
HS: If you're expecting it to be something like Superman or Wonder Woman, it's not. My character acts as a mentor to Sheheryar. It tells the story of certain soldiers who have unusual abilities to function and perform better. These men have been experimented on and basically it's the fight against evil.
HIP: How was the experience of shooting Project Ghazi?
HS: It was tough. We shot during the peak heat season, so the costumes would give us headaches and sometimes it was hard to breathe. Since this is an action film, it was tougher to shoot for both Sheheryar and I.
We performed our own stunts, because the stuntmen here aren't really up to the par; a lot of hard work went in to making this film, and I'm hopeful the audiences will appreciate it.