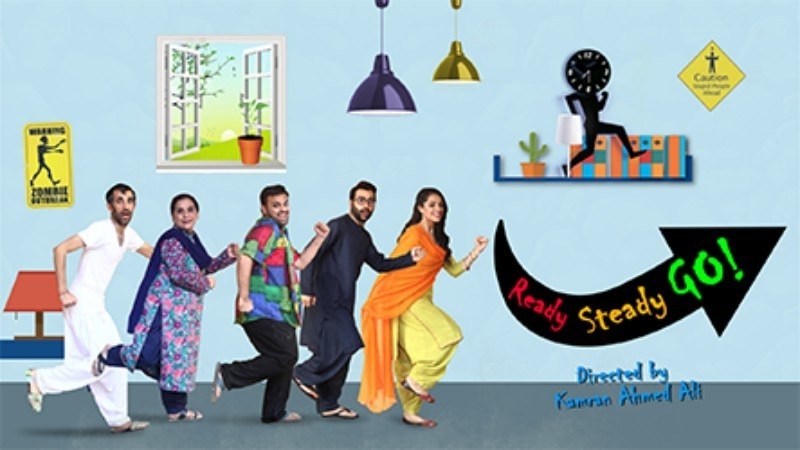 Starring the dynamic duo Aadi Adeel and Faizan Shaikh this is not to be missed at any cost on Play TV.
Television these days is busy airing dramas which are sober in content now where one does enjoy watching them, there comes a time when one craves to watch something light and funny. Looking for exactly that, we recently stumbled across Play TVs Ready Steady Go which had us laughing our head off as soon as it began. Having watched its latest episode last night we can't wait to see more of it and the credit for that goes to its main leads Aadi Adeel and Faizan Shaikh.
Now you must have seen the duo appear on Faysal Qureshi's morning show Salaam Zindagi on ARY Zindagi channel, so having been a fan of theirs we were quite excited to see them appear in a comedy sitcom and were only cursing ourselves as to why we didn't discover this show earlier on as 15 episodes down it is still as intriguing as ever.
Read : Play TV all set to air a moving tale of a little girl named 'Eli'
Written by Hassan Imam and directed by Kamran Ahmed Ali, the story revolves around a family in which the dominant mother, Khairan played by Parveen Akbar is the head of the family, who despite not having enough money is seen to be very strict towards her two rather lazy sons Babban (Adi Adeel) and Pyaray portrayed by Faizan Shaikh.
With the family having rented a portion in Noshi's (Maham Amir) house, the two boys fall for the rather young landlord and from there begins the story of how every week Noshi wants either Babban or Pyaray to do something for her which just makes their mother hopping mad since both the ladies don't really like each other.
With every week bringing a new situation for all the characters, Ready Steady Go is an excellent source of entertainment for the beginning of the weekend. Aadi Adeel's expressions and dialogue delivery is hysterical that one couldn't help but wonder how his costars manage to keep a straight face when in the same frame as him?
Parveen Akbar is a respected actor of ours and the way she has merged herself with the younger lot makes watching her a delight too. Based in Karachi and shot in a typical mohalla, the get up of all the cast is very real and appealing. Faizan Shaikh as well as Maham Amir brings their own charm to the sitcom but the star without any doubt is Aadi Adeel whose name is even making us smile now.
Hoping to see more of this newly discovered comedy king, don't forget to watch Ready Steady Go every Friday at 730 pm only on Play TV.