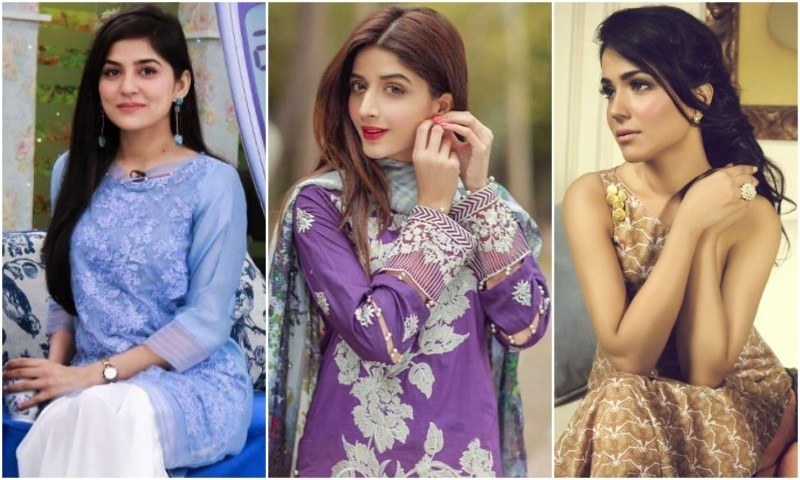 Mawra Hocane, Humaima Malick and more open up about their Eid wardrobe essentials.

Eid-ul-Fitr is the most awaited occasion, bringing rejoice and festivities towards the Muslims as a reward after the holy month of Ramadan. It is observed in high spirits appreciably across the globe. Though being the leading lights of our fashion and film fraternities, our favorite celebrities celebrate Eid just as vigorously as we do.
HIP brings you an exclusive insight into how our eminent fashion personages tend to keep it elegant and glamorous this Eid, flaunting their fabulous ensembles. Read on to know how these stunners manage to look their absolute best:
Humaima Malick
Also Read: 5 Pakistani celebrities that would slay the Cannes red carpet
Humaima being known for her charismatic, yet bold and valiant personality told HIP that when it comes to Eid, she rather desires to be her own self, which is simple and easygoing. "Working on films, we get to wear such heavy clothes during the normal days, so Eid is that one opportunity that I seize to be myself. You need to be more you on Eid," Humaima maintains.
She revealed that her go-to hairstyle any day of the week is a very beachy 'let it go'-kind of a look and that's how she planned to let it be on Eid as well. Disclosing her one-stop-shop for Eid, chooriyon ka stall for her is what Versace is to us. "If chooriyan and mehndi are not there, Choti Eid, for me, is not complete," the Bol-famed actress claims.
When asked if she followed any makeup artists on social media, she was quick to respond in her quirky, confident manner saying that keeping it subtle is the only way to look naturally gorgeous. "Trust me, I feel I can do much better than them. All of this, that I've been seeing, especially from the past one year, makeup has gone a little too over-board," she stated. "They're just layers and layers of base on your face and I totally disagree with that."
She gave it out that the only makeup she used was a little eyeliner, some old-fashioned mascara and a balm for the cheeks along with Mac's iconic Ruby Woo being the one shade of lipstick which she trusts blindly with all her outfits.
Sanam Baloch
Also Read: Ali Sethi's OST for Sanam Baloch's comeback serial is out!
Sanam Baloch, who has consistently won us over with her stellar performances, unveiled in conversation with HIP that Eid for her starts of no different than her usual routine of getting ready for her morning show each day.
She hysterically expressed that her everyday look was a casual ponytail but for Eid she liked to step up the game a little. "High pony tail always works with me as it gives you a very tender look, but for Eid something special needs to go on the floor; preferably a loose blow dry," she says.
About her makeup routine, she comprehended that a nude peach lipstick, some blush-on and a highlighter were the most basic things she used to beautify herself summing it up with balanced winged eyeliner that she managed to learn from the social-media hyped makeup artists. "You can fix instantly if you have these three things in your handbag at all times," the Dastaan actress discloses.
The actress disclosed that when it comes to shopping, she's always the extremist, either shopping everything in a single go or taking unlimited hours wandering from one outlet to the other deciding what to pick. She also mentioned that she wasn't a big fan of mehndi, but completely followed the cultural idea of wearing matching bangles and loved finishing her look with traditional jhumkis and an intricate bracelet.
Madiha Imam
Also Read: It was pure luck: Madiha Imam on Bolly debut, 'Dear Maya'
Budding starlet, Madiha Imam, who is riding high on the success of her Bollywood debut Dear Maya, brought to light that even though she was a keepin'-it-casual kind of person, on the first day of Eid, she loved to doll up. "The whole idea of dressing up on Eid to me and my sisters is for our parents, and is more like enjoying it because of the fact that we get to meet our relatives," she shared.
Being a person who only wore two shades of lipstick, Peach (the subtle) or Red (the showstopper), the idea of social media makeup artists was extremely obliging, according to her. She revealed that a friend of hers ran a makeup page by the name of Cakey Confessions and she thoroughly enjoyed watching her makeup-hack videos.
Eid-hair inspiration for the VJ-turned-actress is "in between curl and straight" hairdo that was the "natural, beach to waves" we all adore. She told HIP that she wasn't much into jewellery, but besides simple thin rings, she loved wearing bangles and one colored jhumkas on Eid to give out a formal and celebratory look.
Our newest export to India got was ecstatic in expressing her love for traditional footwear proving that she was a true Desi Girl at heart. She opened up that stores like Khussa Mahal are her must-visits for Eid and felt no shame in saying that she would prefer wearing traditional footwear over heels. "To pair with eastern wear, I wouldn't mind preferring Kolapuris, Khussa and Khairhi over heels and stilettos any time of the day," Imam concludes.
Mawra Hocane
Also Read: "I was like an empty canvas all over again," Mawra Hocane tells HIP as 'Sammi' nears its last episode
This Eid HIP speaks to Mawra Hocane extensively as she hosts us at her residence in Karachi. For starters, we begin with how she dolls herself up on Eid. She's ingenious, talented and has a spontaneous sense of fashion forte, hence, she begins by telling tales of her overdosed excitement for Eid embellishments, Mawra chuckled, "I love dressing up. In fact I dress up so much on the first day of Eid that Urwa keeps telling me that I look like a truck!"
The zealous devotion towards hair and makeup by ladies on Eid is at times (read mostly) overwhelming. While she preferred top-knots in this scorching heat, for Eid, she says she'd opt for curls. The Sammi actress apprised that she wasn't much of a makeup fanatic. She shared that apart from being gaga over the classic red lipstick, she didn't like putting on much makeup, but adores the stylists at Nabila's Salon who says she's learnt from and uses their products.
In a desi girl's world, Eid without chooriyan and mehndi is felt almost inconceivable. Mawra correspondingly being one, unfolded that she was a fierce partisan of both. "I love wearing mehndi so much that I used to apply it myself till my elbow, but Urwa would mock me saying I should only wear it till my wrists," she laughed.
The Eid euphoria takes over as soon as Eid shopping starts, but Hocane revealed that she was missing out on all the chaotic fun being a young starlet. As told by her, even outfits for her would be brought by others. "I miss doing shopping for Eid. I can't go to markets on Chaand Raat and get my mehndi," she conveyed sadly. Nevertheless, not all is lost as she does manage to get it all her way. "I miss it but I get people to What's App me pictures and I tell them what to and what not to buy," she concludes with that million-dollar smile of hers.
---
Our favorite divas have given out their verdicts on how they plan to put their fashion foot forward on Eid. Now all you've got to do is peep into their style statements that HIP's exclusively brought to you and build your own game strong to slay. Eid Mubarak!