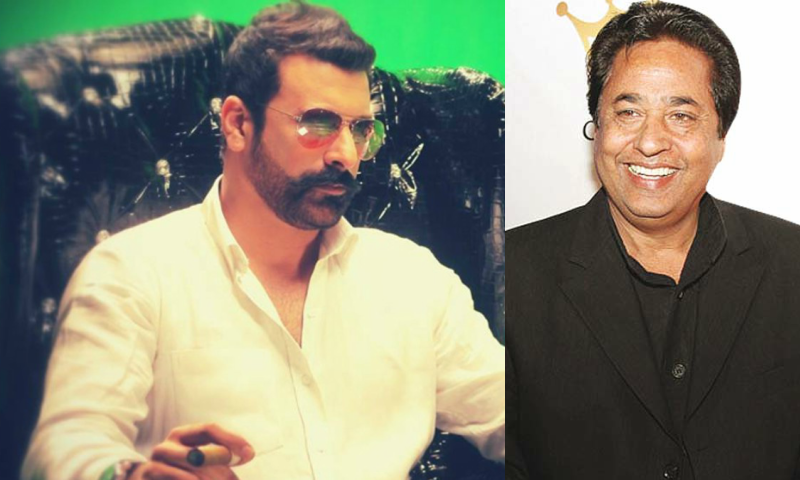 "Don't you feel the urge to stop your self when you are giving away details about the entire stories."
Written in a hurry or excitement, Shamoon Abbasi has had his say. Shamoon posted a long, long open letter to journalists and filmmakers on his Facebook. He talked about the four films releasing this Eid and around the same time, how we are lucky to witness this occasion and what is his take on each film, filmmaker behind it and the journalists who spoil it.
Said in a very colloquial, friendly way, Shamoon has voiced his opinion about the upcoming releases, criticized journalists and appreciated the makers. Appreciated Project Ghazi, made a potential taunt on Mehrunisa V Lub U (maybe) but appreciated it too, wrote some double-meaning lines for Yalghaar ("kiun itna ghussa bhai jee, smile now") and what is interesting is his opinion about Syed Noor's Chein Aye Na.
In a nicer, milder tone, Shamoon tells Mr. Noor that he should leave the technical to the technical people,
"He should be associated with a particular technical team and just direct his subjects, leave photography and dialogues on individuals Sir. We respect what you have been doing for this country in the past." And very openly, he tells Shahroz Sabzwari, the leading man in Chein Aye Na that he has his life/career ahead to learn from his mistakes.
"Noor Sahab if you remember I once said to you, you are story man, keep that thing alive forget what the market wants at the moment." Let's translate this to: you have failed in adapting to the market, leave that to others. Just write stories for films, leave tech to professionals. Message sent loud and clear. Delivered? Can't say at this point.
And that is not it! I kind of agree with Shamoon here:
"I love the fact that we can get to read bout our PRE released movies that someone took more than a year to make and you guys just ruin it for the viewers, I understand that you do your jobs."
Other celebrities have been heard saying this too: you work hard on a project, spend so long on it and critics only take an hour to call it trash.
Talking about giving spoilers in pre-release reviews, Shamoon seems distressed and we will be too if someone tells us Beth dies in Little Women (get the reference?)
"It just does the same thing as killing the bakra that bring for qurbaani before Eid."
Shamoon is not in favor of making realistic movies or something which makes sense. Well to each their own but this sounds really interesting.
"How about stopping in your articles... Where... You just say [it] felt wrong to you and you still are hoping for it to make some money, instead of sense... Maybe they aren't making sense, but when do you want to see that... Or explain me Transformers guys, or more than a billion movies that were made to make sense!?"
It was an opinion which slightly went towards becoming a rant. With not being very eloquent, we cannot say Shamoon has not made his point really clear. Do I agree with him? Well, to some extent and to some particular parts. Saying that journalists earn only when movies come out is a rather harsh statement. A whole mess goes around all year, good stuff and bad stuff, journalist writes all year. Saying that it is a revival of film industry in Pakistan is sort of true but how long will we keep selling our films with the overused statement 'Watch it because it is made in Pakistan.' It is completely normal that not every film is amazing. Still, it is no excuse to make Bollywod inspired, item-number filled films which do not even showcase the effort which went behind it.
How many of you frequent places like these with your significant others to watch a girl dance in the middle of a ground wearing an excuse of a lehenga. It does not happen here. From where did the concept of item numbers come? It almost seems like it is a rite of passage a couple or the hero has to go through in order to become a complete, well-rounded character.
Do we laud Shamoon on voicing his observation? Thoroughly. Do we think it could have been said in better terms? Yes and no. The way it is written sounds like a friendly advice/opinion. Even harsher messages hidden among the text won't be taken that badly.