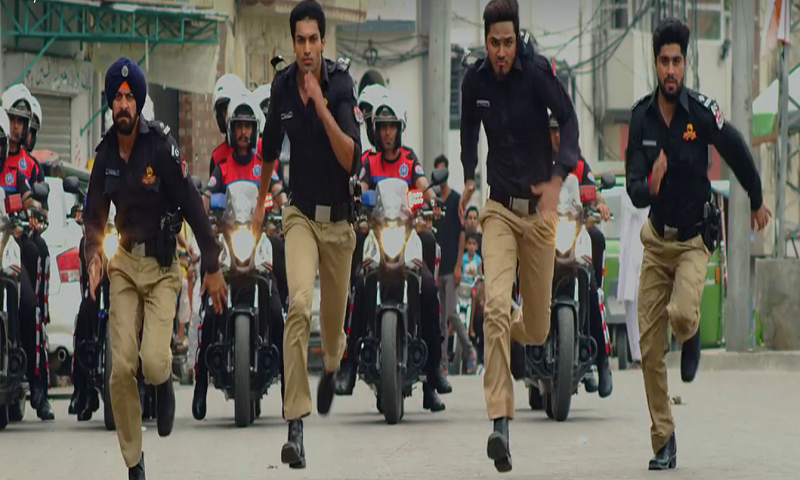 The second trailer from Shafqat Cheema and Nayyez Ejaz starrer, Geo Sar Utha Kay is out and we can't help but be dazed. The trailer is two minutes long and filled with happenings that actually shake the breathe out of you.
The two minute trailer is laced with a lot of blood, a lot of noise, some serious action and four young men filled with ambitions to bring a change to Rajnapur and the fate of Kallu Gang. This time around, we get to see how the four young police men will tackle the atrocious Kallu and his gang, unlike the first trailer that showed us Kallu, the savage that he is, drinking blood directly from bowls.
Read: The trailer of 'Geo Sar Utha Kay' reminds us of old Pakistani Cinema!
And of course as promised by Shafqat Cheema, the second trailer does show a few themes embedded in the movie's story. The trailer this time portrays friendship, hints at romance, unwavering resolve of four young men, and of course high pitched, heavy dialogues that Babar Ali so effortlessly delivers.
Take a look at the trailer here:
Geo Sar Utha Kay will star Babar Ali, Sheharyar Cheema, Umar Cheema, Yasir Khan, Naeem Khan, Areeba Khan, Shafqat Cheema, Nayyer Ijaz, Ahmad Qaynaat, Rana Rashid and Mehmood Arshad in lead roles and is expected to be released in the following months.
Let's just hope our audience is prepared to watch Geo Sar Utha Kay, when there are super hero films that focus on reviving our cinema, rather than taking it back.