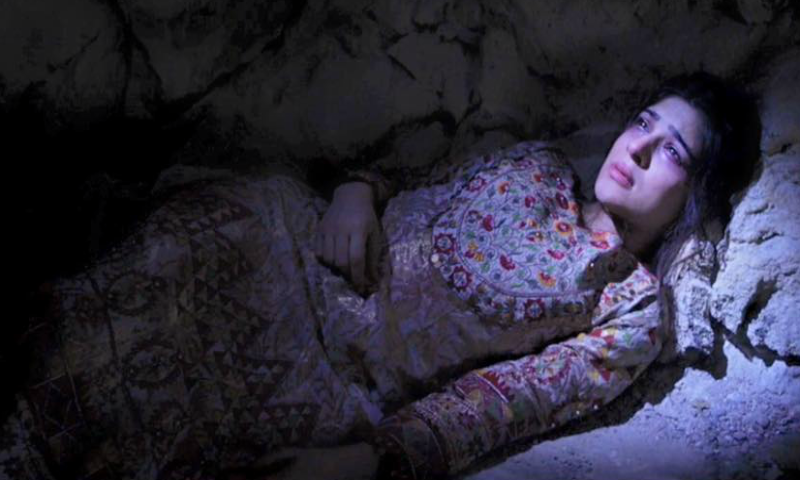 "Women empowerment is one subject that I want to be working on," says Ayesha of playing Zarmina in the film.

Getting up close and personal with Ayesha Omar on her recently-released film Yalghaar all the way from New York, where she's promoting the film currently, Yalghaar follows the lives of young and compassionate army officers and soldiers whose patriotism is throbbing with every heartbeat for their country that is Pakistan. Starring Shaan Shahid, Humayun Saeed, Bilal Ashraf, Sana Bucha and more alongside Omar, read on to find out what all we delved into with the starlet:
The film comes after three years of making and with such a high-profile cast, a lot of work and management had to be done says Omar when we began our telephonic conversation in the wee hours of the night as she got done with her New York premiere. "We were working and shooting under high-security areas and working with heavy machinery and equipment like tankers provided by ISPR," she began.
"Sometimes the machinery would be needed to be used elsewhere to fight off terrorism in actual operations as well. The locations would be sealed off for months, so that would naturally take up more time," Ayesha adds on working under military circumstances. She also disclosed that with a star-studded cast, the film had to be shot in accordance to the actors' schedules.
Also Read: Yalghaar to release in 60 countries in 8 languages
"It was frustrating for me as an actor to wait so long for this film to come out. It was the first movie that I signed and with the prolonged release, it actually made it my second film that released," Ayesha continued since Yalghaar came out after Karachi Se Lahore although it was supposedly her first cinematic project.
The actress plays the character of Zarmina in the film, which to her was a challenging role (agreed), offering her enough room to explore her acting prowess and how she believes the film would be able to make people change their perception of Ayesha Omar as an actor, typecast as a (not-so) bubbly 'Khoobsurat' from her hit comedy sitcom, Bulbulay.
Despite having a massive social-media following based on her commercial presence in the industry, Ayesha assures her fans that they have never seen her take on a character of such sort previously. On being offered the role almost four years ago by writer, director and producer, Dr. Hassan Waqas Rana, Ayesha questioned him on how he thought she would fit the part before signing the epic-war extravaganza.
Also Read: In Focus: Hope above Fear - 'Yalghaar' is a beautifully flawed film
"He wanted Zarmina to be feisty, independent and strong, but also innocent and pure. She should represent the purity and innocence as well as the strength of Pakistan by showing the female rural population and that's why I knew I had to take it up," she shared. Ayesha says she loves the role and how, despite limited screen-time and space in the ensemble film, manages to convey the importance of women empowerment.
News is that Yalghaar will be releasing in 60 countries and is soon to have a Hollywood premiere as well, mind you, Ayesha's debut film was also screened in the ultimate land of cinema. "It's my second film to have a Hollywood premiere and I feel very overwhelmed. I don't know what I did to deserve this but I am very thankful to my fans for supporting me always and my directors, Wajahat Rauf and Dr. Rana," Ayesha maintained.
Ayesha also hopes to bring her third cinematic endeavor to Hollywood. Rehbra opposite Ahsan Khan brings a fresh yet completely new flavor to Omar's acting skills. The best part for Ayesha was that she had been a part of two completely different films, Karachi Se Lahore being a romantic-comedy flick, while Yalgaar is an intense film dealing with a sensitive and serious subject, sending out a pertinent message of peace to the world from Pakistan's brave armed forces.
Also Read: With three films releasing in a span of three months, HIP catches up with Humayun Saeed
"All my fans expect me be to be 'Khoobsurat' at all times, they expect me to make them laugh and be glamorous and stylish, but this time what they can expect is for me to be making them cry and emotional," said Ayesha on changing her game with her role of Zarmina.
"Women empowerment is one subject that I want to be working on. Yalghaar is representing the emancipated female population of Pakistan and I want to be able to work for them," claimed Ayesha on being a feminist herself and taking the cause forward with her suppressed, yet vulnerably empowered character who remains herself and stands for what she believes in against all odds.
On a parting note, she says that she wants to endorse women's rights with her future acting assignment and hopes that people connect to what all Yalghaar offers. "You can expect a lot of strength from the movie, a lot of action and adventure, some romance and lots of handsome army officers as well," she concluded with a hysterical laugh.