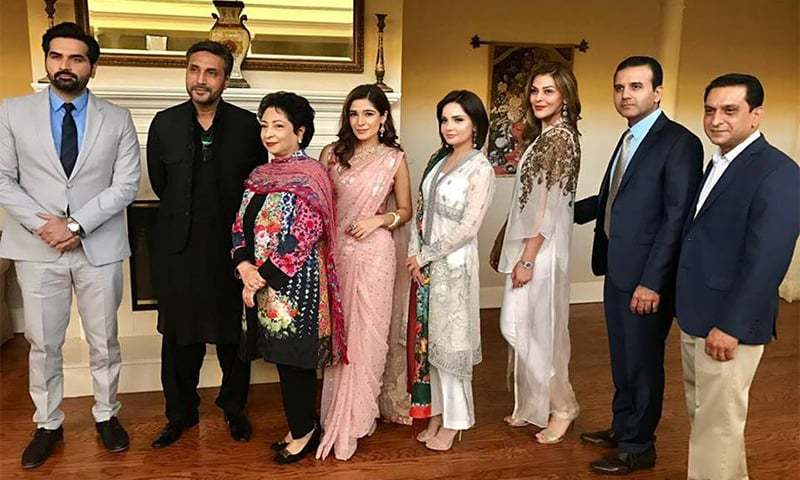 The film is releasing in 22 countries, with Hollywood, just being the starting destination.

Yalghaar first premiered in Islamabad and successfully garnered positive reviews. It then released on the first day of Eid all over Pakistan and audiences loved it. But that wasn't all. Our very own war epic, isn't near stopping. Yalghaar also opened in New York, on the 25th of June, at the historic AMC Empire Theater in Times Square and was attended by the enthusiastic Pakistani community living abroad, officials from the Pakistani Consulate and Pakistan's UN Mission New York.
Amongst the cast that has flown to NY for the international premiere are Ayesha Omar, Humayun Saeed, Adnan Siddiqui, Sana Bucha, Armeena Rana Khan and also writer, director, producer and an actor in the movie, Dr. Hassan Waqas Rana.
The movie divas, also got all dolled up for the press conference in NY in style.
Read: Team 'Yalghaar' is all set for its international promotional tour
And from there, the cast flew to the ultimate movie dreamland, Hollywood, where the movie premiered in the real Hollywood style. And our stars, they shone bright and looked as glam and as gorgeous as Hollywood celebrities.
The screening took place at the Writers Guild Theatre on the 27th June, and dignitaries from LA including the Consul General of Pakistan were present along with the Hollywood press and media.
Making time from her busy schedule, as the cast is on a promotional tour in Hollywood, Ayesha Omar exclusively told HIP how she felt lucky to have her second film be taken to the ultimate land of cinema.
"It's my second film to have a Hollywood premiere and I feel very overwhelmed. I don't know what I did to deserve this but I am very thankful to my fans for always supporting me and my directors, Wajahat Rauf and Dr. Rana."
Read: Ayesha Omar says she's a feminist and takes that forward with 'Yalghaar'
Done and dusted with their Hollywood premiere, the next stop for team Yalghaar is going to be London, UK, on the 29th of June.
The movie is doing better day by day, and by the looks of it, Yalghaar might soon become the next big hit for Doc, after Waar.