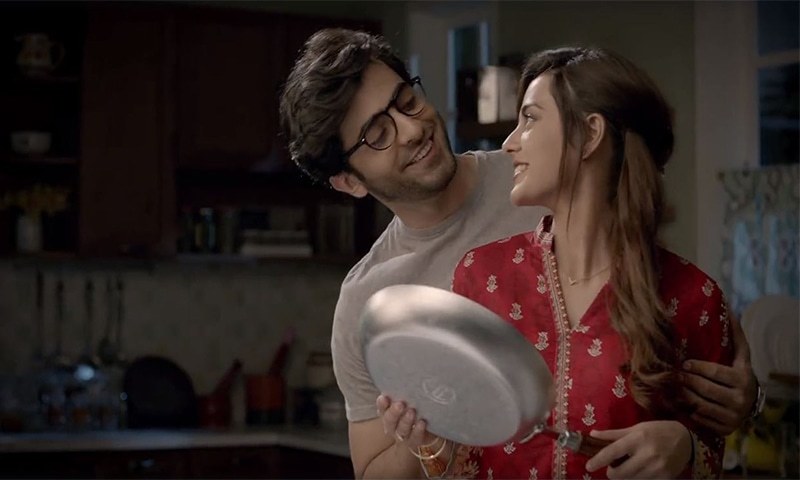 The latest lemon max ad suggests the household product saves the duo from being caught eating biryani, alone.

With Shehryar Munawar gearing up to play this ultra fit looking character in his super hero movie called Project Ghazi which hits theaters on July 14, it was rather sweet to see him playing a loving husband to Iqra Aziz in the new Lemon Max ad, which also introduces the duo as the brand's latest faces.
Where in the past we have seen Fahad Mustafa and Maya Ali play a couple for the brand, this time around, these fresh faces decided to be part of the brand loved by many households. Last year's ad was quite different, having featured a song, this year's is rather settled and managed to win us over, with Munawar and Aziz sharing great on-screen chemistry.
Read : Fahad Mustafa and Maya Ali's Lemon Max TVC is filmy
The ad begins with Munawar coming home and announcing he's not hungry but as soon as everyone goes to sleep the husband and wife tip toe their way to the kitchen so they are not caught and enjoy a meal together alone. But when it's time to clean the dishes, they're so dirty that Iqra is left baffled, fearing their mother-in-law will find out what they do each night. But Munawar doesn't take long, takes out a lemon max bar and viola! All the dishes and pans are squeaky clean.
And since no one can fool a mother, the duo find out soon enough;
"Bahu, jabse max bar aya hai biryani nahi ayi."
Ending on a fun note, the only thing we couldn't figure out was why one would hide from the family just to eat biryani? Check out the ad below and share your thoughts!