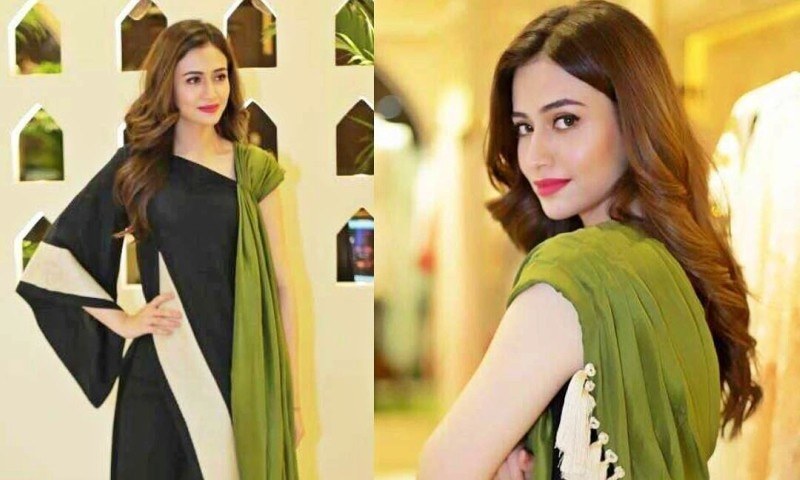 "I love playing with colors. I do a lot of homework and research on color schemes for each look."

The stunning Sana Javed continued to look fabulous throughout all her film promotions and she credits, her internationally-acclaimed stylist, Ania Fawad for it. In conversation with HIP, Ania revealed all her secrets in putting together gorgeous outfits that made Sana look like the star that she is.
"I wanted Sana's image to be that of a film star and so I took inspiration from Bollywood, but kept in mind the feelings of her audience who have loved her on TV," says Ania on transforming her client to be fit for red carpet events. It's no news that we have seen Sana Javed in eastern outfits from shows like Pyarey Afzal and loved her pull it off, but this time Sana made her cinematic debut into the industry and had to make a big bang.
Also Read: Review: 'Mehrunisa V Lub U' offers good cinematic entertainment this Eid
Ania claimed that it was a bit tricky to change a celebrity's image and outlook overall because you have to keep a lot of things in mind. "You are uncertain whether the audience will accept the new image, love it as much as you do, or turn against it," she said. "But I think we did okay," she cuckled.
Aside from Sana's high-profile fashion events, Ania says that for her more casual looks, she took inspiration from different street style bloggers around the world and flipped through fashion magazines and let's just say: it worked!
Also Read: Sana Javed speaks to HIP about 'Mehrunisa V Lub U' and turning back to television
Judging by the color schemes used for Sana's outfits we can say Ania likes to play with the spectrum. "I love playing with colors. I do a lot of homework and research on color schemes for each look. I did already know I wanted to keep the color palette for Sana's promotional looks light and summery, because it's so hot in Pakistan right now. Hence you saw a lot of whites and pastels."
With all due respect of Ramadan, Ania kept very few looks western as it was the Holy Month. "Deciding whether her outfit should be eastern or western really depends on where she will be wearing it. Most of the looks were for morning shows and so we kept them eastern," Fawad concluded.
We can all agree by seeing the star glow that the job was well done. Here's hoping that this insanely gifted USA-based stylist continues to make our divas look their absolute best.