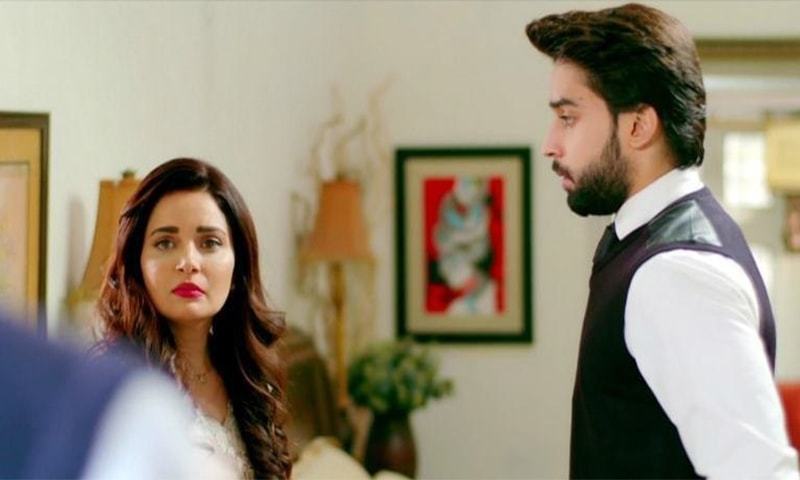 22 episodes down, the play offers nothing exciting at the moment.

Majority of our plays start off on a positive note but somewhere in the middle the plot tends to be dragged and the story line becomes a bit monotonous. This breaks the tempo of watching a play with a lot of interest. Rasm-e-Duniya has always been one of our favorite plays, but last night's episode left us a bit disappointed.
Written by Imran Nazir, the story remains interesting but there is no development in Haya's (Armeena Khan) character. She is still scared of Harib (Sami Khan) and cries every time he comes near. With her about to become a mother we think it's about time she stood up for herself and got Harib some medical attention. The reason behind his ill behavior is a traumatizing childhood, where he was beaten up by Tayi Jaan (Samina Peerzada), his step mother. But it's about time Harib began taming his anger, as he is about to enter a new phase in his life.
Read : ARY Digital's 'Rasm e Duniya' has become an addiction!
Faris (Bilal Abbas) continues to mope around for Haya, despite being engaged to the other Haya (Erum Azam). Harib is not able to stand Faris in the same house, which is why he leaves with Haya because he always ends up being suspicious of the two. Tayi Jaan is upset over Harib leaving because of Faris. She goes to them and gets them back, promising that Faris will be married within a week.
But before you know it, Faris breaks off his engagement with Haya and when his mother finds out she is baffled. She informs him that he can't do such a thing that as she promised Harib that he will be married soon! Tayi Jaan finds herself in deep waters again, so let's see what plan she comes up with to make sure both her sons remain happy.
Direction by Roomi Insha never disappoints. Every scene of his has an artistic touch which is very appealing. Sami Khan and Bilal Abbas do a splendid job but it is Samina Peerzada, the evil plotting Tayi Jaan, who breathes life into the story.
Harib and Haya are expecting a baby, so let's see what the future holds for the duo. Here's to hoping the story line becomes more intense in the coming weeks. With a shift in day and time, Rasm-e-Duniya now airs every Monday at 9 pm only on Ary Digital.