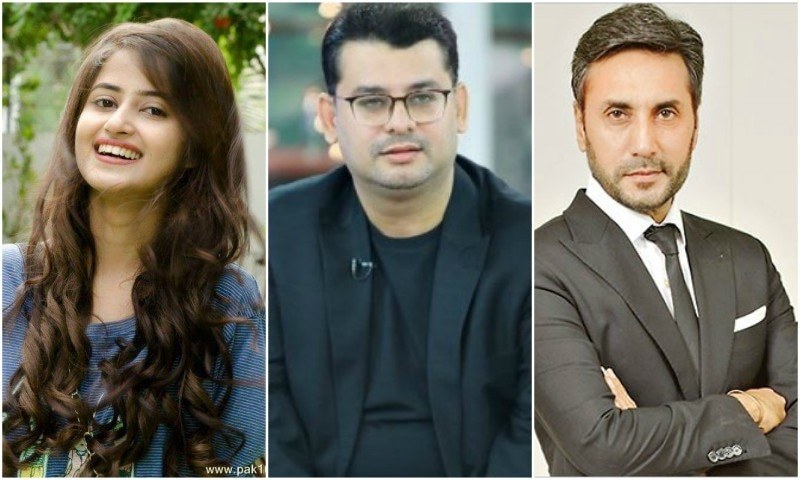 The promos for Mom are out and by the looks of it, the film seems to be a rather interesting one. We've had glimpses of Sajal Aly and Adnan Siddiqui in their respective characters for their Bollywood debut and it won't be incorrect to say that their roles are certainly meaty ones. Sajal plays a titular role, looking every inch the adolescent she plays, and Adnan, her father, looks as grave and sophisticated as his role demands.
But one certainly wonders how the two actors bagged such impressive roles across the border. Did they have to audition? Did someone intervene or were they approached because the makers of Mom had followed their work?
Let's break it to you here,
Haseeb Hassan, director extraordinaire, the name behind exceptional television dramas like Diyar-e-Dil and Mann Mayal, is one of the main reasons behind Sajal and Adnan landing roles for Mom. Although this doesn't question the actors' credibility and professionalism at all, what we're stating is that Haseeb Hassan was the one who recommended Sajal and Adnan to Boney Kapoor, who he is great friends with.
HIP got in touch with Haseeb to know how it all came about and here's what he had to say,
"Boney Jee and Sridevi had already seen a bit of Sajal's work, plus they knew I had worked with her on Nanhi. So I basically helped them connect with Sajal, after which she flew to Dubai and met them. I remember how she was a little clueless initially, but I'm so proud of her and they all loved her performance as well."
Admiring Adnan Siddiqui for his work, Haseeb, who was all praises for the actor added how he insisted Boney Kapoor cast him in the movie,
"Boney Jee's daughter, Jhanvi had seen Adnan in A Mighty Heart. They were initially considering another Pakistani actor for the part, but since I feel Adnan's not only an amazing actor but also a great human being, I persisted they opt for him.'' he added.
On questioning, why just Sajal and Adnan, Haseeb told us he was clear of his recommendations.
"They're both very talented and the Indian film fraternity was already aware of that, particularly Boney Jee and Sridevi. I just feel I've supported them throughout and I'm glad I could make a little contribution. In fact, I was supposed to join them all in Georgia, where the first spell was shot, Boney Jee was kind enough to arrange my flight and stay, but it's unfortunate that I wasn't able to make it due to unfavorable political circumstances."
On the parting note, Haseeb Hassan, who chums with Boney Kapoor across the border, did tell us he was onto something big along with his friend, that would be seen very soon.
"I'm very fond of Boney Jee. He really values true talent and we're planning on collaborating on a project together in the near future as well. Let's see how it shapes up." Haseeb added excitedly.