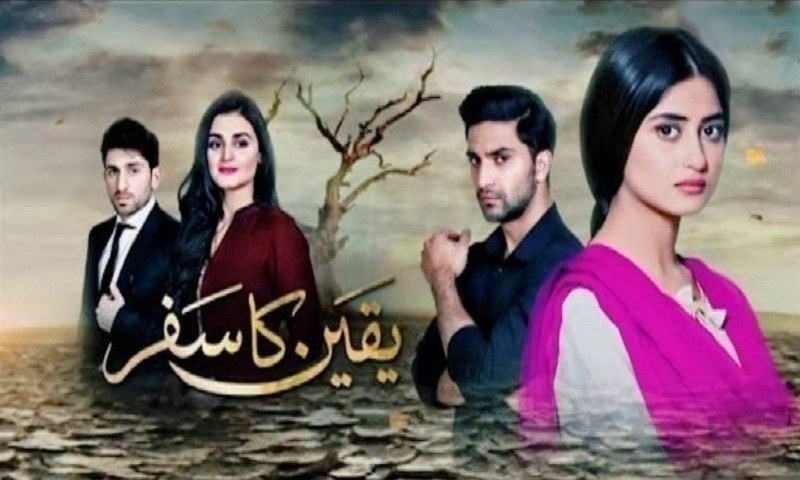 The episode was heart wrenching, bringing out emotions we never knew existed.

This week's episode was heart wrenching. No second thoughts! Where we stated that the drama was losing its pace, Yakeen Ka Safar comes up with a monumental development that stopped us dead in our tracks, wringing out emotions straight from the heart.
So, Daniyal is no more, owing to the undefeated power of the rural politicians. Rab Nawaz has made sure the thorn pricking his road to success was pulled out mercilessly, and in the process, they eliminated Daniyal, killing not only a dedicated lawyer, but a son, a brother, a husband and a father to an unborn child, who'll now be born and grow up to be an orphan.
The episode revolved entirely around Daniyal's death and the tumultuous emotions of his family members. It is absolutely loathsome how Rab Nawaz doesn't feel an ounce of guilt after murdering Daniyal. And what's more aggravating is the fact that his goons have staged the entire murder to look as if Daniyal committed suicide.
The media and press have gone in overdrive, showcasing Daniyal's death as a suicide, commenting on how he had failed himself as a lawyer and committed suicide when he couldn't take things anymore. Usman, Daniyal's father, is truly heart broken but we hate the fact that he is not even trying to question his son's death and accepting everything as it comes. He knows its a murder, not a suicide, and even though he has the power, being the top lawyer of the country, Usman doesn't make any effort to bring out the wrongdoers or even question them.
Asfand is in a state of denial. We loved how Ahad Raza Mir enacted the scenes, putting his heart and soul into his art. He couldn't believe how his perfect brother, one he always looked up to, is no more. Now he will have to go on, on his own, without Daniyal to guide him. We also liked the fact that Asfand had the mind to visit Daniyal's office and hunt for clues, because come what may, he knew his brother would never commit suicide. And even though Asfand didn't find anything substantial, the lead he and his friends got on Majid, was a breakthrough to get things moving.
Even though everybody portrayed their parts to perfection, it was Hira Mani who stole the show. The girl hadn't really gotten a chance to showcase her acting skills as of yet. But as a widow, Hira Mani was stupendous. She left us speechless, glued to the screens and yet unable to watch, which, we guess, is a definite win for her as an actress. The way Gaiti kept on repeating how she needed to have let Daniyal talk to her, how she should have pestered to know what was bothering him, was also quite heart breaking.
All in all, this week's episode was heart breaking to the core. The track didn't focus on anything else other than Daniyal and how his death has now brought devastation for Noori and his own family members. Even the NGO worker has now lost hope in Noori's case and it now waits to be seen how she is going to take it forward from here.
Sajal's track has no development and that's where we want the makers to focus a bit more. Otherwise, Yakeen Ka Safar is a drama that has kept the audience hooked and with such monumental developments, we cannot wait for the next week's episode.
Read: 'Yakeen Ka Safar' is starting to lose significant pace