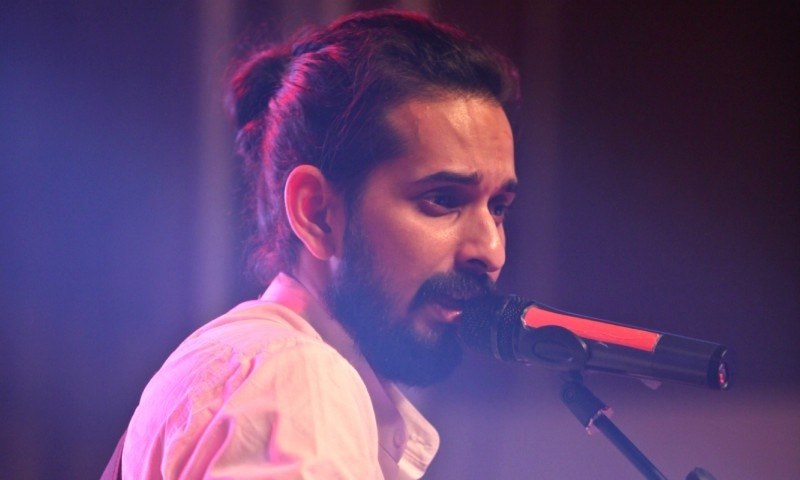 "It's a song that became very close to my heart," Khan tells HIP exclusively.

Belonging to the indie music scene in Pakistan, Jimmy Khan's journey as a singer/songwriter has been laudable. After widening his horizon by lending vocals to the Mahira Khan-starrer, Ho Mann Jahaan last year, Khan's track Baarish has been on repeat for us ever since. His stint at the recently-held Lux Style Awards allowed him to swiftly carve a niche in the world of mainstream music in Pakistan.
Also featured in Coke Studio, Jimmy marks his comeback of sorts post a brief breather with the track Madame. The first look posters of the track that's scheduled to release next week have undoubtedly managed to intrigue us and with that very zeal, HIP got a hold with the man of the hour to discuss his next musical outing, Madame.
Also Read: HIP Exclusive: Jimmy Khan to play live in Karachi in association with Salt Arts
"Keeping the same rhythm structures and patterns, we've gone electric," an ecstatic-Jimmy began. "It's a song that became very close to my heart. I wrote it with the former lyricist of * Beghairat Brigade* and a very dear friend, Danial Malik sometime last year, but I conceived it just now and while working on its video, it became very special to me."
While the production and arrangement of the track's been done by Zain Ahsan, what's really caught our attention is Madame's second poster which features a transgender. Adnan Dhul of Soch had recently released a single called Dhola that starred transgender model Rimal Ali and shed light upon the forlorn and miserable lives they live. We ask Jimmy, if the song takes social commentary forward.
"Its satire, but with a very sad and realistic underdone to it. That said, it's not a public-service message in anyway, but it definitely talks about a very real part of society," he responds. "I feature in it as different characters, but the visual aspect is what's made me so attached to it. I wouldn't call the song itself some vocal masterpiece I'm presenting, but it's an idea."
Also Read: Mahira Khan and Jimmy Khan spontaneously sing 'Baarish' from HMJ
Dealt slightly comically, we cant wait to see what Jimmy has in store for us now with Madame. Stay tuned to HIP for more updates on what all the hippest stars in town are up to.