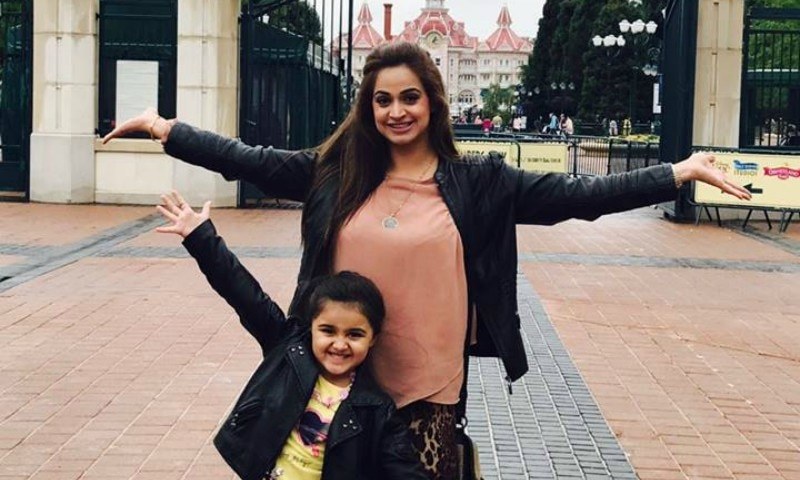 With a surprise birthday party planned by Fatima in front of the Eifel Tower it seems Noor had a unforgettable holiday!

We love our celebrities and are always looking to see what new is happening in their lives. With Noor Bukhari facing a setback beginning of the year with her marriage to Wali Hamid Ali Khan falling apart and left facing to answer a million questions as to what went wrong between the two, we have always respected her decision to keep her personal life away from the preying eyes.
So recently when we saw the actress having a ball of a time with her adorable daughter Fatima in Paris we knew that Noor is getting recharged in the beautiful city to take the world by storm once back. With us loving the fun pictures of the mother-daughter duo, HIP decided to get in touch with the yesteryear star and ask her to spill some deets for you.
Read : Noor Bukhari will be saying a lot and we're very excited!
Where did you choose to go and why?
I chose to go to the UK and from there I took the Euro train to Paris because I wanted to take my daughter to Disney World in Paris. Last year we had gone to the one in America.
Who do you like to travel with?
I like traveling with my sister, Faria and my daughter, Fatima. She is just 4-year- old and exploring the world with her is a lot of fun.
What five things did you pack for the trip?
Well I packed a jumpsuit, a pair of joggers, a black leather jacket, blue jeans and a black dress for a night out.
What are the best shopping spots in Paris?
You must go to Champs Elysees, as that is where all the high-end fashion brands are.
Items you purchased during your visit?
Well since Fatima was with me so for her it was clothes and toys and as far as I was concerned it was a Louis Vuitton bag that I got for myself.
Favorite meal or restaurant?
Since I love desi food, I even managed to find a local restaurant there which had the most amazing food, but since I had a child with me the safe choice was to have either pizza or McDonalds (laughs).
Tell us about sights that no one should miss out on?
One has to see the Eiffel Tower and a wonder wheel which is near there. Now you don't want to miss this as from here one can see the whole city which was a sight I will never forget as long as I live.
Suggest places for a perfect night out?
If you are looking for a perfect night out then I suggest one must go and watch lido, this is a show which has a lot of performances and it truly is an experience of a lifetime.
Most memorable moment from your trip?
It had to be when I celebrated my birthday in front of the Eifel tower and that was a surprise arranged by my daughter. I had my eyes filled with tears because I was so overwhelmed. She's so young and she planned all this with my friend and kept it a secret from me.
How was your overall experience?
Honestly, I feel that it's always good to travel once a year as change of place puts your mind at ease. So if we talk about the experience, well it was excellent. I had last been to Paris almost 12 years ago but coming back with Fatima was a whole new thing and a whole lot of fun.
Finally any tips about the city?
Tip I would give is that always make sure that you research before visiting any place as that saves time and you get to see a lot of places. When travelling to Paris make sure to carry an umbrella when you go out because the weather here as well as in UK is rather unpredictable.
And there you have it guys, a glimpse in to Noor's vacation with her adorable daughter, Fatima.