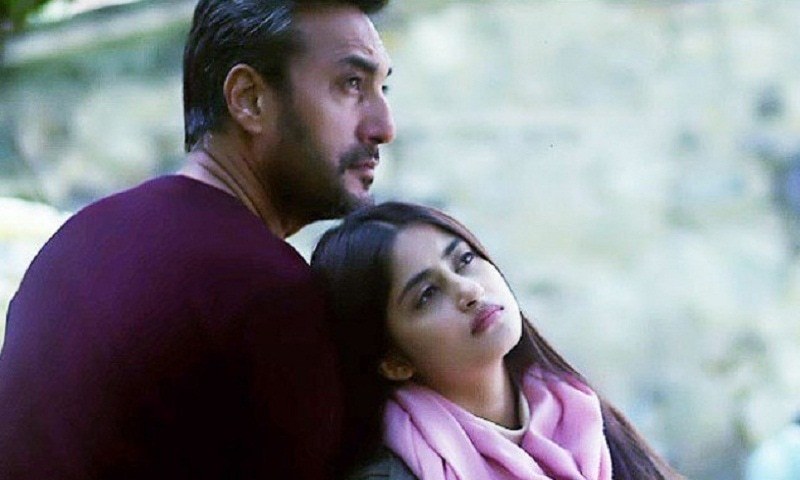 Adnan Siddiqui, the suave, sophisticated and veteran professional he is, has already proven his mettle in not only television projects but in Hollywood, alongside Angelina Jolie as well. Despite having made a blink-and-miss appearance in his debut Pakistani film Yalghaar, brains across the border have managed to do complete justice to his impeccable acting prowess. Yes, we're referring to Adnan's debut Bollywood movie Mom, that saw the light of the day yesterday worldwide.
In a special premiere, Mom was showcased in Pakistan, pre-release on Thursday, 6th of July and as expected, the movie has garnered rave reviews from fellow actors and critics alike. Hours before the screening, HIP caught up with Adnan Siddiqui, who plays the 'Dad' to the 'Mom' this movie is all about.
Adnan is eager and excited, yet he claims, he isn't expecting anything from the movie maintaining his usual stance of receiving the best in life with least expectations. He knows international critics have awarded his movie with mostly four stars out of five and he is now certain, the audience at the home ground will also love the movie and his performance just like it has been praised across the border.
Talking to Adnan, we really wanted to know what's all that different about Mom than all his previous endeavors. Adnan, in his usual comic mood has a rather humorous reply. "I play Sri Devi's husband so that's something entirely new. And you know what, a) Mom is not a Pakistani film, b) It's not made in Pakistan and, c) It's a Bollywood venture, so yes, it's completely different from what I've done before." Adnan quips comically.
Read: Adnan Siddiqui talks about 'Mom' as his character poster unveils
But one really wonders, being an actor of Adnan's caliber, and having a screen presence that can easily compete with just about anyone, why would Adnan choose to play a father in his Bollywood debut? The star, with his (vampirish) characteristics (we mean Adnan has just stopped aging), could easily have bagged a movie where he could play the lead. "I've already become a father so I didn't really have any repercussions in playing an onscreen dad. Also I believe playing a strong character in an A Grade film is way better than playing a hero in a C Grade movie. So I'm better off without it," Adnan tells us.
"Also I play Sri Devi's husband. She is the main lead, the Mom from the title. And as far as I know, there isn't a mom without a dad, and if you see, I'm the dad so I'm technically the lead," Adnan bursts out laughing.
Read: HIP Reviews: 'Mom' teaches to be careful for what we wish for
It's just a few hours before the Karachi premiere for his movie is to take place, and naturally we'd like to know how Adnan is feeling about it. "I've attended premieres for a lot of my friends and stood on the same red carpet, posed for the same pictures. Although this time it's my movie, yet I'm going to be standing on the same place with everyone and will feel almost same. It's just that I'll be promoting my own film for a change," Adnan shares.
Imran Abbas went off and starred with Bipasha Basu, Mikaal Zulfiqar explored action, Fawad made headlines with his Bollywood outings and now its Adnan's turn. Siddiqui is starring in a mystery-thriller-emotional-drama, is he prepared for the comparisons with his peers? "Technically, nobody has played a father so it's all cool. All of them have had their Bollywood debuts as heroes so there are no comparisons because I'm a dad," Adnan, being his usual self.
Before we wrapped off, we did question Adnan about what was next to which he was quite keen to share. "We're shooting this one of a kind period drama called Ghughi, so I'm all excited about that. It'll be after a long time a period drama of such will be hitting the TV screens. Also my production house, Cereal Entertainment is busy with the drafting its first movie, which we will talk about very soon."
Read: No matter where I go or what I achieve, no project can be closer to me than 'Mom': Sajal Aly chats with HIP
A movie, naturally we were excited and so we launched our brigade of questions. Adnan joked about it saying, "Everybody tries to bring something different for the audience and we'd try that too. We'll make an effort to offer something interesting and of value to our audience." More details to follow soon – stay tuned to HIP.
Adnan Siddiqui maintained a very funny and humorous stance throughout the interview, positive vibes vibrating off him. One would be certain, the actor has complete faith and confidence in his role and the movie that's about to be showcased to the entire world. He has no qualms about playing an abba and is proud of what he's done, and rightfully so!