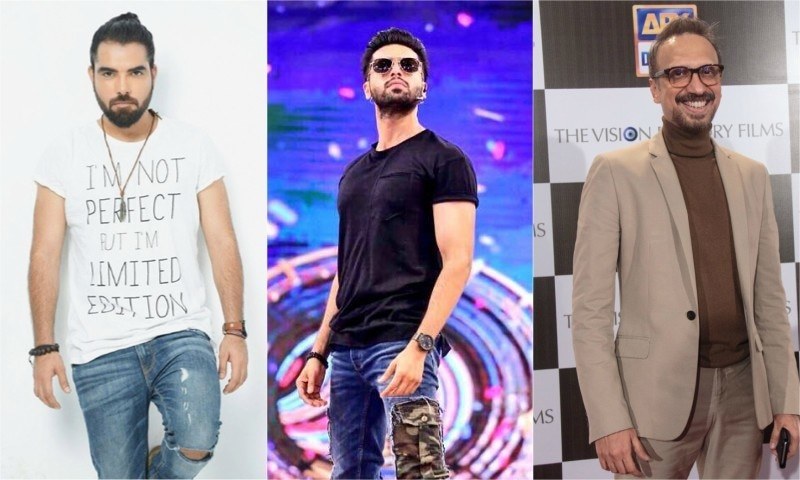 Going into depth of the matter in conversation with Asim Raza, Fahad Mustafa and Yasir Hussain.

Ever walked out of a cinema or saw a movie and felt like, Oh that would never happen in real life, because it actually wouldn't. What we often see in movies is the element of exaggeration. Most of us would know exaggeration to be something better or worse than it really is, but in movies we see everyday activities and lives of common people being turned upside down.
What are the chances of meeting a person who looks exactly like you and in no way is related to you? Again, it's a one in a million deal. The answer is very simple and it all lies in the angle that we need films to be a source of escape for us. Films are usually a genre created for escapism to see a tragedy bigger than our own life or make us feel better by seeing something comically overstated. It's pretty obvious that no one would pay a load of money just to see their own lives, if we wanted that why not just make and watch home-videos?
HIP goes into depth on the topic and extensively talks to industry insiders on what it takes to draw a good amount of people to the cinemas to pay and watch a film. Usually, the formula (as it may be called) is pretty simple. Films work critically and commercially when they are well plotted, innovative, offer something new or are very well put together. "The larger than life factor is part of the commercial cinema and we can thank Bollywood for making everything look prettier than it really is," says seasoned ad-filmmaker Asim Raza who turned to the silver screen last year with the Mahira Khan-starrer Ho Mann Jahaan.
Also Read: Sheheryar Munawar to be the lead in Asim Raza's next film
Asim feels that the Indian cinema has an influential rolw to play behind the fantasy-factor seen in our cinema as well. "You have to study the character first and then the persona being portrayed, this is the job of a good production team," Asim added. The director feels that people do not want to see what they have left behind at home, but at the same time have a good amount of relatability factor to add to the cinematic experience. "I feel like a movie should have novelty in it, I am a believer of a strong plot and a good story, the content matter a lot," says Asim along with the fact that for him personally, the plot itself should be rather hard hitting.
The director feels that a huge factor is played by the mind. "You should have an artistic mind in and be able to be more creative". Raza feels that in our country revenues are generated with the help of using the pipe dream in scripts to make the final product look invincible. "Unfortunately in our country the filmmakers [producers and directors] are forced to sell on this because they are trying to make money and our audience is prone to turn towards this genre."
Also Read: Yasir Hussain pens down his first TV script called Shaadi
"I grew up watching Indian films because there were no Pakistani films when I was growing up," says Yasir Hussain on the matter; apparently Bollywood has a sculpted connection with the issue at hand. Yasir explained with a few examples on how films could be as realistic as possible and still have make-believe aspects in them. Case in point: Mom, the film, despite being empathizing and believable, striking an emotional chord with the cine-goers, might not have been penned quite pragmatically.
"Dil Walay Dulhanya Le Jaengay is still watched worldwide because it is highly fantasized," says Hussain and we don't disagree. Whether it's the element of fantasy or simply the magic of Shahrukh Khan, we can't stop watching. "In Sunny Deol films, you'll see him fight off American boys just to defend an Indian girl, but we never see Indians actually doing that," exclaims the Lahore Se Aagey actor, making a valid point.
The writer and actor feels that imagination belongs to the cinematic medium, but television serials on the other hand carry continuity, hence social commentary comes into play, mirroring our society. "Taking out the fantasy from films would mean no production of films like Batman VS Superman or The Avengers in Hollywood as well," he maintains.
Also Read: HIP Exclusive: Yasir Hussain & Sami Khan roped in for a Indo-Pak joint venture
For Yasir, it's all about comedy for the time being; he feels that it's the one genre that can show as much amplification as it wants and still get away with it. "We already see a lot of bomb blasts and kidnapping, we don't want to see action or violence, we need entertainment," says Yasir. Surely we can catch some of that comic brilliance in his ongoing serial Shadi Mubarak Ho that might not be the way Pakistani love stories unfold, but is a much-needed departure from depressing staging.
Concluding the debate, HIP got a hold of Fahad Mustafa, the leading man of two of Pakistan's highest grossing films, Na Maloom Afraad and Actor in Law, and the potentially successful sequels to NMA and Jawani Phir Nahi Ani. "Make what masses fantasize. I don't want to make films for a certain bunch of people. I want to make films that cater to everybody. I did nothing extraordinary in my films; I've played a common man, who has all these desires and aspirations. That's what makes me relatable, if I can be a hero being an average Karachi-boy, anybody sitting in the theatre can," says the acclaimed actor and host on essaying boy-next-door, yet heroes.
Also Read: 'Jawani Phir Nahi Ani' Sequel: Fahad Mustafa joins the cast!
In Fahad's opinion he feels that the industry needs to make films that people can relate to, yet are larger-than-life. For him, it's all about keeping it real. "During Na Maloom Afraad and Actor in Law, we shot within Karachi, but we never made it look hideous, we highlighted the stunning architecture and I was personally intrigued to shoot at a few places," says the Jeeto Pakistan host on choosing locations that glorify our country and all that there is to celebrate.
We can certainly take a few pointers from the actor, who also understands the off-camera dynamics considering the fact that he's founded Big Bang Productions three years ago. Particular about cinematography and visual stability, Fahad also added onto the discussion by saying that it's incorrect to project a city (Karachi particularly) in an entirely negative light, saying that in a context to a recent film which depicted Karachi as such and it was actually upsetting for him.
Well we can never be sure of what the perfect balance of dramatization there can be for a quality movie, but we definitely know whatever we see in cinemas right now has us coming back for more. The only way forward is to know where to strike the right balance between enhancement and naturalism. That said, cinema in our part of the world without elaboration might not leave a lasting impact at the box office. Filmmakers are yet to prove otherwise.