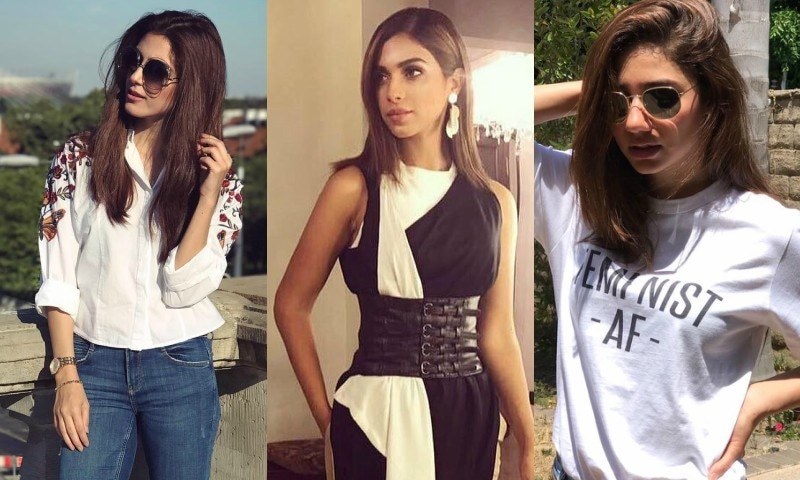 Pakistan is excelling in all fields, recently especially in fashion and media. With that being said, our actresses seem to be taking keen interest in their sense of style when they walk out of the house. What ever event it might be or wherever these ladies plan to go, they represent themselves as style icons we all can look up to.
Also read: Hip Picks: Best dressed celebrities of the week
Mahira Khan is our number one pick for this week, as she lays down some serious opinions with a simple T-shirt. Want a perfect look for this summer? Just do what Mahira does. Put on a pair of faded blue jeans, a clearly statement making white tee and goggles to beat the heat! You too can get this shirt from HeF Clothing!
From the sets of her film Teefa In Trouble, Maya Ali walks the streets of Poland with style dripping from every inch. With a ripped pair of jeans and butterfly imprinted loose dress shirt, Maya folds away her sleeves and stress while sight seeing on her day off. Never forget to accessorize,wear your shades and watch too!
Also read: HIP Picks: 6 television actors we can't wait to see on the big screen
Talking about Glitz and Glamour, Sonya Hussyn seems to be dazzling us in this gorgeous dress. Sonya decided to go 'monochrome all the way' with this outfit by Inaaya, while being styled by Ehtesham Ansari for the premiere of Mom.
Let's take a break from the glamour, as Armeena Khan who looks like a bundle of joy taking a much deserved vacation in Cuba after the release of her film Yalghaar. Armeena decided to doll up her look by wearing a royal blue shoulder strap-cut dress to go along with a heavy necklace and her new hair-do.
It looks like the premiere of Mom brought us a red carpet worth rooting for. Ayesha Omar enters our list with her charm, being dressed in another dress by Inaaya. This beauty in black leaves us staring in her 'easy breezy' net attire. And get this, she did her own hair and make-up! This certainly gives us hope.