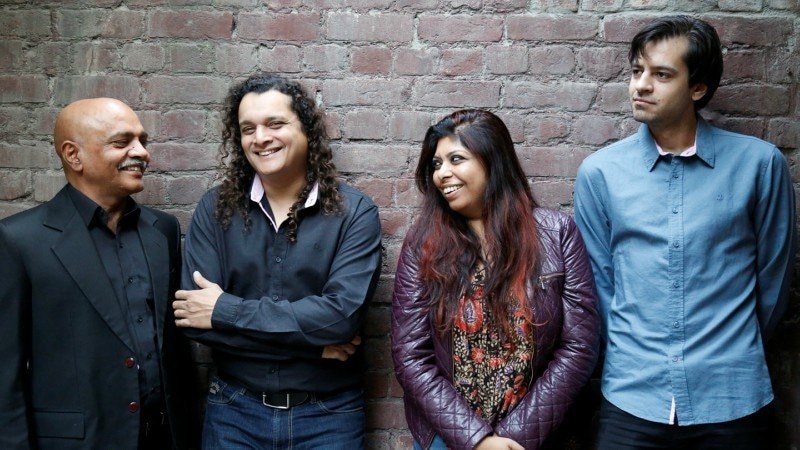 "It was a dream come true. I am probably the first singer living in India who has sung for Coke Studio Pakistan."
We love listening to music, I mean who doesn't? The Meekal Hassan Band has given us amazing music to listen to over the years. Whether the band's appeal has been because of how it blends different sounds or due to its immensely talented lead vocalists, we've never been disappointed. With Javed Bashir going his separate way, we got a chance to hear them again on Coke Studio season 8 in the very first episode.
We were completely blown away by its now lead vocalist, Sharmistha Chatterjee, whose golden voice made us sway and fall in love with the band. With Kinaray and Sayon still our hot favorites, we decided to catch up with Chatterjee to ask a few questions about herself, appearing on Coke Studio, how she met Meekal Hassan and a lot more.
HIP: How did the musical journey begin for you?
Sharmistha Chatterjee: My father was very fond of music, he noticed that I had the talent and an inclination towards music and put me under Hindustani Classical training at a very early age. I was born and raised in Kolkata and music used to be a subject I studied along with others like maths or science.
As I grew up I found a refuge in music. After my university days, when I was contemplating whether to go abroad and pursue higher studies or give music a shot professionally, I chose the latter and landed in Mumbai alone with no contacts or anything whatsoever and gave myself and music a chance in life . This was almost ten years back. 
Read: Mekaal Hassan discusses new music and Indian lead singer Sharmistha Chatterjee
HIP: Did you ever imagine you would be the lead vocalist of a Pakistani band?
SC: No, I never thought it was possible given the arch rivalry between the two countries. I loved the music and artists from there just like so many other Indians, as I grew up listening to Ghulam Ali Sahab, Mehdi Hassan Sahab and many such legends but I never of thought of becoming a part of a Pakistani band because it seemed far-fetched from reality.  
HIP: What was your first meeting with Mekaal like and what made you say yes to his band?
SC: Mekaal and I were connected on Facebook from before, just like other musicians are connected through social networking sites which I feel is a positive thing. So, when Mekaal was looking for a female singer for his band, Gino Banks referred me to him.
I was delighted with the proposition because I was a fan of the band since Sampooran times and the thought of playing such amazing music with brilliant musicians like himself and others in the band was something I could not say no to since the difference of nationalities never really mattered in my head. I had a chance of being a part of some great music and I knew I would get to learn a lot of things in the process.
HIP: What was the first song you recorded with them?
SC: Ghunghat was the very first song from the album Andholan.
HIP: Did you receive any criticism for singing for a Pakistani band?
SC: It was in fact the opposite as I received a lot of love and respect from the musicians circle here in India since most musicians here have great love for Pakistani artists and bands. My close friends were worried about my security but travelling frequently back and forth has set these worries aside.
HIP: Tell us a bit about your experience with the band?
SC: It's always a pleasure performing with the band. Every single member is very loving and supportive. I have toured with them for months so they feel more like a family. I always feel emotional when we part at the end of a tour since we've become good friends and I don't know whether we'll be able to perform together in the future given the present conditions.
HIP: How was Coke Studio for you? Is there any special memory you still cherish?
SC: It was a dream come true. I am probably the first singer living in India who has sung for Coke Studio Pakistan and all thanks goes to Mekaal Hassan, Strings and Coke Studio. Everyone at Coke studio, from the crew, the musicians, the makeup and styling crew to the sound team, were loving and supportive. I even remember liking a neck piece I was given to wear by my stylist Ehtesham Ansari and when I told him that I loved it he insisted that I should keep it.
Another crew member insisted I should taste a special Biryani from Karachi and got it for me which was very sweet.The Coke Studio tracks also got me a lot of exposure in your country as well as mine as it has a huge audience all over the world . 
HIP: What's your most memorable concert till date?
SC: There were two. One was Khayal Festival in Lahore where I performed with the band in their city, Lahore, so that felt a bit of a challenge. I had butterflies in my stomach but I was overwhelmed at the turn out and the love people showered. It was a full house and we got a standing ovation at the end.
Second one was a concert in Chicago during our last North American tour. The band was travelling for three consecutive days performing in Vancouver, Guelph and then Chicago without any rest or sleep . I was so exhausted but the audience was amazing and we all performed our best that day. Good live audiences have a very positive impact on the performers. 
HIP: What does the future hold for you in terms of music, any collaborations with any local or international artist ?
SC: The plan is to continue singing. In Pakistan, other than Meekal Hassan Band, I have collaborated on a track with Khumariyan and Faraz Anwar respectively. I have collaborated on an upcoming album with Diana Purim & Eyedentity - the album is titled Echoes In The Universe with other guests including Herbie Hancock, Airto Moreira, the late great George Duke, Justo Almario and Pete Lockett. Many other incredible musicians have graced the album as well! I feel extremely humble and honored to be on the same album as them. The genre is best described as "Urban Brazilian".
This is my very first American collaboration and I would love to collaborate with some of my favorite artists, musicians and producers in India as well as in Pakistan and around the globe. To me,music is like an ocean and there is so much to know, experience and learn. There's a lot to do and such little time.
HIP: What is your view related to the political instability between the two countries, should art suffer because of it?
SC: I am very apolitical in nature so I wouldn't like to comment on it. Exchange of art is always progressive as it helps one to learn and become aware of its history and heritage. I have always felt classical and folk music has a rich heritage spread across the sub continent with roots in the Middle East, Eastern Europe and North Africa. An opportunity to observe, listen and learn can be a wonderful thing.