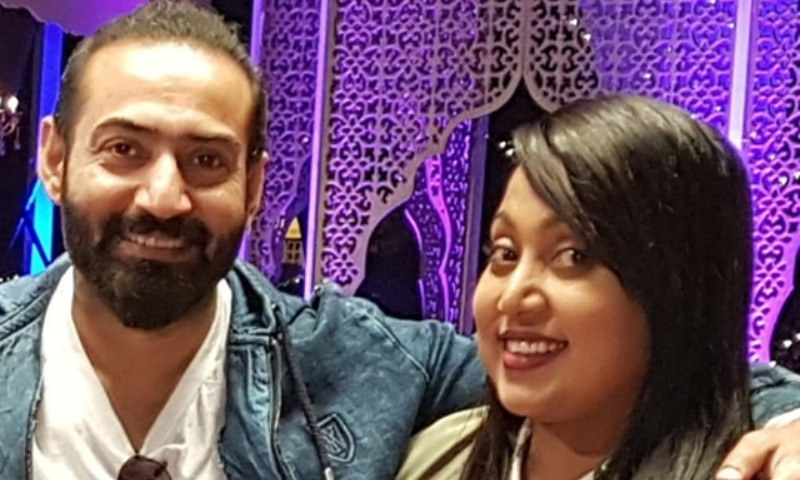 From making Salman Khan to Humayun Saeed dance to her tunes, Shabina Khan's talent has no boundaries!
Jaawani Phir Nahi Aani is one movie that changed the face of local cinema and how. One of the many aspects which impressed about JPNA was just how well every song was choreographed. Getting the likes of Vasay Chaudhry, Ahmad Ali Butt and Hamza Ali Abbasi to shake a leg, and that too oh-so-on-point is no easy task! With the success of the film, one discovers that the mind behind all these groovy steps was acclaimed Indian choreographer, Shabina Khan, who was especially called to become a part of the project and much to our surprise, she has teamed up with ARY Films and Six Sigma Plus yet again for their next together, Punjab Nahi Jaungi.
A bid recap would do: Shabina began her career in the 90's by assisting choreographer, Ganesh Hedge on the movie Khamoshi and has went on to work with the best in the business, Saroj Khan and even Prabhudeva for a year, however, it was Main Madhuri Dixit Banna Chahti Hoon which made her an independent choreographer, post which, she even worked with Sonam Kapoor and Salman Khan in Prem Ratan Dhan Payo. At the time when I met her in Lahore back in December, she had come for the shooting of her second Pakistani endeavor, Punjab Nahi Jaungi, she told me how busy she was choreographing for Salman Khan's Tubelight.
Read : JPNA beats Waar to become Pakistan's highest grossing movie
Despite an impressive career chart, she has a humble personality and it was amazing to see this vivacious lady have actors like Humayun Saeed and Mehwish Hayat literally dancing on her finger tips. Curious to know how her association with Humayun and his production company begin, we decided to begin our conversation with exactly that question.
"Actually It was Mahesh Bhatt Sahab who introduced me to Humayun Jee as they were looking for a choreographer from India, and there was a cameraman called Mr. Mujhaid who knew Humayun and all pretty well. He had worked with me earlier on so when they were looking for someone, he said only one person can do this and its Shabina as she knows Urdu and she understands everything, and will gel with you people well," she began.
She further added, "Then they called Bhatt Sahab and he said of course I know her, she is like my daughter then he told me that Humayun Saeed would call me and I had to do the choreography for their movie. I had also done a film earlier with Humayun which was directed by Bhatt Sahab called Jashn and the songs of that movie were done by me and Humayun was playing a character in that, so that is how I was able to make a connection to him."
With a lot of people trying to scare Shabina from working in Pakistan due to the political instability between both the nations, it was her determination which made her collaboration in JPNA possible. "I was very adamant to work in Pakistan because our culture is the same, we are all Muslims and secondly I feel this is my country so why couldn't we work together?" she questioned as optimistically as one can. Our conversation was brief, but riveting, as Punjab Nahi Jaungi nears its release, the ace choreographer exclusively opens up about the film, working in Pakistan and more. Excerpts follow:
HIP: How was your experience working with the team, especially after the unfortunate Uri attacks had taken place?
Shabina Khan: "The experience was great, but I did have problems coming to Pakistan despite having a visa. I had a flight, but still people [in India] felt that I shouldn't go [to Pakistan], but you see with Six Sigma and I had already had the experience of working on their film Jaawani Phir Nahi Aani, so the relationship between them and me is very nice. They're sweet people and I love how they treat me like family. It has been more than a year since we did JPNA, after that I did work on an award function [1st ARY Film Awards, held in Dubai] for which Humayun Jee recommended me, so I did that entire show with my troop from India.
"Another reason why I wanted to work with this particular team again was because I understand Nadeem Baig [the director] and Humayun's kind of storytelling, so because my experience with JPNA was a pleasant one, when they called me for Punjab Nahi Jaungi, I literally fought with everyone to come here," she chuckles. "I knew that nothing would happen in Pakistan."
HIP: Does your team travel with you?
SK: "My assistants come with me, but the makers send me the song in Mumbai and I make my graph, so I do my division and I share with Nadeem then, we both make a story and then we shoot the song," Shabina tells HIP. "Out of all the directors that I know off, I like Nadeem a lot because we both think alike and it is important that when two technicians work together, their thinking matches, and Nadeem and I think of common things related to a song , so basically we compliment each other's work too."
HIP: Take us through the process of choreographing.
SK: "Actually, as a choreographer, my job is to understand the story and the characters which the director is giving me. My whole work depends upon the way the director is narrating the story," she shares her pragmatic approach, involved while sipping her tea.
"But as far as I am concerned, well I go through the script as I work differently compared to others and as I read the script, I see if the characters' demand is to dance, then only will I make them dance. In this film Humayun's character is different from Ahmad Ali Butt's, so I couldn't give them each other's steps; it's very important to understand the difference between the characters."
HIP: So you study the actors' abilities and limitations as well before going on-set?
SK: "I do," she is quick to respond. "Even when I did JPNA, I made films of everyone with their names to try and understand them as an actor because they are not our local [Indian] actors you see, like Ranbir Kapoor and Salman Khan, whom we see daily, so we know what their limitations are. When I began to work with Humayun [and the rest of the cast], I saw a lot of their dramas and films to understand them and I also read about Nadeem because to work with someone, it is important to know a bit about them too."
HIP: How was your trip to Lahore, did you also visit the sets in Bahawalpur?
SK: "No, I didn't because I did not get the visa for there, so I came to Lahore and because of me they shifted the entire schedule here as well."
HIP: Which has been your favorite song from Punjab Nahi Jaungi which you choreographed?
SK: "It's a romantic number called Tere Naal, normally you see pre-marriage affairs take place, but this story is very nicely done, we will see romance growing after marriage," an ecstatic-Khan observed. "I loved the situation; this is the only romantic song in the movie, [sung by Shafqat Amanat Ali] and it has been shot exceptionally well in three different angles."
HIP: What are your future plans, do you plan upon collaborating with anyone else besides ARY Films and Six Sigma Plus in Pakistan?
SK: "After JPNA, I got a lot of offers, literally every month I would get about 3 to 4 messages from Pakistan which included banners like Geo Films, Sadia Jabbar of Balu Mahi's production house and even Javed Sheikh Sahib, plus many more, but it is very difficult to be more in Pakistan then in India. I just recently worked with Salman Khan on his movie Tubelight, so my schedule is pretty hectic as even though I am here for a little over a fortnight, my team is rehearsing back in India for our next movie."
She added, "If good people approach me then why not, but then again maybe, I would like to be exclusive for Humayun Saeed and Nadeem Baig because when someone calls me I always ask for their advice, they guide me properly, but then again, like I said, if there are good people with a good offer, then I just might do it."
Punjab Nahi Jaungi is all set to release on Eidoul-Azha and we can't wait to see Shabina Khan work her magic once again through the insanely talented Humayun Saeed, Mehwish Hayat and the newest addition to the Urwa Hocane ménage. Stay tuned to HIP for more exclusive interviews and scoops on everything that in HIP!