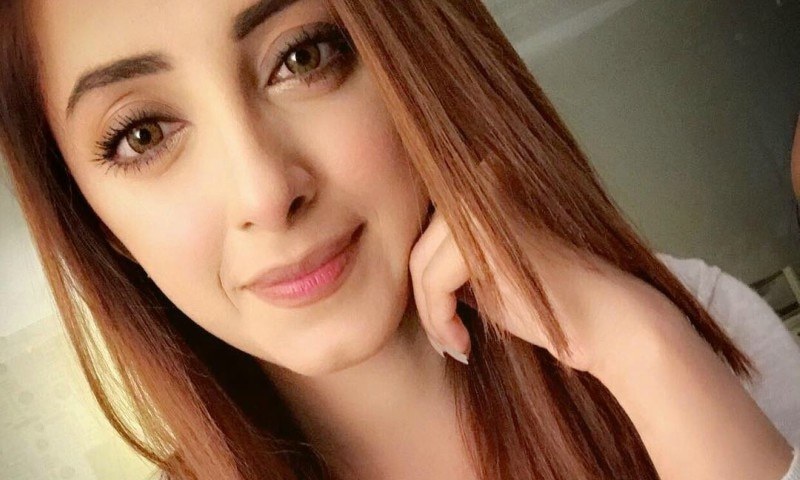 "I cannot relate myself to this character. I am friendly, loving and caring, whereas she is not."

Anyone who follows Sanam Chauhdry's Instagram knows that there is definitely something going on. Her recent posts sporting the desi look are making us suspicious about what she is doing. Her green shalwar kameez, long red nails, khussas, jhumkas and bangles say a lot but the real mystery is what '#Anji' represents. In conversation with HIP, Sanam tells us what we need to know about her upcoming project and why is it different from what she's been doing recently.
Sanam revealed to us that her recent posts are from the sets of her upcoming drama Ghar Titli Ka Per and she looks like every bubbly naughty giel who likes to overly accessorize. "This is totally Anji's drama, she isn't a happy girl because of financial issues so she plans and plot things for close people around her so that they too are miserable and deprived of living a happy life." says Sanam on introducing her character. It sounds like something completely different fom what Sanam has recently been doing since Shiza. Sanam feels that her character in this drama is a bit of a show off, loud on makeup and accessories and pretends to be nice, putting up a fake attire.
Also read: Sanam Chaudhry talks to HIP about her upcoming projects
"As I was doing all the emotional dramas and serials that are coming up are pretty much the same, I thought to change things up and make other characters cry this time. That's how I chose this project." says Sanam on the role of Anji.
Also read: HIP Exclusive: Noor Hassan & Sanam Chaudhry pair up for Shoaib Khan's film
The serial will be airing on Geo under 7th Sky Production. Opposite Sanam are her male leads who include Shehzad Sheikh, Ali Abbas and Ali Ansari. The show itself will be under the directorial talents of Mohsin Talat. "I cannot relate myself to this character because Anji is the exact opposite of my personality. I am friendly, loving and caring whereas she is not." said Sanam. We wish her all the best and hope that she pulls off yet another role with grace and versatility.