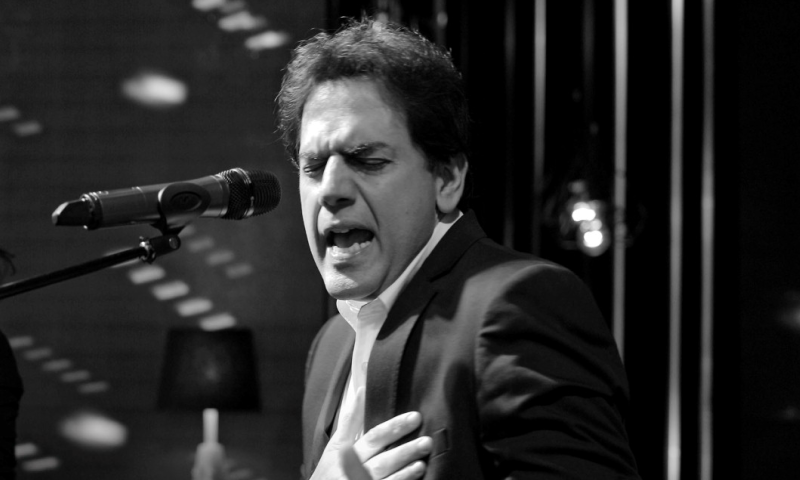 The yesteryear pop-sensation of Pakistan is finally releasing his new album 'Signature' after a decade-long hiatus!

Zoheb Hassan; a name synonymous with nostalgia. Hear about him and you're transported back into the 80's and 90's where the brother and sister duo, Zoheb and Nazia ruled the pop scene in Pakistan. Following the sad and very unfortunate loss of his sister, we heard very little from Zoheb on the music front. Yes, the guy was active recently, via Coke Studio and Ho Mann Jahan, but it is after a solid decade that Zoheb is making a comeback with a new album.
Zoheb's first solo album, Kismet, came out more than ten years ago and of course as the music scene progressed and with Zoheb moving of London, most of us lost hope of hearing this musical genius rock once again.
But to our utter delight, Zoheb is all set to make a comeback with his new album titled Signature. And there's only a little wait since the album is all set to release on July 21st!
And so, we bring you insights, details and a lot more, directly from Zoheb, just for his hardcore music fans. Speaking to us about Signature, Zoheb told how it was a reflection of his own life. "Signature is basically a reflection of my life for the past decade. The ups and downs, the good and bad times." Zoheb confessed.
The fans are enthusiastic about hearing Zoheb once again. So how does the artist himself feel making a comeback with a new album after a full decade? "I don't really like the word 'comeback'. I have been in the scene, be it through Coke Studio, Ho Man Jahan film, etc. It's just that I haven't done an album for a long time and don't appear much publicly as most artists do. That is because I have another career and I am a bit selective in what I do." Zoheb told us.
But even though he was in touch with the music industry, the interaction was minimal. Of course you'd have kept a track of ups and downs but really, do you feel you will be able to gel in the current wave with your latest album?
Yes of course, the music scene has changed drastically. The media platform has become so much bigger with now hundreds of TV channels and extensive social media. I still however feel it could be better as less emphasis and exposure is given to music than film, politics, etc in our country. The government also has to impose more laws to protect the music industry and artists viz intellectual rights and copyright protection, artists performance fees, lower import duties on equipment, etc. Zoheb shared.
Adding to if he had been influenced by the new trends in the music industry and if he cared to change his style, Zoheb was keen to express how he had worked on more mature music with Signature. The listeners would be able to connect to his new music like they did in the past, but this one is going to be slightly more adult and of course mature.
"It's very important to evolve with time. If you don't and live in a time capsule you can loose your relevancy. I have tried to keep on learning to try and improve myself as a musician but I guess at the end of the day the public would be the final judge,'' expressed the Dosti star, leaving the final verdict in the hands of his fans.
Zoheb recently revealed the teaser of one of the featured tracks Silsilay in the album, and it has us in its wondrous grip. We'd love to know what Silsilay will be about and what inspires Zoheb to make such beautiful, catchy music.
"Well normally a songwriter is like a sponge. They soak up what goes on around them. The feelings, experiences and influences are of course captured and they reflect in the music. This is how things work for me. As for Silsilay, it has been written by Emu (Imran Momin) of Fuzon. It's a romantic song but to understand what's its all about you'll have to talk to Emu himself, " Zoheb quipped.
Read: Zoheb Hassan releases teaser for upcoming song 'Silsilay' and its beautiful
The Fuzon star, Emu, has also written three more songs for Signature, especially for Zoheb. And renowned UK based music director DJ Swami, a name behind music artists like Shania Twain, Apache Indian and Stereo Nation, plays a major role in the production of Signature.
Zoheb has explored the beautiful Turkey with Signature as most of the locations are set alongside this magnificient country. Why would he want that? He mentioned how it was the director's choice to explore the mesmerizing beauty of Turkey and the black sea. And so he went ahead with it because there was nothing he could object to with the beauty Turkey has to offer.
We also wanted to know if Zoheb had plans to visit Pakistan and conventionally promote his music album, as the norm these days. To which Zoheb replied how his commitments back at home would hinder his involvement with the album's promotional activities. "Well the fact I live in London and am working here in the family business may deter me from being very active in promoting the album. But come a day and real soon, I'd love to perform live concerts at in Pakistan," Zoheb confessed.
Before we wound up, we wanted to know what was next for this music icon after Signature. Would he want to work on another album. The answer had us in surprise and we're definitely eagerly waiting for it to be unveiled. According to Zoheb, "A film on Nazia and my life is in the pipeline at the moment. That's my focus. Also a possible world tour with live concerts is in sight, so lets see where we go from here."
Signature will release on the 21st of July and will feature 9 tracks, one of which will be a rendition and amalgamation of three of Nazia Hassan's tracks, alternate versions of which she sang. It will be called the Sunno Sunno Dance Mix and will feature snippets from Koi Nahi, Disco Deewane and Boom Boom, sung by Nazia especially.