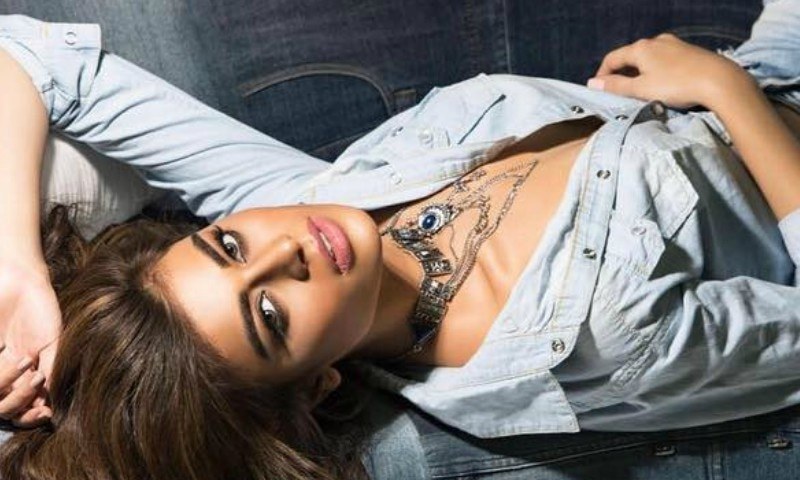 With Aima Baig's voice and Sadaf Kanwal's looks, 'Kaifo Suroor' is surely gonna be a hit!

'This Gypsy Soul Will Sing It Down In To You' and just like that we all find ourselves transported into realm of exotic beauty. With just a glimpse, the teaser for Na Maloom Afraad2's new song 'Kaifo Suroor' has us all mesmerized.
Also read: Mohsin Abbas Haider Discusses 'Na Maloom Afraad 2'
Although you can't see the whole figure yet, but it's quite obvious that those undeniably shaped lips belong to one of our industries most beautiful faces, the gorgeous Sadaf Kanwal. With just the right shade of pink and red, Sadaf blows us away in a glimpse, as she moves like an outlandish splendor in her white belly dancer attire.
Also read: HIP Exclusive: Urwa signs Na Maloom Afraad 2
With just a few moves, Sadaf shows us her skills gracefully, waving her hands and owning the stage as her own. The song has been sung in the voice of the ever talented Aima Baig, who adds a sultry touch of seduction and gives us major vibes. The lyrics have been written by Sabir Zafar and music by Shani Arshad. Some people are arguing over the fact that this song kind of has the same starting has 'Mayya Mayya' featuring Malika Sherawat from the film Guru, who dresses in the same sort of belly dancer outfit as Sadaf in this song but the ironic thing is that the song has the same music less lyrical starting as 'Mayya Mayya'. Nothing can be said until the official song is out, viewed and heard, but this preview has surely made us excited for the song 'Kaifo Suroor' and Fahad Mustafa's Na Maloom Afraad 2 as a whole.
Watch the teaser here: