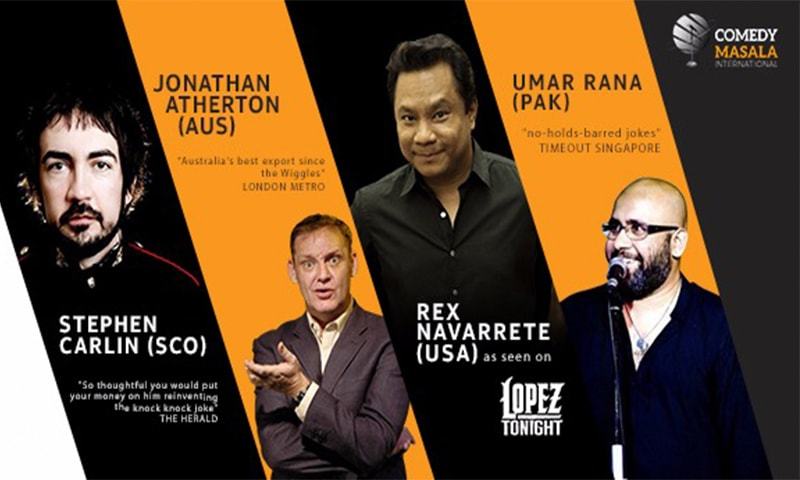 Back with a bang, Comedy Masala International, founded by Pakistani stand-up comedian Umer Rana, had a massive week, with 5 shows in 3 nights. This time around there were acts from all parts of the world, but their passion for comedy made audiences bond in a refreshingly unique manner.
The show, hosted by Rana, started off with his typical wit that got the crowd in the mood for some fun. After a few kinky jokes, he introduced the first act of the night; Rex Navarrete. Rex has been seen on the acclaimed Lopez Tonight and is one of the most well recognized Philippine-American comic acts to have emerged from the US. His content was mostly based off of real-life experiences, and his jokes revealed that Filipinos have a lot of similarities with us Pakis. From clingy mothers, to being worrying about skin tones, seems us Easterners need to get our priorities straight. While his jokes were relatable, they did drag on a bit much and didn't seem to have the edge the next two acts did. We did applaud the Jason Statham imitation though, it was perfect to the T.
Next was the eclectic Stephen Carlin, and boy was he a treat to watch. The man has been rated as one of '10 best stand-ups ever' by Stewart Lee. Starting off by commenting on the traffic we're so well known for, Stephen made comparisons between us and the Scottish, which were brutally honest, but so damn true. His jokes ranged from day to day things we take for granted, and ended up right where he started. As he came to the end of the act, he said, "Well I'd say drive safe but I guess in this case I'll just say, drive." He also talked about things the Scottish were known for, drinking and drugs.
Last in line was the multi-talented Jonathan Atherton. Jonathan has long been one of Australia's best comics, and he's always had an internationalist aspect to his material. He is fluent in at least 10 languages, and the best part was, he used Urdu words/phrases in the best context we'll probably ever get to see a foreigner pull off. His jokes ranged from his experiences traveling, and he definitely gave us a lesson on the stereotypical map of Australia. Fast-paced humor, accompanied with wild imitations, made his performance the most electrifying of all.
All in all, it was a great show to be a part of and we look forward to the next line of acts in the future.