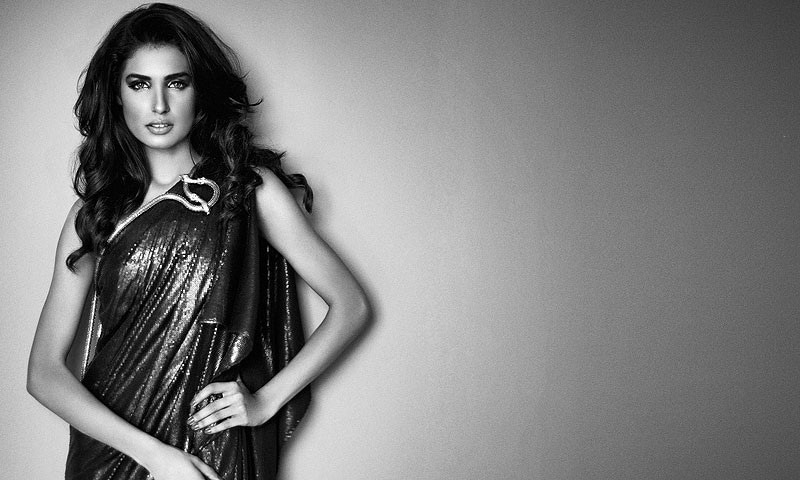 Supermodel-turned-actress, Amna Ilyas has been breaking stereotypes like there's no tomorrow. Redefining the definition of beauty, Ilyas' debut flick, Zinda Bhaag almost made it to the Oscars, while she went on to work in Sabiha Sumar's critically acclaimed Good Morning Karachi. Turning to mainstream cinema, Ilyas was seen shaking a leg in item numbers from the films Dekh Magar Pyaar Se and the recently-released Mehrunisa V Lub U.
Taking it a notch further, the sultry model will be seen rubbing shoulders with Sheheryar Munawar, Mahira Khan and Mira Sethi in dynamic filmmaker duo, Meenu Gaur and Farjad Nabi's next titled Saat Din Mohabbat In!
Also Read: Mahira Khan and Sheheryar Munawar to star in upcoming movie titled 'Saat Din Mohabbat In'
We got a hold of the raging beauty on what all she has in store after having been missing from the scene for quite a bit. Speaking of how screen-space and time isn't a concern, Amna has no insecurities whatsoever of sharing the leading man with her contemporary peers.
"I don't really think on those lines, I basically signed the film because Meenu and Farjad are great friends of mine," she told HIP. "I also really liked my character, it's that of a feminist and just a very strong female character, there's a bit of action as well. I felt there was substance in it and I really wanted to take it up."
"It also has a lot of acting margin, I think that's all an actor is hungry for. Also I believe if you're a good actor, you prove yourself no matter who's standing in front of you," she continued, adding that she is very fond of her co-star Mira Sethi, who will be seen essaying a comical Punjabi character in the film.
Also Read: Mira Sethi to make her movie debut with 'Saat Din Mohabbat In'
The rehearsals for the film continue in full swing in Karachi, while it is slated to go on-floors in August. Tentatively wrapping up in September, Amna says she has high hopes from the film and we simply cannot disagree. A casting coupe of the sorts, Saat Din Mohabbat In also stars Imran Aslam, Rehana Saigol, Rimmel, Aamir Qureshi and Adnan Shah Tipu in titular roles.
Narrating the quest of a young man (played by Sheheryar) who seeks for true love in a crowded Karachi neighbourhood and naturally faces several hurdles along the way, SDMI has swiftly made its way to the top of our most-anticipated-films list for the coming year. Stay tuned to HIP for more exclusive updates on the film!