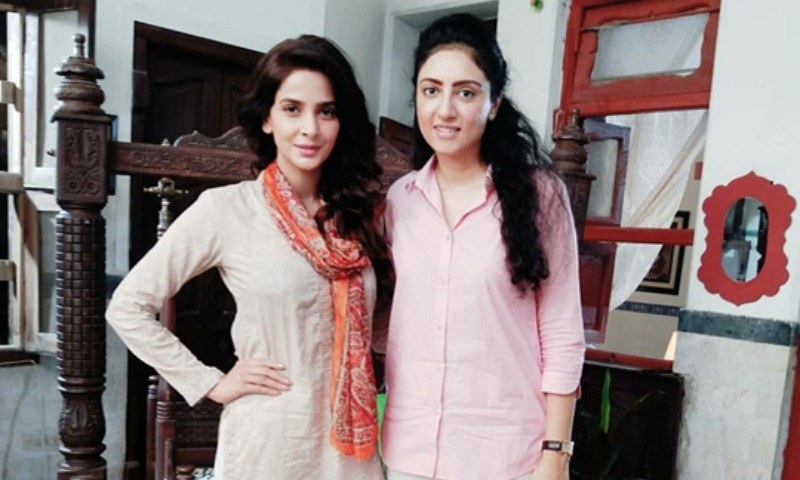 "The information was gathered, discussed and created for each and every piece of clothing that Saba has worn."
With so many fashion designers entering the industry, there are only few who are able to leave a mark with their unique and gorgeous designs. One such designer who has made a name for herself all through hard work within no time at all is Zubia Motiwalla, whose creations even we are a fan of. Hence, when we discovered that she was involved in designing costumes for the Saba Qamar-starrer Baaghi, based on the life of Qandeel Baloch, we got hold of her to let her spill some deets.
HIP: How did the opportunity to design costumes for Baaghi arise?
Zubia Motiwalla: I have worked previously with Urdu1 as a Costume Designer for the telefilm Ek Thi Marium and for that I had designed for the character of Hina Bayat who played Sanam Baloch's mother. So after a successful project, they approached me again for this mega serial called Baaghi, for which I have designed for its three main characters, namely Saba Qamar, Saba Faisal and Nadia Afgan, who will essay the role of Qandeel's sister in law.
Read : Saba Qamar's 'Baaghi' promo is absolutely riveting
HIP: What was your inspiration in terms of wardrobe, recreating Qandeel Baloch?
ZM: We worked as a team, Urdu1 and I, as you see there were different stages of Fauzia's (Qandeel) life that we had to portray and we also had to keep in mind the kind of clothes girls usually wear in rural areas, for the initial stages of her life, as every stage had a different challenge for all of us. We had to keep the genre, colors, material and themes in mind as there were at-least four junctures of her life that we had to cover.
From pre-wedding, married life, [transition to] western [clothing], and then a defined style – all had to be covered. We worked very hard for this project, the information was gathered, discussed, and created for each and every piece of clothing that Saba has worn in the drama. I hope everyone can see and appreciate the amount of input in terms of time and energy that we have invested in this particular project.
HIP: Besides Saba Qamar, which other actor was fun to array?
ZM: Nadia Afgan's character was a bit tricky to design for, since she is playing a negative character in the drama. Her character is shown as someone who is loud, very opinionated and dominating as the sister-in-law, so the clothes we gave her were in colors which were shiny, bold and expressive.
HIP: Lastly, will we be seeing you design wardrobes for more drama serials?
ZM: I definitely hope so. I am very interested in costume designing as it fulfils my need to be creative. I am a full-time designer for prêt and luxury prêt and I customize clothes for working women as well in my 'working women' line. I, therefore, get to design for the modern women of today on a regular basis.
But costume designing excites me because each character is different and you get to show your skills as a designer to dress up a character as required by the script. It challenges you as a creative person to bring out yours and the writer's perception of the character. I do hope I get interesting characters to dress in the future.
We look forward to seeing some more relevant ensembles by Motiwalla soon, but till then don't forget to watch the first episode of Baaghi starting from the 27th July at 8pm only on Urdu1.