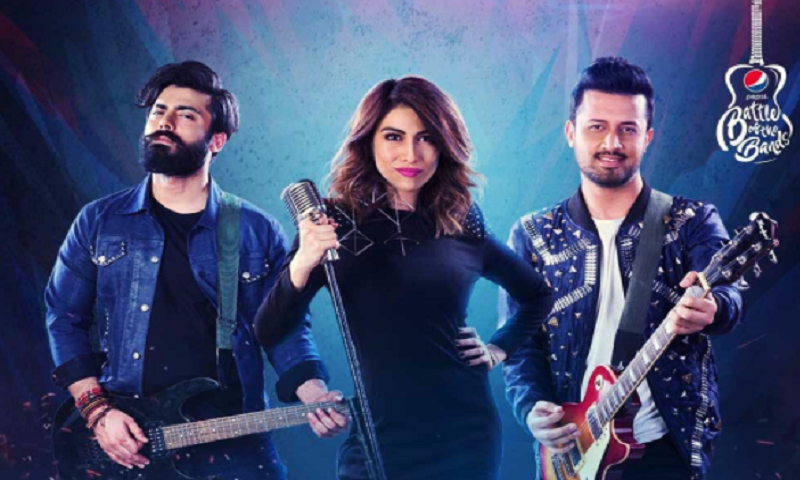 And so the excruciating wait ends right here. Presenting to you guys the exclusive anthem of the Pepsi's Battle of the Bands featuring the real rock stars Atif Aslam, Meesha Shafi and Fawad Khan.
While Atif and Meesha have been rocking us with their excellent music for years now, it's the return of Fawad Khan back to the music scene that's kept us anticipating the anthem and now have us addicted to it. This mashup of Dekha Na Tha and Do Pal Ka Jeevan, a real tribute to the veterans and patrons of the music industry, Vital Signs and Alamgir himself, is absolutely riveting. Listen to it once and you'll be hooked for good.
Although this is the TVC for the upcoming Pepsi's Battle of the Bands, the song has already become our next top favorite. We love the opening sequence with Fawad's vocals, the singer turned actor turned singer once more has made sure he makes a rocking comeback to the music scene and succeed he has. The Do Pal Ka Jeevan in Fawad's voice gives us goosebumps. The star has really connected well once again with his rockstar persona and we're absolutely loving it.
Meesha, is the diva she is, her vocals rising above the chaos and coming out as bright as the blazing sun. And Atif, Atif's his usual self, musical, entertaining and of course our very own favorite. Combined together, this TVC and the anthem it features is absolutely amazing. Even if its a tribute and features old songs, revamped, this blast from the past is literally the best thing you'll see today.
We just cannot wait for the battle to begin right away!
Read: With the teaser now out, we're expecting a high octane comeback of the Battle of the Bands