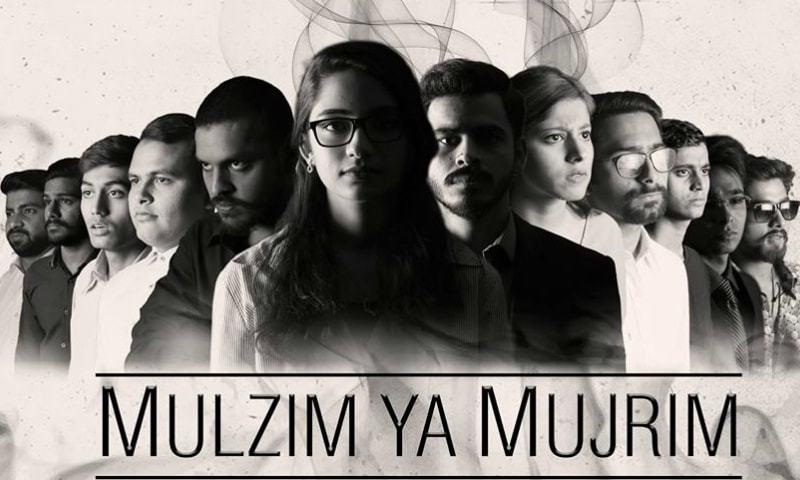 When Mulzim ya Mujrim ended, I couldn't believe 2 hours have passed. Felt like it's been hardly twenty minutes.

Mulzim Ya Mujrim is a Pakistani adaptation of 12 Angry Men. The adaptation was done by Meesam Naqvi. Believe me, when I say it, the man is an asset.
Instead of 12 people all men, the director had picked 2 females, one especially playing the character of Juror #8 who is the only one with doubts about the murderer. I will not go on and on about the story because I take it, all of us are familiar with it.
It's gripping, spellbinding and eye-opening. It keeps you hooked till the end. And guess what, this adaptation was no different. It made you laugh, it made you grip the seat in front of yours tightly, it made you realize how we jump to conclusions so easily.
While the girl's acting was on-point as Juror #8, there was nothing remarkable about it. The only thing remarkable was learning so many lines and playing them to perfection on-stage. (I've tried and failed). The two actors who stood out was, I believe, Juror #10 played by Faraz and Juror#3, Yogeshwar.
Both were so engrossed in their characters, they became their characters. It was really easy to feel the emotions they were going through. Their acting really moved me. Apart from that, Maha who played the old lady did a superb job. The Baloch guy and the Pindi boy are among those who stood out.
The character design, character development and the adaptation of the story to fit this society, I feel Meesam did all this to perfection.
Having attempted to write a theatre play and being a part of the entire journey from the inception to performance, I know how tough it is to get the blocking right, the cues right and put forward a convincing enough act.
This production by Stage Nomad just proved how theatre and theatre plays are not a lost cause in Pakistan. They did a tremendous job, there is no doubt about that.