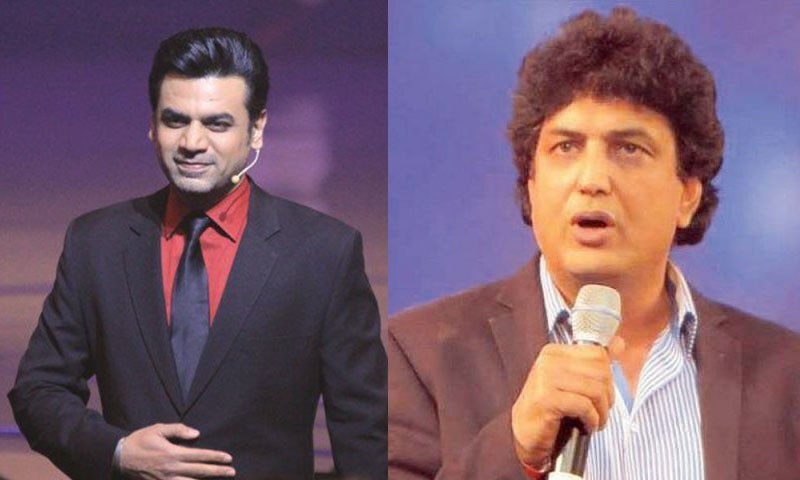 During press meet ups of movies and dramas, it's strange how one never gets to see or talk to the writer, one who is the back bone of any particular project and in a better position to describe the story than the director and actors present. They're the ones who've come up with the entire plot, but when it comes to production their baby is quickly handed over to the producers and directors. So the question that's been roaming In our heads for a while, is whether our writers are given the credit or even extra benefits after their work becomes a huge success or not. To further discuss this, we got in touch with some of our writers to ask exactly that!
Read:Stop Infringing Upon Intellectual Property Rights Of Writers: Umera Ahmed
The first person to come to mind was Khalil ur Rehman Qamar, who is one of the most well known and respected writers of our time, having given us plays like Boota From Toba Tek Singh, Landa Bazar, Pyaray Afzal, and the current Tau Dil Ka Kya Hua. He is also behind the upcoming movie Punjab Nahi Jaongi, which stars Humayun Saeed and Mehwish Hayat in leading roles.
"I support all the writers in the industry, and I do believe writers are not given the respect they deserve. At times what happens is, once the work is handed over, lines are re-written by the director and sometimes even the actors. Now that is something I don't allow when it comes to my work. If I ever see that being done, I don't work with them again. Simple." said Khalil ur Rehman
He further added,
"The writer gives birth to the story, comes up with the characters and then it is handed over to the producer and director. Writers should be given the credit but are not, and even though they earn well today, if a project of theirs becomes successful, don't earn extra rewards for that. With various production houses having a content department, I somehow feel that content kills creativity."
But where Khalil ur Rehman Qamar is given the due respect with whom ever he has worked with so far, young writers like Waqas Qureshi whose play Jalti Rait Par staring Junaid Khan and Mansha Pasha on TV One has another story to tell.
"Writers do get credit but if he has given 2/3 hit plays then he/she gets more credit because maybe the next play will sell on the basis of their name. But then again, there are few production houses even certain people and events, who in the beginning, eat up the credits. For instance, I worked in few projects, the Lux Awards being one of them, where they did not even mention that I had written the script for the hit show it turned out to be.
Talking about television Waqas said,
"When one is working on a play, it is difficult not to give the writer credit. All the work is because of him, since he is writing the whole story and eventually everyone does get to know who has written what play so their future endeavors are looked forward to."
Waqas has faced a set back, when one channel made him write the concept for a play and later, stole his ideas, never giving him any credit for it. He mentions his praises for Seema Taher, CEO of TV One and shared,
"She is very encouraging, as well as supportive. She appreciates new things and does not hesitate from experimenting and is one of the few ladies who also mentions the writers name as well as recommends their name to other people."
Recently, a new writer has entered the scene with her first ever play Be Inteha which stars Sami Khan and Navin Waqar in the lead roles and already the drama has become a roaring success. Since Rida Bilal has just stepped in the industry, we thought she was worth asking whether writers are given the credit they deserve.
"I am overwhelmed with the response I have been getting for Be Inteha and I have been lucky enough to do my first project with Six Sigma Plus. We need more people like Sanam Mehdi (the then content head), who are hardworking and secure to the core and do not shy away from bringing new talent forth. Having said that, what matters the most is the kind of involvement and ownership you show for your own work, no matter what the result."
Discussing further whether she felt actors steal the show and writers get lost somewhere, Rida told us,
"I would partly agree to that, but then again I have seen cases where scripts of Khalil sahib, where you cannot give actors the entire credit without acknowledging the brilliance of his pen. And talking from my experience, I have been contacted from all ends just after the release of the first teaser. People found the dialogues powerful, so I haven't really seen the downside of it yet but I still know writers who are writing for channels and their names are not even mentioned once. Its all about working with the right people."
Being a fan of his writing style ever since he began his career with the Ahmed Ali Butt and Fawad Khan comedy starrer Jutt and Bond, we have watched nearly every play Vasay Chaudhry has ever penned down. With his movie Jaawani Phir Nahi Aani becoming a huge hit and his plays loved by many, we got in touch with Vasay and asked him what his thoughts were on the matter.
"Writers are not given their due credit and most importantly, royalties, without which our writers will never be consistent for long with good work."
So in the end, it all boils down to what sort of people one works with. Some exploit while others keep the writer happy to ensure they deliver another hit and get the cash registers rolling.