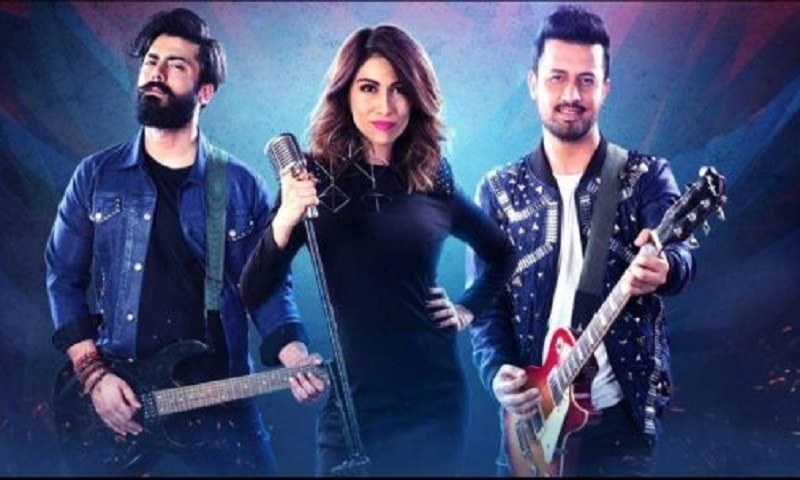 With the first episode of Pepsi's Battle of the Bands going on air, 'Yeh Dil Maange More'!

No need of flipping back into time anymore, as Pepsi's latest edition of the Battle of the Bands is now live! The first episode was a smashing hit and as expected, we had a ball. The band's that performed in the first episode have set a certain bar. Which will be met by those who follow, now waits to be seen.
Hosted by the gorgeous Ayesha Omar, who looks every bit a rockstar needed to keep the show going strong, Pepsi BoB has started off on a high note. We're digging Fawad Khan's look as the tough nut on the judging panel, while Meesha Shafi and Farooq Ahmed from Aaroh, naturally gifted musicians themselves, are eager to help groom the bands through their journey, that has just begun.
The first episode opened with Ayesha explaining how the bands are going to have a life altering journey now that they have become a part of Pepsi's BoB. The host also mentioned the big prizes and everything else along with the fame that's yet to come the way of the winner of the battle, and naturally Ayesha had us excited with the contestants too.
Coming to which, the first episode saw the epic performance of 10 new bands, all of which have managed to raise our expectations and confirmed the fact that this country is certainly blooming with talent.
Each and every band brought spicy variety to the stage but there were a few that really stood out. We liked how the entire panel was taken aback by the performance of the band called Kashmir. While Farooq's excitement shone clear on his face while Kashmir performed Hamesha (one of EP's song), Fawad was quick to call Wes (the band's lead guitarist) a "Rockstar". In fact we really loved the way the mangy haired Wes whacked his guitar for good.
Another band that impressed us with its performance was, OB Positive without a doubt. The band owned the stage with their positive vibe and while they did a cover of 'Aitebaar', Farooq recalled how Amir Zaki had once mentioned less being more to him and how he had seen Zaki's words come to life with OB Positive's performance.
All in all the first episode of the Pepsi Battle of the Bands was a true musically nostalgic ride. We loved the positive stance of the judges throughout the show as it clearly states the panel is not only there to criticize but help the bands bring out the best in them. The audition episodes will feature a roundup of about 15-16 exciting new bands, all belonging to different genres of music. And trust us, with the begining BoB has just had, Yeh Dil Maange More!!!!
Read: Pepsi's Battle of the Bands anthem features someone we all love, guess who?