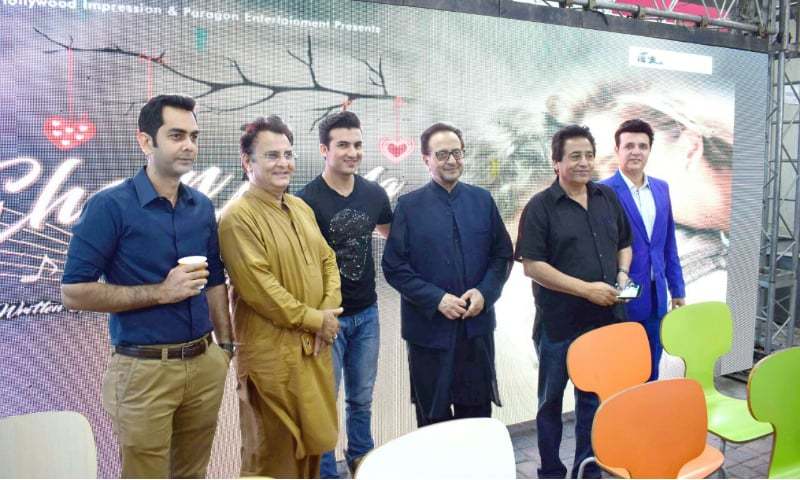 Chein Aye Na does not have the cinematic quality you find in films, maybe the art direction and cinematography are two things quite weak in the film, however, we do not know about the script and to me, that looks promising.
Sitting in the press conference/bloggers meet-up for like two hours listening to the same songs over and over again, I realized two things: the songs do get you eventually and they are not that bad. The title song is actually good. Yes, the entire OST has a dated feel but why not accept it as it is. The story has been lying around for a while and Syed Noor reused some old tracks, but let's not forget - this man has been around for 47 years. He knows what he is doing. "If a person has stopped doing something, it does not mean he has forgotten how to do it - it means he has become stronger and more mature," said Noor sahab.
Chein Aye Na's meet up started (quite late) with cast interview, the new trailer and two music videos were shown. Shahroz Sabzwari along with Behroze Sabzwari, Waheed Murad's song Adil Murad, Sobia Khan, Nadeem Baig, Danish Nawaz and Syed Noor were present. Syed Noor revealed that the previous trailer was in fact unplanned. It was leaked. The new trailer looked more polished. Noor also responded to the comments about blood shown in the trailer, people who have been calling it Rooh Afza or Jelly should know that liquid seems this thick when it is filmed in slow-motion.
Shahroz Sabzwari shared that he himself has approached Syed Noor five years ago. He wanted his film debut with him because whoever Syed Noor takes under his wing, he comes out a hero. 'I told him whenever he directs a film again, do think of me." Not hearing back for five years, Shahroz called again and still got no positive response. The same year, Syed Noor approached him for Chein Aye Na. "He told me he wants to tell me the story. I said I don't want to hear the story, I'm in." Wanting to cast the legacies, Noor approached Sarish Khan and Adil Murad.
I feel we have judged Chein Aye Na too quickly. Yes, it does not have that movie feel and it does not have those crazy shots or extraordinary locations - however, it has a decent story, a couple of songs which are actually fine, and the director who made 40 Crore through a film when the ticket cost only 40 rupees.
Shahroz Sabzwari plays a musician who visits the city and Danish Nawaz takes him in. He appears as a guest at a wedding which is happening at Ruba (Sarish Khan's place). He sees her, they mingle and he falls in love. The story is simple and pretty straightforward. Again, a bit dated but not bad.