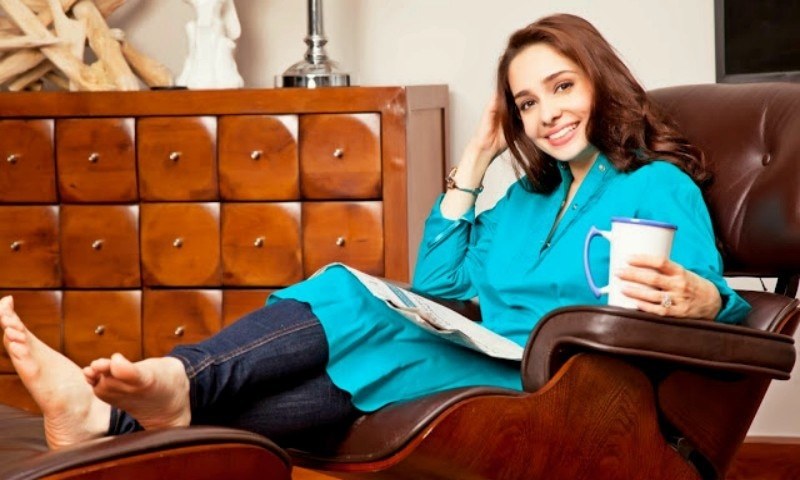 "I had a lot of stuff compiled and accumulated while I was pregnant," Kazim says of her journey publishing the book.

The very flamboyant and gifted, Juggun Kazim has to be credited as one of the most dedicated actresses in the industry. She joined showbiz when she was a single mother of a child and has come a long way from where she began. Today where she stands, she's build up on her own and is completely deserving of all that she's achieved.
Earlier this week the Morning with Juggun host launched a book called Mom Matters that discusses all the phases mothers go through raising their child and gives the right kind of advice on how to keep up with one's own person and stay sane managing children. She was a writer for a leading daily for over two years but concluded once she got pregnant. Now that she's back to writing, we're sure it would be quite worthy of our time.
HIP got the chance of having an exclusive conversation with her on what to expect with her book at its launch in Lahore. She explained in the wisest manner and gave out her take on being an actor amidst being a mother to two. Read on to find out what we discussed:
Also Read: Juggun Kazim launched her book, 'Mom Matters' at a delightful affair in Lahore
HIP: What inspired you towards writing this book?
Juggun Kazim: I had a lot of stuff compiled and accumulated while I was pregnant. The inspiration to write Mom Matters came from the thought that whenever Pakistani mothers need help, they seek information from the West but there wasn't anything from Pakistan or South Asia even. So I decided to write on a matter that catered all the South Asian mothers, and kept it as authentic as possible.
HIP: What's on the back of your mind right now regarding upcoming projects?
JK: Right now I've got a movie that I shot two years back which will be releasing around January or February next year. I've got my morning show which I've been doing for over five and a half years now. If I get a good script for a play, I might return to the small screen. But right now I've got the book, which will lead towards a series of books. Apart from that, I'm also working with an NGO called Sahil, as well as establishing my clothing line Juggun's. That's pretty much it.
Also Read: Juggan Kazim is all set to launch a web portal for mothers
HIP: Has being a mother affected your profession? You're no longer indulging in acting assignments.
JK: When I joined showbiz, I was a single mother and had to take my son along on the sets. He was really young, so I didn't compromise on acting. When I settled and got pregnant again, I stopped working as my body went through a lot of physical changes. As being a responsible actor, I did not do any projects as it would've had too many drastic changes, physically, within a character. Now that I am back in a shape that I'm comfortable with, I shall return on screen soon.
HIP: From being a single mother to starting a family all over again, how did that affect you?
JK: When I was a single mother, there were different things I was focusing on. My main aim was shooting, acting and all of my projects. Now that I've settled, I'm focusing on the same stuff but with a more comfortable vibe. I'm more established in my career as when you're settled, you can do things with more ease. As far as I'm concerned, not much has changed. I'm a mother of two and I'm working along with that, it's a pretty cool and fun space to be in - physically as well as mentally.
HIP: What last verdict would you like to give out to the audience looking forward to your book?
JK: Well my last verdict to the readers is that this goes out from a desi working mom, who loves being a mama, to you. It's a book that gives you a warm feeling being on your coffee table in the morning. Let's not all forget that I do have a degree in sociology and psychology and this is my area of interest that I like talking about. So I wish that you people like my book and give me a lot of good feedback.
---
Juggun proved that she is one uber cool mother, who along with being a responsible parent is also an inspirational, independent working woman who knows how to strike the right balance between her personal and professional life.
We wish the actress-turned-host all the best in taking this initiative forward and hope it does wonders in the literary world. Here's hoping to see (and read) more of Juggun Kazim.