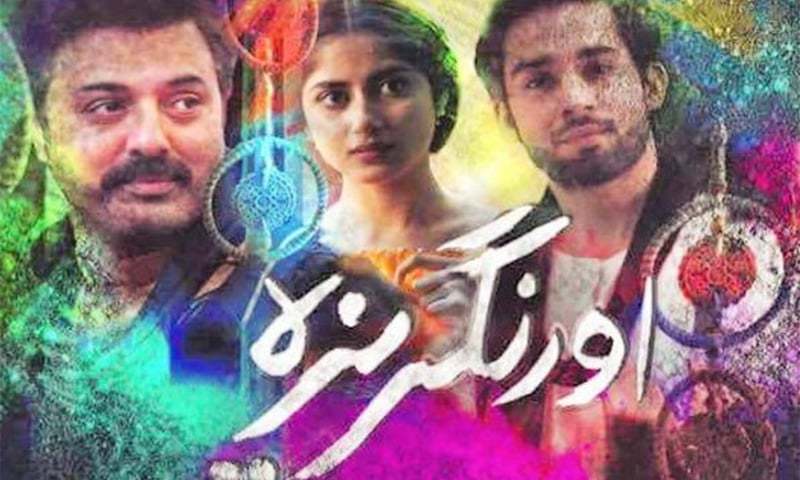 The second episode of O Rangreza was brilliant in all its essence. We love the attention that has been paid to the detailing in each & every scene making them come alive. If you're watching O Rangreza you'll agree that the drama makes you feel each and every bit of emotion the actors emote because their expressions speak for them. Moreover, the vibrant backdrops and the artistic aura of the drama is overpowering and a visual treat. Kashif Nisar has done a wonderful job with the direction for this serial and we're loving every second of it so far.
So this week focused on exploring Mumtaz's (Isra Ghazal) pain and how she considers herself a failure because not only she is suffering in marriage but also her own daughter fails to recognize her pain and acknowledge her mother as an important being. Mumtaz was immensely hurt by her husband's attitude but he, rather than elaborating anything, settled matters with a mere sorry. Khayyam (Noman Ijaz), being the poet he is, has reserved all his affections for the other woman, Sonia Jehan (Sana Fukher), and that became apparently clear to Mumtaz, after Sonia Jehan paid a visit to their house (Sassi's and Qasim's doing).
Khayyam seemed to lose control over his emotions after he saw Sonia and gushed over her. The entire scenario was even more hurtful for Mumtaz because it clearly shone in Khayyam's eyes that she wasn't the one that he'd wanted as his life partner.
Sassi (Sajal Aly) as well, doesn't feel her mother's pain and instead she is focused on settling the mood in the house for her father. It is for this reason that she badgered Qasim (Bilal Abbas) to ring up Sonia Jehan and invite her over to their place. And was mesmerized by her presence once Sonia came in.
The highlight of the episode however, was the last interaction between Sassi and Qasim where Sassi insisted to hear good things about herself from Qasim but Qasim, engulfed in his own thoughts and fantasies about her, became tongue tied. It's obvious how much Qasim wants to impress Sassi but he just cannot gather up the courage to do so and keeps saying yes to everything she pesters him to do.
What we're liking about the play is how Sajal Aly has finally experimented with her role and now plays a vain, outspoken and a carefree girl. The refreshing change is extremely good. Sana Fukher is regal and very graceful as Sonia Jehan and there's absolutely no comparison for Noman Ijaz. Isra Ghazal however is standing out as the plain jane Mumtaz and it's rather good to see her doing something good and different for a change.
Bilal Abbas, the romantic hero, is wowing us with his performances. We love how he keeps his feelings to himself and dances to Sassi's tunes because he just doesn't want to say no to her.
All in all, the second episode of O Rangreza, managed to capture our attention and keep it there till the very last scene. We've found our new Friday favorite and are anticipating the upcoming episodes more than ever.
Read: HIP Reviews: 'O Rangreza' has the potential to become a chartbuster