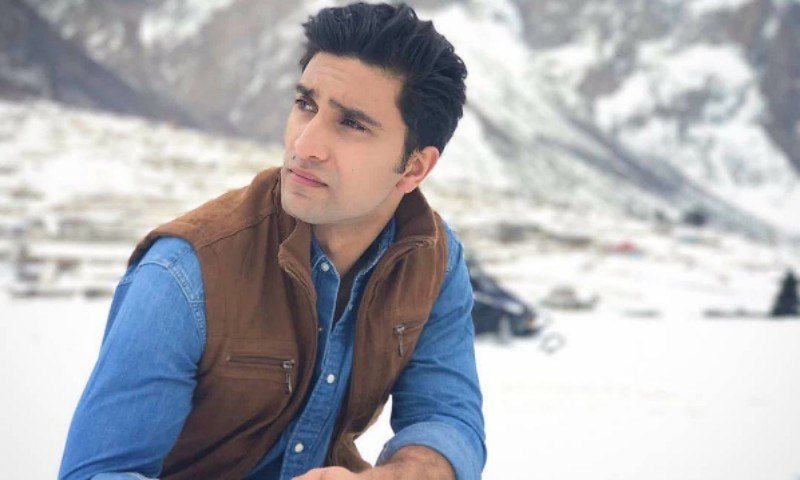 The actor speaks to HIP on his theatrical background, matters of nepotism, cinema and more!

Not too long ago, a young talented young lad from Calgary, Canada made the decision of shifting to Pakistan and be a part of its showbiz industry. The guy was passionately obsessed with the art of expression through acting and it was the only thing he wanted to pursue in life. Shorty after returning to Pakistan, he hopped on the bandwagon to get that one shot to prove himself and as soon as he did, he made complete use of it. In no time he proved his potential, opening new doors for his passion and showing what he's capable of. We are indeed speaking of the charming Ahad Raza Mir.
Mir, although being a newcomer, stood on firm grounds in the industry right away. He's been a part of two powerful serials, Sammi and Yaqeen Ka Safar, the latter still running keeping the audience intact, and is shooting for Haseeb Hassan's film Parwaz Hai Junoon, that includes the likes of Hamza Ali Abbasi, Hania Amir, Kubra Khan and Shamoon Abbasi.
Being more than overjoyed with the acclaim he's reached in such a short time, the actor shared on social media last month that it marked his completion of one year in the industry. HIP brings you the chance to ride through the captivating journey of Ahad Raza Mir through his own words.
Being the son of veteran actor Asif Raza Mir, as a child he started off with doing theatre recreationally. Growing older, his hobby turned into passion and that soon turned into obsession. "Honestly, for as long as I can remember, acting is the only career that I've wanted to pursue in my life. There's never been a doubt in my mind," he said.
When it came to university, Ahad being slightly practical opted to get a degree in business doing BBA but he couldn't compromise leaving acting. "Although I was enjoying BBA but I realized half way through that I wasn't internally happy. I discerned that when you have a plan A, there's no point of having a plan B. There should be one plan and it should be your only goal," advised the actor. "That's when I decided to make the switch and changed from BBA to BFA in university of Calgary."
After completing his degree in acting, the actor told that he had planned to move to Toronto but instead he decided to return to Pakistan and embark a new journey. "It was one fine morning when I got this wild idea of moving to Pakistan as I had not been there from over a decade. Ever since that decision, I've been quite lucky and very grateful to be accepted by the people here." The verdict of making the move stands right in front of us.
Also Read: Ahad Raza Mir replaces Osman Khalid Butt in Parwaaz Hay Junoon
To start of his career, Ahad went for auditions to MD productions and bagged himself two leading roles. He was also reached out for a movie with Kubra Khan which got delayed. "As I got here, I started off with Yaqeen Ka Safar but Sammi came my way and I began with that as well. During my shoot for Sammi, I was approached for a role in Parwaz Hai Junoon which in my knowledge, Osman Khalid Butt was doing."
Although quite a few rumors ignited regarding Osman Khalid Butt not being a part of Parwaz Hai Junoon, the young actor did not let them come in his way and brushed them off rather wisely. "There was never a thought of me being a replacement for Osman," the actor gave out. "I guess things didn't work out for him but they did work out for me. At the end of the day, no matter how hard we try its fate that decides what's going to happen, not us."
Being fully dedicated and impassioned towards acting, the actor retained to do all his roles side by side. As hectic as it sounds, the actor claimed that he never faced any difficulty due to the character shifts, but for once, he faced a little hitch. "When I got back to the shoots of Parwaz after the second spell of Yaqeen Ka Safar, it was a little difficult for me to get the character of Asfandyar out of my system as in the second half of the show, the role is very serious and introspective, while my role in Parwaz is totally different from that," he vocalised.
Our society is functioned in such a way that when one moves towards the peaks of success, we pull them down in the most absurd way throwing the tag of nepotism on them. Discussing the bombardment of negative comments that he receives, the star kid maintained, "The reason why I'm challenging myself through the variety of characters within a year is to show my dedication towards my career." He continued saying, "People might think that I'm an actor's son and this may not be a big deal for me, but believe me, I take this career I've been blessed with really seriously."
It was a moment the actor got rather sensitive about his profound emotions regarding acting and wholeheartedly justified, "If I had to use nepotism why wouldn't I have just made proper use of it by starting my career under my father's production rather than giving auditions and working my way through. Yes, I did get hit by the tag of nepotism and I still do rarely but I can't do anything to stop them. The only thing I can do is to fight against the odds and work as hard as I can making my work better and better to prove such people that I am more than just Asif Raza Mir's son."
The reason to why one revolves around a certain set of mind is controlled by the atmosphere he has been a part of in the past. Ahad's words are a reflection of his professional contributions in Canadian theatrical performances. "When you work on stage, you get the response instantly. If your joke works you can see people laughing, if people are crying it's in front of you but while working on screen, besides the crew and your fellow actors, you don't have a clue how other people will react to your performance so it's kind of scary," he preserved.
Also Read: Ahad Raza Mir & Bilal Khan make their entry in Sammi this week!
"Working on stage, you only have that one moment to make it work, but on screen, you watch your playbacks and analyze yourself what your weakness are and where you can improve so it helps you grow as an actor and a critic." He continued, "I love the immediate feedback one gets working on stage. Despite the ultimate acting experience being film and TV, I enjoy working on stage more as it is much more fun."
Opening up about his desire to revive theatre in Pakistan, the actor said, "Who knows one day I might produce a play because I would absolutely love to do theatre here, own a company do shows and revive theatre."
It's been a wishful thought for him and has turned his ultimate dream of being a part of a film, come true. "The biggest moment for me this year was that all my life I just rooted for one thing to happen really badly, to be a part of a film," he started off. "When I saw myself in the film look on the monitor after the scene, it was a bizarre feeling of over excitement. It felt like everything was complete now, as all my life I waited for this one thing to happen and its right in front of me. Everything stopped for a moment and it felt unreal."
Him being lost in the surreal feeling of fulfilling his goal actualized, "There were moments when I was in complete disbelief of the whole idea if this is actually happening, if I really am a part of a film. For being a part of Parwaaz Hai Junoon, I had to give up a big part of my life, my hair, as it's a role of an air force cadet. I had to make the most heartbreaking decision to say goodbye to my wavy long locks." Continuing his experience, he gave out, "Yes it was painful to give up on my hair as it was more than a part of me but when I thought of it in hindsight, this was actually going to be for my first ever film, I was willing to do anything for it so I absolutely had no issue to get it chopped off."
With two successful drama serials on his resume and a huge film coming out soon, Ahad Raza Mir has obtained immense achievements in just one year's time. He's won the hearts of many with his rather skittish personality and undeniably charming screen presence. With two more serials and another movie his way, he's come a long way and still has a long way to go. Regarding his upcoming agenda, he's written stories for three films under his father's banner, one of which he'll be a part of.
Conversing about if the industry has brought about any change in his life; he denied this fact saying he's not let anything take away the true essence of Ahad. "In this industry, what goes on is your public image and who you really are is a mystery," he apprehended. "Instead of building an entire public image and pretending to be someone I'm not, I wish to show the public who 'Ahad' really is and be my own self. That way it would be a lot easier for them to connect with me," he proved his true gestures.
Gathering the words to end his take on explaining his dream voyage, Ahad began, "In the end what I'd want people to know is that I gave up a lot to come to Pakistan. As much as I love my country, I led my entire life in Canada and left my whole being back there on a single thought. At that moment I never thought that when I get here, it's going to be this amazing, but I still took the chance."
Giving out the advice to think out of the box, he initiated, "By forgetting the odds and playing the bet to come to Pakistan, I've learnt and also want everyone else to learn that sometimes it's good to take the risk without thinking about the consequences. Looking back from where I stand now, this year has been a crazy wild journey which made me immensely lucky. I thank God for his blessings, my parents for putting up with my vile decisions and my fans for appreciating and giving me their time. I'm more than happy to be here."
Concluding on these absolutely inspirational words by the charmer himself, we'd congratulate and wish him the best of luck on whatever he's achieved. We've placed our bets on him and know he's going places with the potential he holds. For sure destiny awaits a bright for him in the future. Ahad Raza Mir is one budding actor you must look out for.