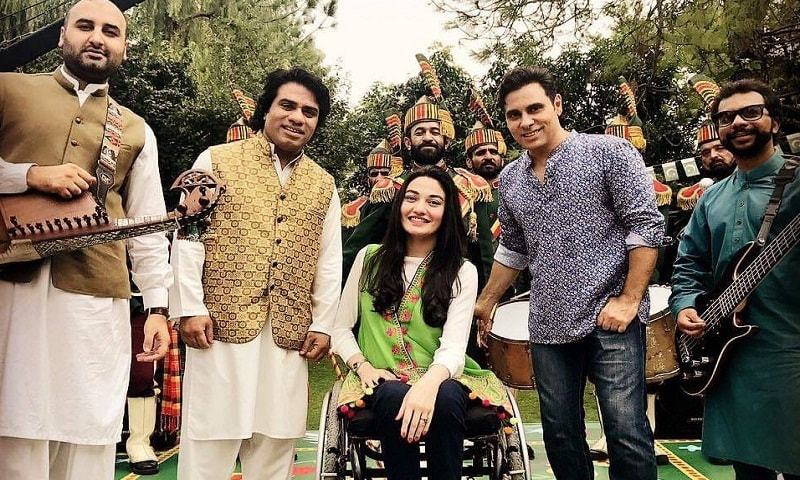 Featuring Muniba Mazari, Javed Bashir & Farhan Bogra, this rendition of our favorite song is the best thing you'll hear.
This year will mark 70 years since Pakistan's birth and our independence and it really deserves to be celebrated with the right amount of aplomb! The entire nation is flooding with Azaadi celebrations, and there's a joyous mood all around. Amongst all this, comes a rendition of one of our favorite patriot songs from the past and increases the joy tenfold.
We're referring to none other than the amazing Dil Se Pakistan, a song by Haroon that came out back in 2003. Now almost 14 years after the release of the song, we have a revamped edition of the hit, featuring Muniba Mazari, Javed Bashir and Farhan Bogra alongside Haroon, and the song gives us goosebumps.
Listen to it once and you'll be able to relive the melodious song that wowed us all back then. We've enjoyed the original and now the rendition is making us all the more nostalgic. One thing we're really glad about, is the fact that this song has not gone wrong with all the upgrades and changes done to it.
The video for Dil Se Pakistan is another win for the entire team. Featuring, Aakif Azeem ,a survivor of the Army Public School Peshawar in a lead role, the video celebrates all the good our country has to offer and has succeeded in making us proud and teary eyed with happiness at the achievements of Pakistanis around the world.
Without a doubt, Haroon's Dil Se Pakistan is one of the best things about the 70 years of independence. Watch the video here and fall in love with it just like we have.
Read: An exclusive with Haroon Rasheed on 'Taazi' and its objective